April 22, 2020
---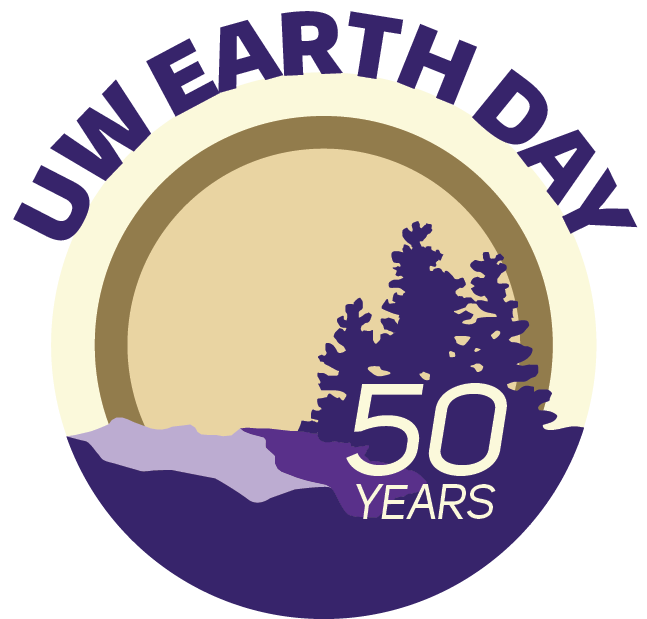 This year marks the 50th anniversary of Earth Day. While the COVID-19 pandemic does not allow us to hold an in-person event, it remains important to create ways to come together as a community to recognize this milestone and look toward the future.
There are many ways to practice sustainability personally this Earth Day, as well as utilizing online programming and events. The College of the Environment's office of Diversity, Equity and Inclusion and UW Sustainability worked in collaboration on events exploring themes around environmental/climate justice or effects of climate change in different communities as a way to build engagement towards Earth Day 2020, and we continue to work to explore ways to do this using online tools. On this page we are also compiling resources and events across the UW around Earth Day through the month of April - and beyond.
We are interested in collaborating with UW groups to discover other ways we can support programming around Earth Day 2020. If you are interested in hosting or participating in an online event, being featured on the "In Our Nature" podcast or some other option, email sustainability@uw.edu.
---
Ways to engage
UW sustainability strategy
Coinciding with the 50th anniversary of Earth Day, the UW has released a draft Sustainability Strategy to guide institutional initiatives over the next five years. The Strategy proposes measurable targets and actions across the University to ensure a sustainable, equitable and responsible future. Your input on this Strategy is vital, especially during this unprecedented time of Covid-19.

Learn more and provide input at sustainability.uw.edu/plan.
---
One Planet, All Voices
A student coalition including students affiliated with the Ethnic Cultural Center, Sustainability Credit Coalition, Campus Sustainability Fund, School of Social Work, and Program on the Environment created a grassroots digital campaign to to connect and learn from each other.
To participate, submit digital artifacts in response to the prompt "How do you engage with the Earth?" to sustainability@uw.edu, or post on social media with the hashtag #OnePlanetAllVoices or tag UW Sustainability. You can submit photos, poems, links to articles, short videos, art pieces - the limit is your imagination! The idea is to connect and add to social media movements that center equity and communities of color in environmentalism.
---
50 for 50 pledge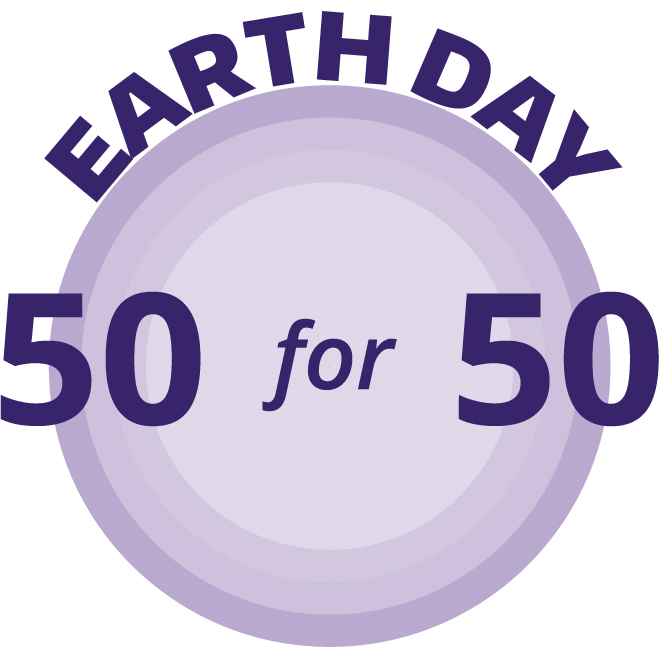 In recognition of the 50th Anniversary of Earth Day in 2020, join us in taking the 50 for 50 pledge, featuring 50 actions you can take to embrace the principles of climate justice. Each participant can choose which activities are appropriate for themselves, or use this list as a starting point for your own ideas.
This pledge was designed by the College of the Environment's Office of Diversity, Equity and Inclusion and UW Sustainability. It is aligned with the United Nation's Sustainable Development Goals, which address the need to strengthen the global response to climate change and tackle poverty and other environmental injustices.
---
Recorded events
State of Sustainability with Provost Mark Richards
Provost Mark Richards and VP of Facilities Lou Cariello spoke about current and future sustainability efforts at the University of Washington, including the new Sustainability Strategy. Their discussion was followed by updates and a Q&A with UW Sustainability Director Claudia Frere-Anderson and Campus Sustainability Fund Coordinator Kyle McDermott. Recorded on April 22, 2020.
Earth Day lecture: "Gaia has a fever"
In honor of the 50th anniversary of Earth Day, the UW History Department hosted Dr. Jennifer Thomson of Bucknell University for this virtual talk untangling the history of oil corporations, climate justice, and environmental governance. Beginning with physicist James Lovelock's Gaia hypothesis, she discussed the involvement of oil corporations in climate research, and explored a truly liberatory environmental politics. Recorded on April 22, 2020.
Sustainability stories: diversity, equity & inclusion
Terryl Ross, College of the Environment Assistant Dean of Diversity, Equity and Inclusion, and Isabel Carrera Zamanillo, Programs Operations Specialist, discussed how sustainability work can be more inclusive and welcoming to all of our students, staff, faculty and community partners. Event was recorded on April 9, 2020.
Sustainability stories: Vegan Studies with Jessica Holmes
Jessica Holmes taught the first ever Vegan Studies course at the University of Washington in Fall 2019. Her talk "Vegan Studies: Teaching Equity, Justice and Sustainability through the Lens of Veganism" discussed the emerging academic field of Vegan Studies – what is it, how might we situate it within current models of scholarship and activism, and how does it relate to issues of sustainability, ecofeminism and social justice? How might veganism serve as a potential basis for radical social resilience and coexistence on a planet in crisis? Recorded on April 16, 2020. See Jessica's recommended Vegan Studies reading list.
Sustaining our world lecture with Timothy Egan
The UW School of Environmental and Forest Sciences welcomed Tim Egan as the 2020 Sustaining Our World Lecture speaker. Egan, National Book Award winner and New York Times op-ed writer, presented "Using the Power of Nature to Forge a New National Narrative." Recorded on April 13, 2020.
Earth Day Now More Than Ever: Into Nature and Toward Life
The Pacific Science Center hosted Dr. Peter Kahn, UW Professor in the Department of Psychology and School of Environmental and Forest Sciences, Director of the HINTS Laboratory, and Editor-in-Chief of the academic journal Ecopsychology for this Earth Day talk. Kahn showed how, even in the city, we can deepen our interactions with the natural world, Earth's heartbeat. He shared his lab's studies on people interacting with technological nature and he talked about a new urban design methodology – Interaction Pattern Design – through which we can rewild our lives. Recorded on April 22, 2020.
After the Blast: The Ecological Recovery of Mount St. Helens- Webinar with Dr. Eric Wagner
UW Libraries and UW Press hosted a zoom webinar with Dr. Eric Wagner, author of "After the Blast: The Ecological Recovery of Mount St. Helens." In 1980 the catastrophic eruption of Mount St. Helens in Washington was devastating for the surrounding area. Wagner discussed the resiliency of that landscape. His 50 minute presentation is followed by a Q&A with zoom audience members. Recorded on April 22, 2020.
UW Recycling Zero Waste talk with with Heather Trim
UW Recycling hosted a virtual presentation and Q&A with Heather Trim, Executive Director of Zero Waste Washington. Zero Waste Washington seeks to make systematic waste reduction changes that have lasting impact on Washington state. They work on laws and programmatic changes such as the 2020 Reusable Bag Bill and the Fix-It Fairs around the Puget Sound region. Trim talked about how to prioritize waste reduction in everyday settings, Zero Waste Washington's recent Legislation Initiatives, and answered viewers' questions. Recorded on April 28, 2020.
"Local adaptations for food security in the age of COVID-19"
With multiple disruptions to food systems emerging through the pandemic, how can we each adapt locally to promote food security in our own homes and communities? This discussion led by UW's Yona Sipos, core faculty in Food Systems, Nutrition, & Health, touched on how to support local farmers, food banks, and access to fresh and local food at this time. Recorded on April 29, 2020.
---
Other resources
UW Libraries Earth Day LibGuide
Quizzes from the Earth Day Network
Earth Challenge 2020, the world's largest citizen science effort
---
Earth Day history
In 1969, Wisconsin Senator Gaylord Nelson proposed the first celebration of Earth Day as "a day for serious discussion of environmental problems." In response, more than 20 million American activists, scholars, students, and citizens across the country came together on April 22, 1970 to celebrate and reflect on the need for an environmental reform. This day is considered by many the beginning of the modern environmental movement.
"Let every individual and institution now think and act as a responsible trustee of Earth, seeking choices in ecology, economics and ethics that will provide a sustainable future, eliminate pollution, poverty and violence, awaken the wonder of life and foster peaceful progress in the human adventure." - John McConnell, Founder of Earth Day
Watch a PBS video documenting that day.
UW students planting trees in 1970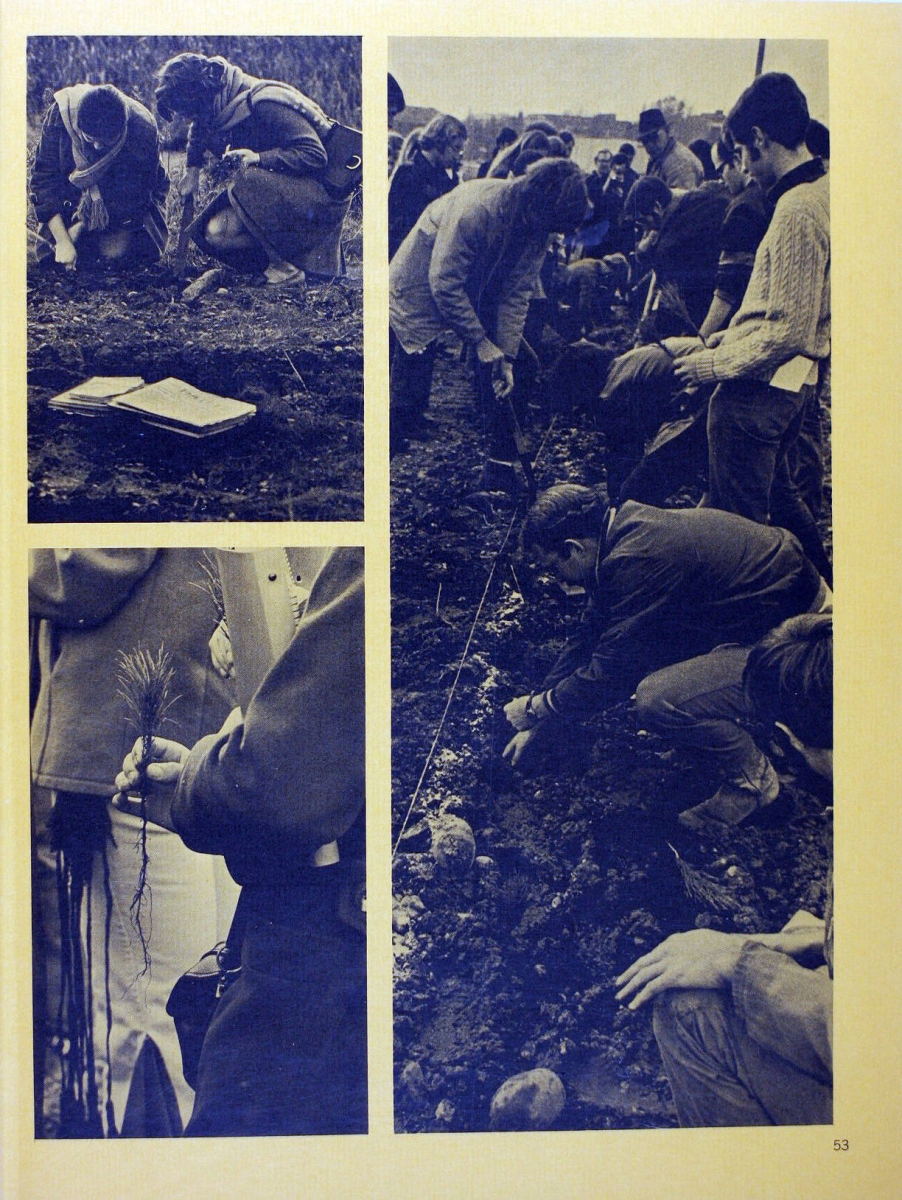 ---
Event Support