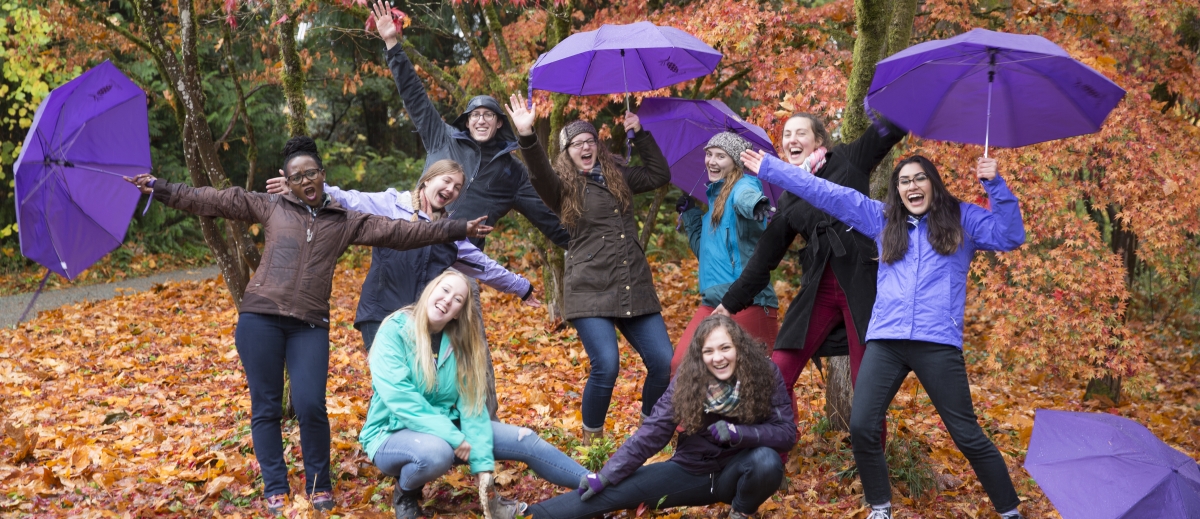 There are dozens of student groups dedicated to sustainability and the environment at the University of Washington. We have compiled a list of active groups and contact information below. To add your group to our page, email sustainability@uw.edu.
Featured groups
Full list of sustainability student groups
Below is a list of active environment or sustainability related student groups at the University of Washington. For information on non-environmentally related student groups, see the RSO directory.
| Student group | Purpose | Website |
| --- | --- | --- |
| Bird Friendly UW | Our project aims to raise awareness across the University of Washington, Seattle campus about the loss of birds due to collisions with glass and lit surfaces while being committed to including underrepresented communities.  | Website |
| Bridges to Health | The Bridges to Health Patient Advocacy Center was created in 2008 with the intention of achieving three goals: 1) increasing public awareness and knowledge regarding basic health and preventative medicine via community engagement events 2) encouraging patients to become actively involved in their health decisions and providing patients with the health literacy and skills to do so and 3) expanding access to health services in medically underserved and high-risk populations. | Website |
| Campus Sustainability Fund | Our goal is to create a sustainable campus and foster an environmentally conscious culture by funding student-led projects that lessen the University of Washington's environmental impact. | |
| Dirty Dozen Farm Club | A student organization associated with and interested in the health and community of the UW Farm, and a space for students interested in gardening, urban agriculture and food systems in general to come together and share ideas about these topics and take action in these fields.  | |
| Environmental Law Society | It is the purpose of the Environmental Law Society to enhance its members' awareness of environmental issues, develop experience with environmental law and practice, and build connections to the relevant legal community. | |
| Environmental Policy Student Association | Dedicated to centering justice and intersectionality at the foundation of environmental policy. EPSA empowers UW undergrads through knowledge sharing and professional development by connecting peers with one another and to experts in the field. | |
| EcoReps at the University of Washington | EcoReps is a student-run organization that works with our peers, faculty, and staff to make the University of Washington a more sustainable place. By aiding in the development of sustainable projects on campus, EcoReps will work in alignment with the UW Environmental Policy statement and the Climate Action Plan goals to decrease UW's environmental impact. | |
| Engineers Without Borders | To help disadvantaged communities improve their quality of life through the implementation of environmentally and economically sustainable engineering solutions. | |
| Global Medical Brigades at UW | Our mission is to empower volunteers to facilitate sustainability solutions in under-resourced communities. | >Website |
| Global Rehabilitation Organization at Washington | Our goal as an organization is to provide an avenue for students to actively work towards a healthier, more accessible, better-supported global community. | Website |
| Global Renewable Infrastructure Development | Working to help communities achieve the equitable implementation of solar power. | Website |
| Global Sustainability Initiative | Promote sustainability by connecting UW students with clean energy start-up companies. | |
| Green Evans | Connect graduate students interested in environmental issues within the Evans School and across campus, Provide an arena for students to create lasting networks, which will help further students' future professional goals, focus on environmental public policy and problem solving occurring locally and globally, enhance students' understanding and participation in the environmental policy process, and increase all Evans School students' knowledge of environmental issues through events, panel discussions and social activities. | |
| Green Greek Representative Program | Through impactful action and innovative strategies, the GGRP has become a national leader for the sustainability movement on college campuses. | |
| HuskyADAPT | Our unique community aims to initiate conversations regarding accessibility and ignite change through engineering design. | Website |
| Institutional Climate Action UW Chapter | ICA is a climate justice divestment coalition of Washington State higher education institutions organizing for divestment from fossil fuel companies. | Website |
| Net Impact | Net Impact's mission is business for the greater good. We are a the Foster MBA chapter of a national organization. This group is for MBAs but other programs can come to our events (find out about them through our newsletters). We are hoping to start an undergrad chapter too. | |
| Partners in Health Engage of UW | Partners In Health Engage (PIHE) is building the right to health movement by recruiting and empowering teams of dedicated volunteer community organizers.  | Website |
| Partnership for Community & Diversity | Partnership for Community & Diversity (PCD) is a group of graduate students committed to promoting diversity and social justice at the Evans School. | |
| Project IF | Project IF is an indoor farming organization aimed at spreading awareness to sustainable alternatives to traditional, soil-based agriculture. We have our own hydroponics farm and harvest over 50 lettuce plants a week. We hope to allow students to get hands-on experience with different farming technologies and learn the process of creating your own indoor farm.  | Website |
| Re-Think | Re Think is a registered student organization at the University of Washington that is working to change the way we function on a global level. We will increase awareness and education on all components of the human impact on the environment and create feasible solutions to redesign our progressing society. We will break the mold of the typical reduce, re-use, recycle model by transforming the way we think as a whole. We are proposing an industrial re-evolution. | |
| Sierra Club at UW | The purpose of Sierra Club at UW is to engage with local policymakers to address the Climate Crisis while enjoying and exploring our natural environment. | Huskylink |
| Society for Ecological Restoration - UW Chapter | To create a community for networking among UW and regional restoration students, researchers, practitioners, and other organizations and to share information and job/research opportunities related to restoration ecology. | |
| Student Association for Green Environments (SAGE) | To spread awareness for environmental issues on and off campus and to promote events for greener, sustainable environment. We are committed to community engagement and education, and creating professional opportunities. | |
| Student Environmental Health Association | To promote awareness of the far-reaching impacts of the environment on human health and create networking opportunities for the members in the professional field of environmental health. | |
| ASUW Student Food Cooperative | A group of students concerned about the environmental, social, economic, and health impacts of our agro-food system. | |
| Students Expressing Environmental Dedication (SEED) | SEED encourages environmentally sound practices in the residence halls and serves to raise awareness about environmental issues that affect the residential community. | |
| Students in Clean Energy | Students in Clean Energy (SCE) is a student-led organization that facilitates inclusive opportunities for UW students to meet with clean energy professionals, and improves access to resources that help students make career decisions and secure jobs. | |
| Supplier Diversity Program at UW | Supplier Diversity is the proactive business program which encourages the use of minority-owned, women-owned, veteran-owned, LGBT-owned, service disabled veteran owned, historically underutilized business, and SBA-Defined small business vendors as suppliers. | Website |
| The Graduate Chapter of Society of Women Engineers at University of Washington | This section of SWE is geared toward the success of female graduate students in science and engineering. | |
| Washington Journal of Environmental Law and Policy | The Washington Journal of Environmental Law and Policy seeks to publish leading scholarship and analysis of the domestic and international laws governing human interactions with the natural world. | |
| United Nations Association UW Chapter | We are dedicated to educating, inspiring, and mobilizing students to support the principles and vital work of the United Nations and strengthen the UN system. We advocate for the United Nations, stand up for human rights, and learn about the best practices to meet the UN's sustainability goals. | Website |
| UW Bothell Sustainability Club | We engage in all sorts of activities related to sustainability on-campus and in the community. | |
| UW Solar | An interdisciplinary team of students at the University of Washington in conversation with the UW Housing & Food Services regarding the development of a solar installation with accompanying Industrial Control Systems on buildings at the UW campus, and are engaged in providing effective outreach to students about the benefits of smart solar investments. | |
| WashPIRG | An organization dedicated to facing up to society's big problems, taking action, and winning concrete changes that improve the quality of our lives. | |
| Wildlife Society Student Chapter at the University of Washington | Promote the conservation of wildlife species and the ecosystems that sustain them; provide members with an understanding of wildlife management, wildlife biology, and conservation biology. | |