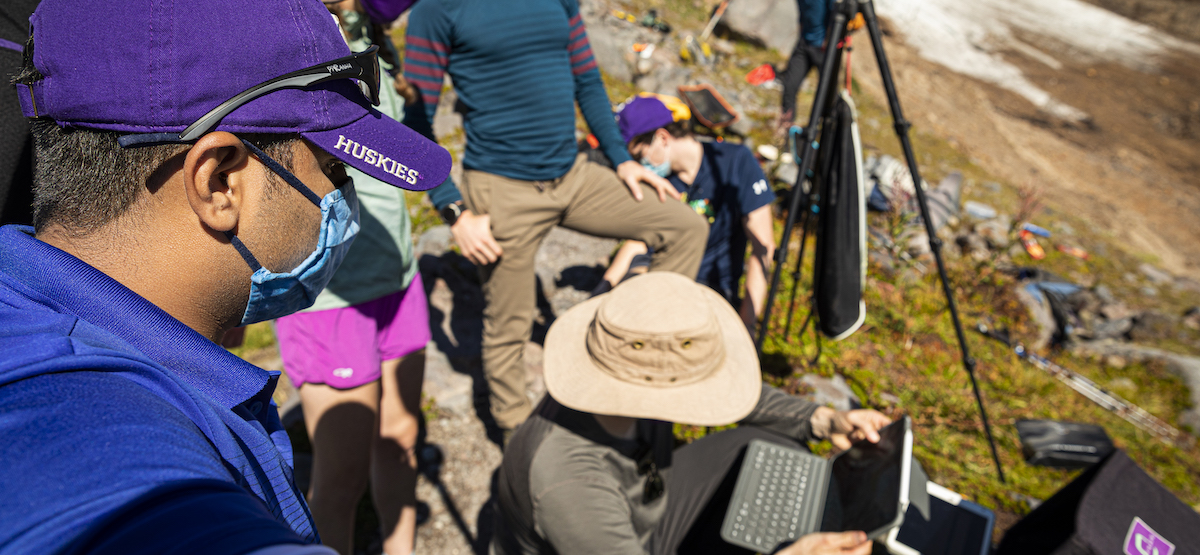 There are many academic units across the University of Washington researching and working on topics related to sustainability. Some examples are listed below. If you know of others who should be added to the list, email us at sustainability@uw.edu.
Name
Description
Carbon Leadership Forum
The Carbon Leadership Forum (CLF) is an industry-academic collaborative research effort. CLF is working to link the rigor of Life Cycle Assessment (LCA) based carbon accounting to industry best practices in order to enable quantifiable reduction to the environmental impact of the built environment.
Center for Clean Air Research
The University of Washington Center for Clear Air Research (UW CCAR) is focused on the cardiovascular health effects of near-roadway pollution, a complex mixture of components that come from vehicle emissions and the road surface, and vary by physical aging, atmospheric conditions, and photochemical reactions. UW CCAR is funded by the U.S. Environmental Protection Agency.
Center for Creative Conservation
The Center for Creative Conservation was launched in Fall 2015 with an initial investment from the College of the Environment to spark innovation and collaboration in conservation. The Center fosters creativity in conservation by hosting a variety of events and programs.
Center for Environmental Politics
Our mission is to play a leadership role in producing and disseminating social science research on environmental politics, policy, and governance at local, regional, national, and global levels.
Center for Health and the Global Environment
In 2014, we launched CHanGE with the vision of centering health in climate action. We believe health considerations should be at the forefront of efforts to reduce greenhouse gas emissions and to prepare for and respond to climate change impacts.
Center for Livable Communities
The Center is a research and policy center focused on issues of environmental and economic sustainability, quality of life, and responsible governance using Washington as a model. The Center operates from the belief that the university should, in cooperation with state agencies, local governments, and community leaders, seek to improve existing social and environmental conditions through research and innovative policy development.
Center for Studies in Demography & Ecology
CSDE is a community of faculty and students associated to advance population science through research and training. As a federally funded research center with over 70 years of experience, the CSDE community of scholars develops new demographic measures and methods, advances knowledge about population dynamics, generates new data and evidence to support population science, and trains the next generation of demographers. With over 100 research affiliates representing scientific endeavors and units across the entire UW campus, CSDE scholars apply innovative demographic measurements and methods to investigate human migrations and settlements, environments and population, health of people and populations, and well being of families and households.
Center for Urban Waters
Research conducted by University of Washington Tacoma scientists at the Center for Urban Waters seeks to understand and quantify the sources, pathways and impacts of chemical pollutants in urban waterways.Highly sensitive analytical tools to measure contaminant levels are combined with sophisticated computer models to track pollutant sources and transport in the Puget Sound region.
Circular City + Living Systems Lab
The Circular City + Living Systems Lab (CCLS) is an interdisciplinary group of faculty and students researching living systems integrated into the built environment that produce and circulate resources within the food-water-energy nexus. Synthesizing expertise from architecture, landscape architecture, engineering, planning, biology, and ecology
Clean Energy Institute
CEI supports the advancement of next-generation solar energy and battery materials and devices, as well as their integration with systems and the grid. The Institute creates the ideas and educates the people needed to generate these innovations, while facilitating the pathways to bring them to market.

 

Climate Impacts Group
The Climate Impacts Group develops and delivers scientific information that is both useful to and used by the decision making community by fully integrating research with stakeholder engagement.
Computing for the Environment Initiative (CS4Env)
The initiative engages environmental scientists and engineers, computer scientists and engineers, and data scientists in using advanced technologies, methodologies and computing resources to accelerate research that addresses pressing societal challenges related to climate change, pollution, biodiversity and more.
EarthLab
We push boundaries to develop innovative, just and equitable solutions to environmental challenges. We do this by connecting across sectors and academic disciplines to inspire and incentivize new partnerships that bridge the UW and the wider community.
Energy & Sustainability in Construction Lab
The ESC lab promotes energy efficiency and sustainability (EES) in the built environment through the development of sustainable design and construction practices and risk-based financial models for EES investments. We aim to integrate advanced financial analysis, project development, and management strategies used during the delivery of energy-efficient buildings and sustainable infrastructures.
Freshwater Initiative
Freshwater "flows" across many disciplines. Today's freshwater issues are complex, and no single discipline can tackle them alone. That's where we come in. The Freshwater Program promotes social justice and facilitates new and creative applications of freshwater research across the food-energy-water nexus.
Future Rivers
Large freshwater ecosystems that help support the global economy and provide food, water, and energy worldwide are experiencing unprecedented changes. The University of Washington Future Rivers graduate research traineeship was designed to meet an urgent need for interdisciplinary scientists that can look at complex problems and datasets in innovative ways.
Green Futures Lab
The Green Futures Lab develops innovative approaches to the ecological planning and design of public space through interdisciplinary research, design, and education.
Integrated Design Lab
Our mission is to discover solutions that overcome the most difficult building performance barriers, and to meet the building industry's goals of moving towards radically higher performing buildings and healthy urban environments. We advance our mission through interconnected research, technical assistance, and professional educational and tour programs.
Landscape Ecology and Conservation Lab
The Landscape Ecology and Conservation Lab does research in the areas of: Climate Change, Land-Use Change, and Ecosystem Services
Nature and Health
Nature and Health seeks to understand the connections between nature and human health and well-being. We work to translate that understanding into programs, practices, policies, and the design of healthcare, educational, and community settings that benefit all people and nature.
Northwest Climate Adaptation Science Center
The mission of the Northwest Climate Adaptation Science Center is to deliver science to help fish, wildlife, water, land and people adapt to a changing climate. The goal of the center is to help safeguard the Northwest's natural and cultural resources by providing managers and policy-makers across Washington, Oregon, Idaho and Western Montana
Ocean Nexus Center
We aim to transform ocean governance so the oceans benefit everyone equitably in a culturally relevant manner.
Pacific Northwest Smart Grid Demonstration Project
The UW is one of 11 sites in the Pacific Northwest Smart Grid Demonstration Project, made possible by an $89 million grant from the U.S. Department of Energy (supplemented with matching funds) and managed by Battelle. The overall project goals are to identify opportunities to help save energy, make the power system more reliable
Pacific Northwest Transportation Consortium
With dual themes of safety and sustainability, PacTrans serves as an engine and showcase for transportation research, education, and workforce development in the Pacific Northwest. PacTrans is a coalition of transportation professionals and educators from Oregon State University (OSU), the University of Alaska, Fairbanks (UAF), University of Idaho (UI), University of Washington (UW), and Washington State University (WSU).
Population Health Initiative
The Population Health Initiative addresses the most persistent and emerging challenges in human health, environmental resilience and social and economic equity. Through partnerships with local, national and global communities, we develop, implement and disseminate transformative knowledge through our research, service and teaching.
Program on Climate Change
The Program on Climate Change amplifies the University of Washington's exceptional range of expertise in climate related fields. Interaction among faculty through PCC activities promotes the integration of existing observational and modeling efforts within and between individual departments, providing a powerful synthesis approach for addressing the problems of climate change.
Sustainable Transportation Lab
In the Sustainable Transportation Lab, we study how to make our transportation system more economically viable, environmentally benign, while ensuring access to opportunities for all.
Urban Commons Lab
Urban Commons Lab in the College of Built Environments at the University of Washington focuses on research and public service that contribute to civic engagement and democratization of contemporary city-making. We approach Urban Commons as a spatial and social practice that embodies reciprocity, sharing, civic engagement, and collective actions.
Urban@UW
Urban@UW extends the understanding of cities—from people, buildings, infrastructure, and energy to economics, policy, culture, art, and nature—beyond individual topics to dynamically interdependent systems, so that we can holistically design and steward vibrant and welcoming cities in which future generations will thrive.
Washington Ocean Acidification Center
We serve Washington state by leading priority areas of ocean acidification research.