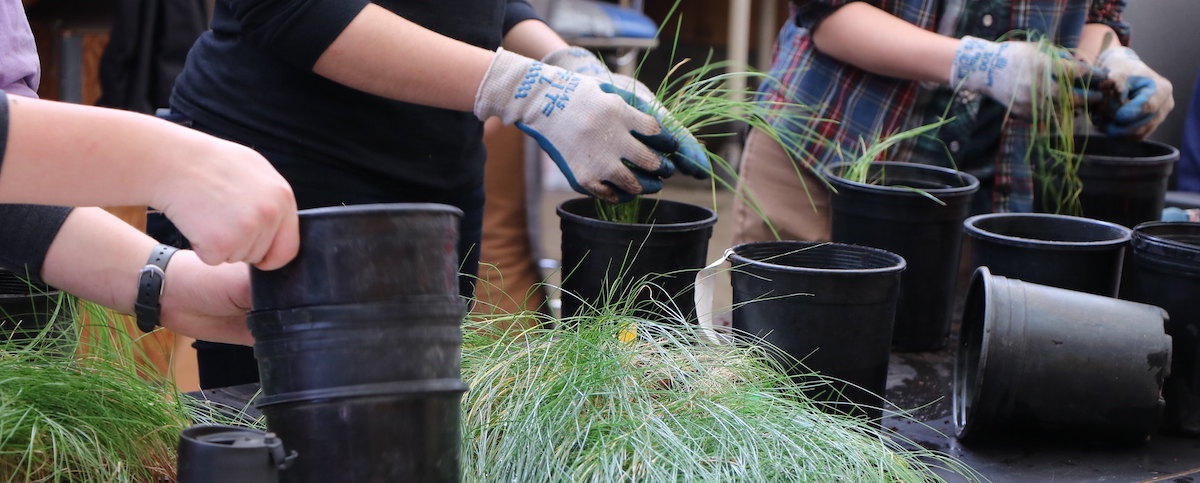 A number of University of Washington groups offer volunteer opportunities around sustainability. If you know of others that should be included on this list, let us know at sustainability@uw.edu.
UW Farm
The UW Farm has volunteer opportunities throughout the year, and especially needs volunteers in the summer during the height of the growing season. All volunteers must sign up online before participating.
UW Food Pantry
The UW Food Pantry relies on volunteers who are committed to ensuring every community member has access to healthy and wholesome food. There are opportunities to work with customers, stock shelves, and support campus food drives.
Society for Ecological Restoration
The UW Student Chapter of the Society for Ecological Restoration regularly hosts work parties on the UW Seattle campus. See their calendar or sign up for their newsletter to learn about current opportunities.
Native Plant Nursery
The student-run Native Plant Nursery raises plants for use in on- and off-campus restoration projects. Email sernursery@gmail.com for more information on the weekly work parties. 
Bean Basket
This student-run, on-campus store provides sustainable and organic bulk foods, teas, and spices at the lowest possible prices. Located in the ground floor of Odegaard next to By George, the Bean Basket gives volunteers customer service and sales experience while also making a difference in food accessibility on campus.
UW Botanic Gardens
Help conserve rare native plants through Rare Care and other opportunities with the UW Botanic Gardens.
Riverways Education Partnerships
Riverways Education Partnerships connects with students, schools, and communities towards tribal sovereignty and racial justice. It is a K-12 outreach program that connects undergraduate students from the University of Washington with educational and service opportunities in local and regional schools and community organizations through tutoring and mentoring.
Citizen science opportunities
The College of the Environment offers opportunities for members of the public to become citizen scientists and support ongoing research projects.
More resources
The Population Health Initiative and Community Engagement and Leadership Education (CELE) Center have information on other volunteer opportunities around UW and the community.