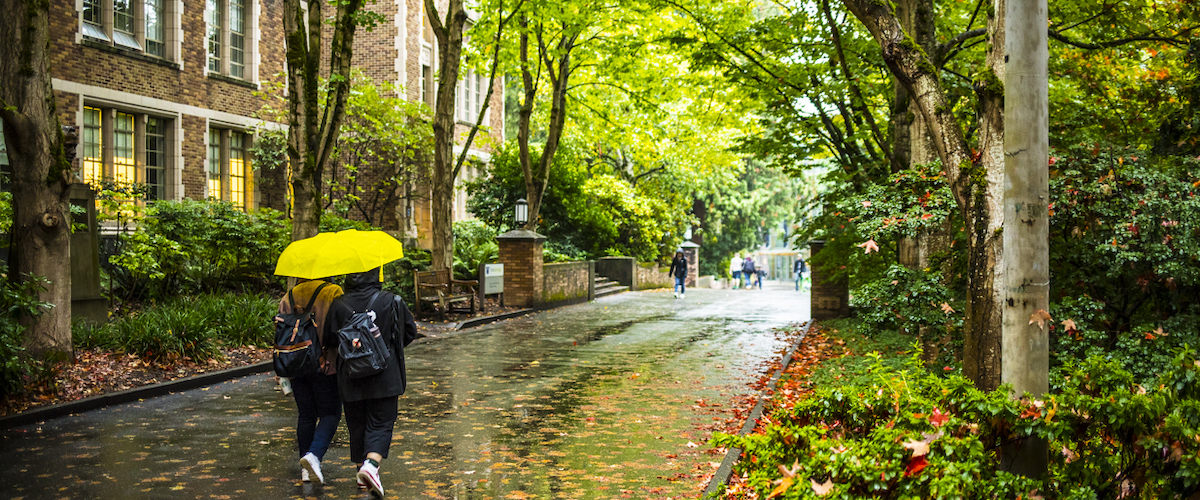 Spending time in nature can have many positive effects on your health and wellbeing. Studies have found it can provide benefits including reducing anxiety, improving mental health, and bolstering physical health.
There are many different ways people interact with nature, and it can happen on various scales. We've put together some resources to help the UW community connect with nature, whether that means taking a quick break on campus or getting away from the urban environment for a hike or other activity.
This page providing resources for connecting with nature around the UW was created as a collaboration with UW Sustainability, UW Nature & Health, and the UW Sustainability Action Plan's Engagement working group.
"Studies have proven that even the smallest bit of nature — a single tree, a small patch of flowers, a house plant — can generate health benefits."

-Kathleen Wolf, UW research social scientist in the School of Environmental and Forest Sciences

UW Resources
Forest bathing
Forest bathing is a simple relaxation activity for people of all ages. See below for a map of suggested Forest Bathing spaces on all three UW campuses.
UW Forest Bathing map
The UW Botanic Gardens also has more information and suggestions on forest bathing on campus or in the Arboretum.
Forest Bathing resources
Other locations
The Campus Tree Tour guides users to examples of more than 80 tree species located on the UW's Seattle campus.
Tree tour
The Indigenous Walking Tour highlights the Indigenous presence on campus. The tour was created by Owen Oliver (Quinault Indian Nation and Isleta Pueblo) when he was a UW student.
The Union Bay Natural Area, located on the northeast corner of UW's Seattle campus, is a public wildlife area featuring walking trails and some of the best bird-watching opportunities in Seattle.
Learn about the UBNA
Part of the Union Bay Natural Area, Yesler Swamp is a restored area on the edge of Lake Washington featuring a boardwalk trail allowing all to experience the swamp year-round.
Yesler Swamp info
Groups at UW
UW Nature & Health
Nature & Health seeks to understand the connections between nature and human health and well-being.
UW Botanic Gardens
The Botanic Gardens' mission is sustaining managed to natural ecosystems and the human spirit through plant research, display, and education. It includes the Washington Park Arboretum and the Center for Urban Horticulture.
UWild
The UWild program offers classes, trips and equipment rental to the UW community.
Society for Ecological Restoration - UW Chapter
SER-UW works to restore ecological habitat on the UW campus. Join an SER work party and help remove invasive species and plant natives. See their current projects.
Hiking Club (student RSO)
A student group organizing hikes for all skill levels.
UW POC Outdoors
Building an inclusive community for UW POC graduate students to get together outdoors.
UW Farm
The UW Farm is a student-powered campus urban farm & educational facility. All are welcome to volunteer - there are opportunities almost every day.