Friday April 22, 2011
Red Square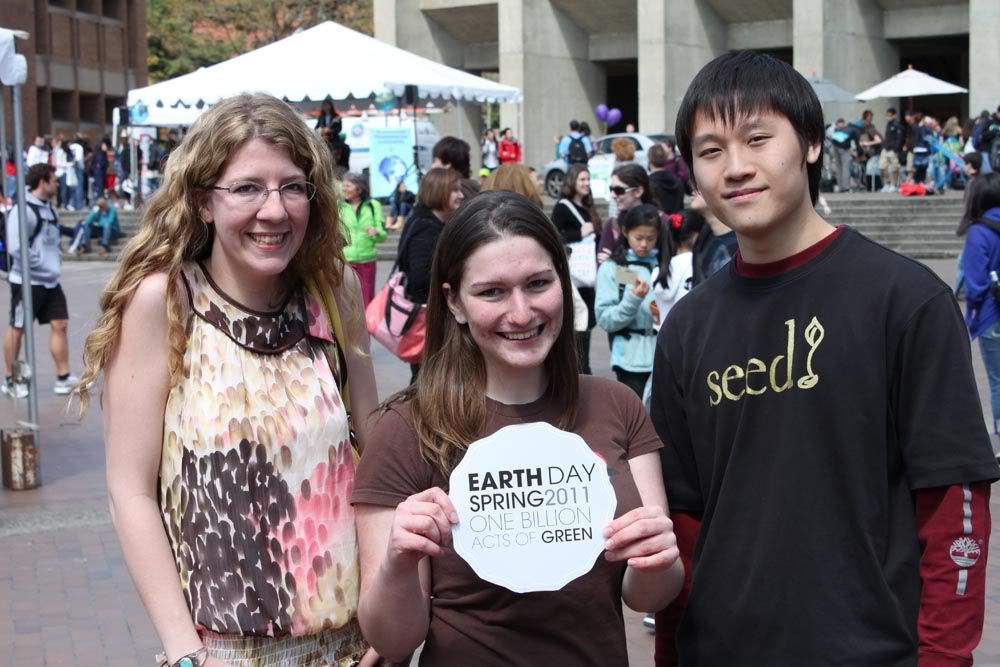 Earth Day 2011 Celebration
11:00 AM - 1:30 PM
Exhibitors
11:30 AM Music
12:00 PM Welcome!
Opening remarks from Senior Vice President V'Ella Warren
Celebration remarks from Campus Sustainability Fund
Campus Clean Up Winners
Keynote Speaker from the Climate Project
12:30 PM 2011 Husky Green Award Ceremony
1:00 PM More Music
Speakers
V'Ella Warren, UW Senior Vice President, and Treasurer Board of Regents.

Carol Pease, a representative from the Climate Project will be our keynote speaker.
Musical Performers
Sameer Ranade, Climate Change Spoken Word
Student Groups
Campus Animal Rights Educators
Campus Sustainability Fund
UW Earth Club
UW Farm
RAPOI
Real Food Challenge
Society for Ecological Restoration
Students Expressing Environmental Dedication (SEED)
UW Student Food Co-op
Young Democrats
University Departments
Environmental Stewardship Advisory Committee
UW Carlson Center
UW College of the Environment
UW Commuter Services / UPASS
UW Grounds Operations
UW Environmental Stewardship & Sustainability
UW Housing & Food Services
UW Mailing Services
UW Program on the Environment
UW Recycling & Solid Waste
External Organizations
Brenthaven
Coca Cola
Cupcake Royale
e-Stewards
Full Circle Farms
Honest Tea
Kimberly-Clark
Shepherd's Grain
Sierra Club
Sound Power
Theo Chocolate, Inc.
Washington Wilderness Coalition
Zipcar
If you are interested in exhibiting at our Earth Day Event, please contact us at oess@uw.edu.
This year's planning committee consists or members from the following groups:
UW Earth Club

Students Expressing Environmental Dedication (SEED)

The Campus Sustainability Fund (CSF)

The Environmental Stewardship & Sustainability office

UW Recycling & Soild Waste

Housing & Food Services

The Student Activities Office

The Carlson Center
We are currently seeking volunteers for Earth Day 2011. Sign up to help out with the event set up, take down, and other tasks.
At this time, any questions or ideas reqarding Earth Day 2011 should be directed to oess@uw.edu.