The University of Washington has participated in Earth Day celebrations since the very first observance in 1970. This year there are events, volunteer opportunities and other ways to recognize Earth Day happening on all three UW campuses, organized by many different groups and units across our university. See the full Earth Month calendar here.
Featured events
Earth Day Fairs
April 14, Ethnic Cultural Center
11 a.m. - 1:30 p.m.
Theme: "Equity & Sustainability"
April 19, HUB
11 a.m. - 1:30 p.m.
Theme: "Decarbonization"
The Earth Day Fairs will feature departments, organizations and student groups from across the University of Washington who are working for sustainability. Stop by and discover sustainability tips, learn about UW's efforts and find ways you can get involved.
If your group is interested in being part of the exhibitor fair, complete the form below.
---
April Sustainability Challenge with the Whole U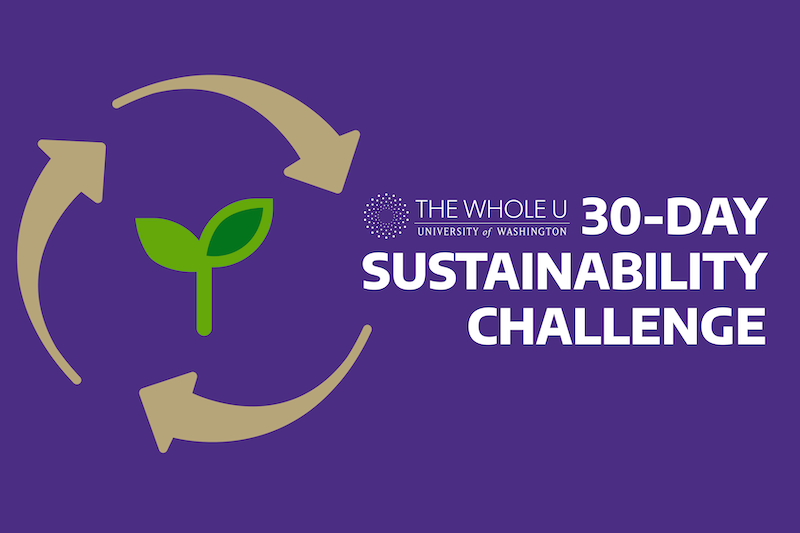 The UW Sustainability Challenge is an annual event that brings together University of Washington faculty, staff, and community members to tackle pressing sustainability issues facing our world. Each day, challenge yourself to follow a sustainable tip and expand your knowledge on how to be more environmentally conscious. Do them on your own, as a work unit, or with a friend or family member.
Register to receive the daily challenges. UW NetID is required.
---
UW Tacoma Sustainability Film Festival
The UW Tacoma Sustainability Film Festival aims to promote awareness and engagement with sustainability issues that our community faces while providing a platform for marginalized voices to share their story.
All local (Western Washington) creators are invited to submit their short films. Submissions are open to students as well as professional creators. Submissions are due April 17. The festival screening will be April 28 in UW Tacoma's Carwein Auditorium.