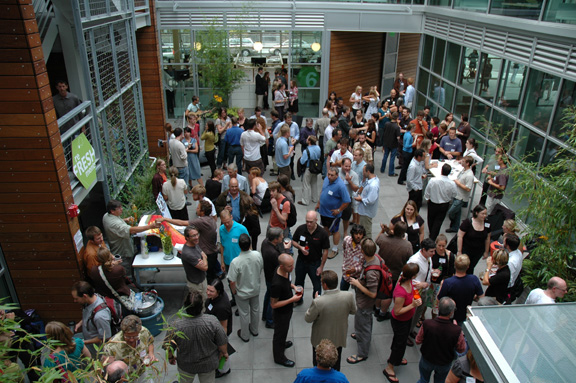 October 13, 2015
Time: 5:30-8:00pm
Location: HUB Lyceum
Join us on Tuesday, October 13 for a GreenDrinks that will have you cheering "Go Purple, Be Gold & Green!" UW co-hosts include the UW Buerk Center for Entrepreneurship, the Alaska Airlines Environmental Innovation Challenge, UW Sustainability, UW Surplus, UW Professional and Continuing Education and UW Bothell's School of Interdisciplinary Arts and Sciences. Come and engage with UW students, faculty, and staff and learn about some of the academic degrees, certifications, and continuing education programs that offer teaching and training in the innovative world of environmental sustainability.
Special guest:  Ron Pernick, Founder & Managing Director of Clean Edge, and author of Clean Tech Nation.
About Seattle Greendrinks
Part of the international Greendrinks network, Seattle Greendrinks was founded in 2003 to connect and grow Seattle's environmental community. Seattle Greendrinks' main event is a monthly informal social networking gathering, connecting old members with new. Seattle Greendrinks has also served to launch a number of events, including Fresh!, an intimate, informal evening of wine & chocolate tasting and Bloom, a speaker-focused event highlighting innovation in sustainability.
The monthly social gathering remains the core of Seattle Greendrinks' work, and all are welcome to join us the second Tuesday of every month, starting around 5:30pm. The goal of our group is pretty simple: to create a space that fosters connections and good times shared among people working in, or interested in, environmental and sustainability issues. Membership is open to everyone over the age of 21, and we welcome new members at all events.
More information on Greendrinks: Seattle Greendrinks | Greendrinks
Sponsors: