October 26-31, 2015
University of Washington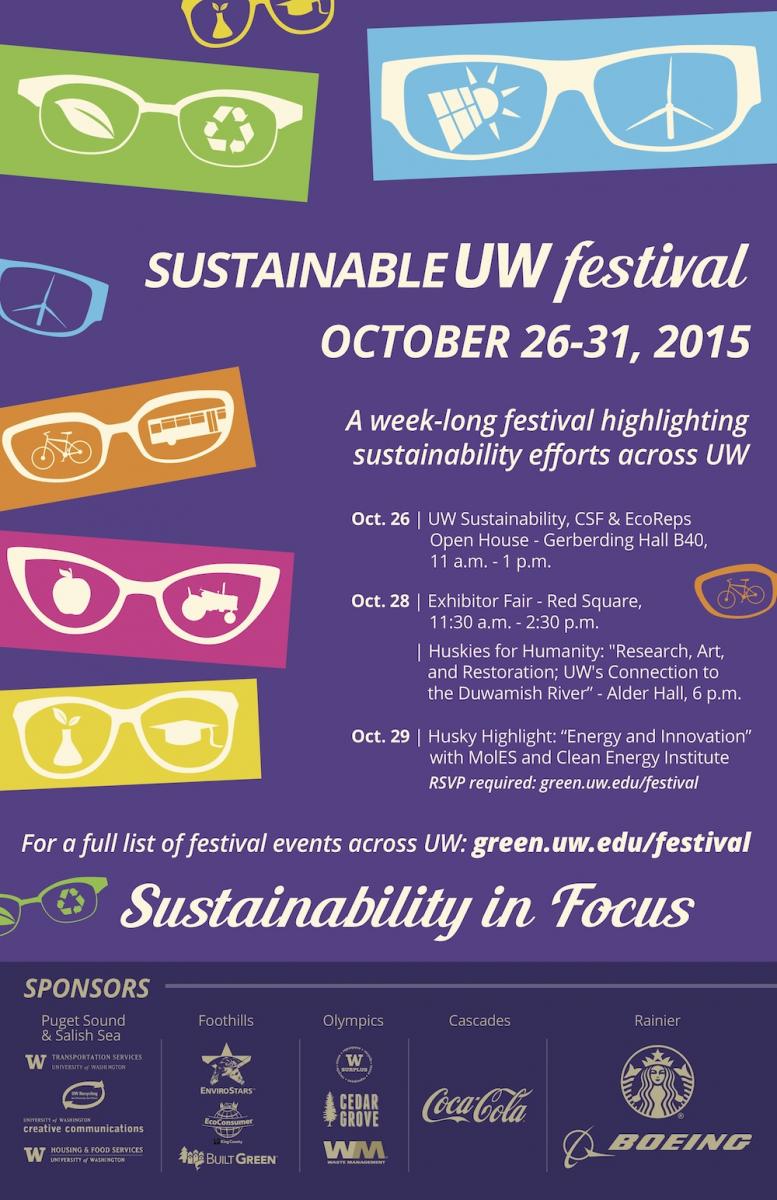 The 2015 SustainableUW Festival (sustainability.uw.edu/festival) will take place Oct. 26-31. The festival celebrates sustainability efforts at the University of Washington, highlighting contributions and leadership efforts across campus as well as providing opportunities for students, faculty and staff to get involved.
Festival events are hosted by a variety of schools, colleges, student groups and other campus organizations. The Festival is designed to showcase the full scope of sustainability efforts across the university, including both special festival programming as well as regularly-scheduled events. Sustainability events happen year-round at the UW, so the SustainableUW Festival is just one slice of the larger sustainability picture.
Some of the centerpiece SustainableUW Festival events to look forward to include:
Exhibitor Fair, Wednesday, Oct. 28 on Red Square: UW programs, clubs, and community partners that put sustainability first will be on-hand and ready to tell you about their work and how you can get involved.
Husky Highlight: Energy and Innovation, Thursday, Oct. 29: Presentations and tours from researchers in the Molecular Engineering & Sciences Institute (MoIES) and the Clean Energy Institute (CEI). RSVP required.
Huskies for Humanity: "Research, art, and restoration: UW's connection to the Duwamish River", Wednesday, Oct. 28 at Alder Hall: An exploration of the many ways UW is connected to the Duwamish River.
Learn more about these and all the other SustainableUW Festival events at our Events page. Learn how your department or organization can get involved and submit and event for the calendar at our Festival Partners page.
If you are interested in sponsoring the 2015 SustainableUW Festival, see our sponsorship information.
2015 SustainableUW Festival sponsors:
Rainier Sponsors
Cascades sponsor

Olympics sponsors
Foothills Sponsors
Puget Sound/Salish Sea Sponsors