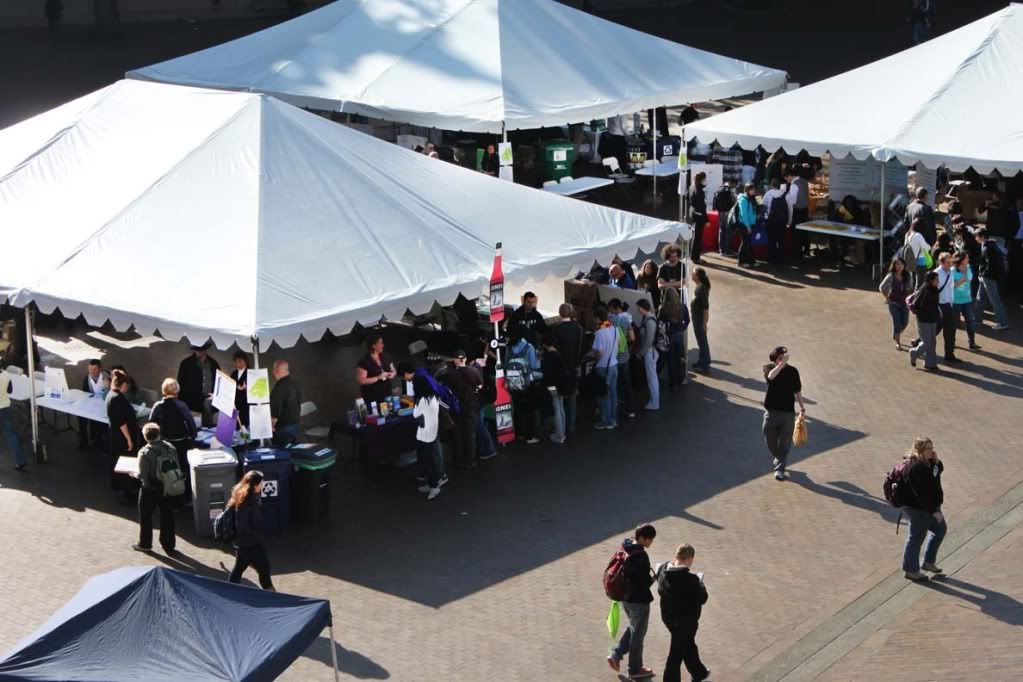 Sustainable Vendor Exhibition
Red Square, University of Washington
Wednesday, Oct. 28, 2015, 11:30 a.m. - 2:30 p.m.
Sample sustainable snacks and visit with over 40 exhibitors from UW and beyond who put sustainability first in their organization.
Sponsors:
Boeing
Boeing is a responsible partner, neighbor and citizen to the diverse communities and customers we serve. We understand that driving environmental performance into all aspects of our business is good for the planet and is crucial to our long-term success. As our business and industry continues to grow, Boeing is committed to building a better future with innovative products and services that are cleaner, more efficient and help build a better planet.
Coca-Cola
With an enduring commitment to building sustainable communities, the Coca Cola Company is focused on initiatives that reduce our environmental footprint, support active, healthy living, create a safe, inclusive work environment for our associates, and enhance the economic development of the communities where we operate.
UW Surplus
Taking in surplus items from all UW departments & medical facilities, UW Surplus supports the University's sustainability mission by aiming to keep the greatest percentage of items out of landfills through sales, auctions, and recycling. Our core mission of reuse, repurpose, recycle is highlighted at the UW Surplus Store, which is open to the public every Tuesday from 12 to 6 p.m., and to UW departments, government agencies, and registered non-profits Monday through Friday, 12:30 to 3:30 p.m..
Waste Management
Waste Management is the nation's leading recycler, and produces more renewable energy than the U.S. solar industry. In the Pacific Northwest, WM collects methane gas from its landfills and returns it to Seattle City Light, powering 10,000 homes in Seattle. WM also has 358 compressed natural gas (CNG) trucks in its PNW fleet, which not only increases fleet efficiency, but also reduces emissions.
Cedar Grove
Cedar Grove, an industry leading environmental solutions company, harnesses the vitality of organic waste by recycling it into innovative products.
EnviroStars Program
EnviroStars is an environmental certification program that offers a proactive way to influence our quality of life in Washington State – where students, residents, and businesses alike place a high value on natural resources and healthy lifestyles. The EnviroStars Certified logo provides an easy way for you to identify and support these businesses. It's good for business, good for the environment, and good for you!
King County EcoConsumer
King County's EcoConsumer project deals with the environmental impacts of our purchasing decisions and daily activities. In addition to the Solid Waste Division, a number of other King County agencies offer programs and resources to help King County residents balance consuming and conserving.
BuiltGreen
Built Green® is an environmentally-friendly, non-profit, residential building program of the Master Builders Association of King and Snohomish Counties, developed in partnership with King County, Snohomish County, and other agencies in Washington state to set standards of excellence that can make a significant impact on housing, health and the environment and are readily "do-able" today.
Creative Communications
Creative Communications is the sustainable graphics communications partner for campus. We help UW departments to tell their message and story in an environmentally-friendly way through e-newsletters, websites, or by printing on well-sourced, 100% recycled paper. We maintain Scan Stations in the UW Libraries, which allows students to avoid printing and copying in the Libraries. In addition, our Mailing Services' unit received the 2015 Husky Green Award for their new bicycle delivery program.
Housing and Food Services
Housing and Food Services will display and educate the campus community on what we are doing to drive sustainability on campus, from utilizing compostables in all of our food service operations, to drastically reducing energy use in residence hall living with Gold LEED certified building and our energy Smart Grid.
Office Depot
Eco-conscious products from Office Depot can help you create a greener workplace. Recycled paper, remanufactured ink, efficient lighting and non-toxic cleaners are just some of the choices available at Office Depot.
UW Recycling
We work to divert waste from the landfill (in FY 2015, UW diverted 66% of its waste! That's over 8,500 tons diverted!). We provide waste education and reach out to staff, students, and facility groups to increase waste awareness. We improve internal waste infrastructure, signage, and external collection areas, with MiniMax and other projects throughout the year to also increase waste diversion.
UW Transportation Services
Transportation Services provides innovative and sustainable transportation solutions that facilitate the educational, research, cultural and service missions of the University. The department's vision is to be the provider of choice for its customers and a model of excellence in its industry.
UW Sustainability
UW Sustainability promotes environmental sustainability by engaging and connecting members of the UW community.
 
UW exhibitors:
Alaska Airlines Environmental Innovation Challenge
"The Alaska Airlines Environmental Innovation Challenge at the University of Washington taps into the passion, smarts, and motivation that university students have for solving environmental/cleantech problems. In the Challenge, interdisciplinary student teams define an environmental problem, develop a solution, design and build a prototype, create a business plan that proves their solution has market potential, and pitch at a demo-day event.
Campus Sustainability Fund
The goal of the Campus Sustainability Fund is to create a sustainable campus and foster an environmentally conscious university culture by funding student-led projects that lessen the university's environment impact.
Capital Projects Office
Capital Projects Office plans, develops, and delivers physical environments to support and enhance the University's mission.  CPO manages design and construction of new and remodeled University facilities at the Seattle, Tacoma, and Bothell campuses, as well as remote facilities.
College of the Environment
Spanning the forests to the seas, from the depths of the earth to the edges of the solar system, the College of the Environment is an unrivaled constellation of environmental research, education and application. In partnership with industry, government and non‐profits, we are committed to creating future leaders, steeped in basic science and critical thinking, and focused on developing sustainable solutions to the critical challenges of our time. We offer 7 undergraduate majors, 18 graduate degrees, and 2 graduate certificates, all focused on some aspect of the environment and/or sustainability. Stop by to learn more about our academic programs!
Community, Environment, and Planning
CEP is a major based around communal learning, and holistic thinking. With one of our main tenants being environment, we teach and encourage every student to think critically about the impacts on all environments that we live in, both built and natural.
Earth Club
The purpose of Earth Club is to plan and execute projects that encourage environmental stewardship on campus and in the UW community, including Earth Day. We also promote fellowship among UW students who care about the environment by holding events, volunteering in the community, participating in recreational outings, and hosting guest speakers to encourage education of environmental ideas and issues.
EcoReps
EcoReps is a student-run organization that works with our peers, faculty, and staff to make the University of Washington a more sustainable place. We are primarily a sustainable project development service for students, but we also have a large presence in the Greek Community.
Green Futures Lab
At the Green Futures Lab we work to support interdisciplinary research and design that advances our understanding of, visions for, and design of a vital and ecologically sustainable public realm.  With support from the University of Washington, local communities and international partners, we provide planning, design and education for healthy, equitably accessible and regenerative urban and ecological systems.
Grounds Management
The University of Washington and Grounds Management are committed to working toward sustainability. Grounds Management encourages sustainability driven practices for all staff. We also have several major initiatives with sustainability at their core: coffee and leaf composting, a campus wide salvage wood program, and an integrated pest management (IPM) program. We are also a Salmon Safe certified campus.
International Forestry Student Association
The International Forestry Students Association is a network of students studying environmental matters globally that provides students with opportunities to enhance their formal education internationally, improve cultural understanding, and find a home of passionate students within their own countries. We share job and study opportunities abroad, send delegations of students to international processes (UNFCC, UNFF, UNCBD, etc), and host events on campus to engage the greater community and increase their knowledge of the importance of forestry.
UW Environmental Studies, Program on the Environment
We live in an increasingly interconnected world, calling for skilled communication, cooperative decision-making and a big picture understanding of how humans interact with natural and urban environments. To understand these complexities, we must know, experience and engage. The University of Washington's prime location enables students to do just this, visiting and learning in stunning natural and urban landscapes. Students in the Environmental Studies program learn to listen to different perspectives and collaborate on pressing issues such as climate change, water, energy, food, policy and education. They gain the skills and knowledge necessary to inspire and lead change for a sustainable future.
Husky Real Food Challenge
We are a registered student organization at the University of Washington working to bring more Real Food to the UW campus. We exist as a part of a national campaign that leverages the power of youth and universities to create a healthy, fair, and sustainable food system. 
ReThink UW
ReThink is a club focused on business sustainability and finding solutions to pressing global issues. 
Student Environmental Health Association
The University of Washington's (UW) Student Environmental Health Association (SEHA) is committed to the betterment of the nation's health through control of the environment. 
Students Expressing Environmental Dedication (SEED)
Students Expressing Environmental Dedication (SEED) is a student organization at the University of Washington overseen by Housing and Food Services. Our mission is to promote sustainability in the UW's residence halls and campus community.
Society for Ecological Restoration - UW Chapter
The SER-UW student guild, a student organization under the umbrella of the Society for Ecological Restoration International, brings together students with a common interest in the science and practice of ecological restoration.  Major projects SER-UW is currently managing are two on-campus restoration sites at Whitman Walk and Kincaid Ravine, and a native plant nursery at the Center for Urban Horticulture. Opportunities to volunteer with SER-UW are on going and weekly through out the school year.
Whole U
The Whole U launched in January 2014 to foster community, promote holistic wellness, and share the great perks available to UW faculty and staff.
UW Botanic Gardens
UW Botanic Gardens is committed to sustaining managed to natural ecosystems and the human spirit through plant research, display, and education. As an international hub for plant science, information, teaching, and stewardship, we strive to promote an educated, inspired, and engaged society dedicated to sustainable ecosystem management.
UW Environmental Health and Safety
EH&S helps manage lab chemicals, biohazards, hazardous waste, and radioactive waste on campus. We also provide a variety of campus safety and health programs and support.
UW Farm
Our mission is to be the campus center for the practice and study of urban agriculture and sustainability, and an educational, community-oriented resource for people who want to learn about building productive and sustainable urban landscapes.
UW Green Athletics
The primary purpose of the UW Athletics Green Team is to increase waste diversion at UW sporting events, while other goals include developing strategic sustainability plans for the Athletic Department, working collaboratively with student and campus groups, measuring energy usage and waste diversion, implementing projects that conserve resources and energy, and creating awareness of and participation in our initiatives by the Husky community and partners.
UW Tower Green Team
The Green Team is a project of UW Educational Outreach, which welcomes membership from all units within the UW Tower complex. Troy Swanson, Facility Manager, and other members of the UW Tower Facilities staff are enthusiastic supporters of the team, and have taken on an important role supporting our efforts. We recently held an alternative transportation celebration (alternatives to single-occupancy vehicle commuting, that is) at the Tower, which we called "Commutopia" -- involving on and off campus resources to help explore more healthy, interesting and fuel-saving options.
Other:
Carbon WA
We are a grassroots coalition of UW students, professors and concerned citizens who are collecting signatures for a revenue-neutral carbon tax initiative. The UW chapter of Carbon Washington has been organizing students for this groundbreaking initiative for about a year and a half. Carbon Washington is dedicated to educating students about carbon pricing as a vital part of the solution to climate change.
EcoProducts
Eco-Products is the leading brand of single-use foodservice packaging made with renewable resources and post-consumer recycled content. We are a mission-driven organization, using environmentally preferable foodservice packaging as a means to advance Zero Waste practices and to raise awareness of the connections between the products we use, the materials they are made with, and what happens to them at the end of their lives.
Green Party of Washington
Our organization promotes sustainability as a key component to analyses of climate, social and economic justice. GPWA sees sustainability not only as individual or organizational practice but a policy principle to reform how we pursue long term goals in the face of limited resources.  Our 10 Key Values include Personal and Global Responsibility, Future Focus and Sustainability, and Ecological Wisdom.
Seattle Tilth Master Composter/Soil Builder
Composting is conservation! Compost helps to sequester carbon in the soil, builds healthy soil, reduces runoff, and holds water in the soil. Additionally, we will talk with people about how composting their kitchen food scraps makes a difference to climate change.
Seattle City Light
Seattle City Light is a customer-owner, carbon neutral electric utility working to provide access to renewable energy, energy efficiency and conservation resources. By partnering with educational institutions like UW, City Light is focusing on new opportunities for renewable energy outreach and education.
Solar Washington
Solar Washington is a nonprofit organization composed of people, companies, programs and organizations working to advance the solar industry in our state. Through education and networking, we promote the development and effective use of solar and renewable energy with concern for the economic, environmental and social fabric of Washington.
SolTerra Systems
SolTerra builds beautiful structures to help connect people to nature, create community in urban environments, and reduce our impact on the earth. We create quality spaces and structures to demonstrate that renewable energy and sustainable construction are both feasible and beneficial to individuals and society alike. Founded in 2008 as a residential solar, living wall and green roofing company, SolTerra is now also designing, building and managing sustainable multi-use residential projects.
Surfrider Foundation
The Seattle Chapter of the Surfrider Foundation has a mission to protect oceans, waves, and beaches through a powerful activist network. Volunteers regularly clean Puget Sound beaches and are leading a city wide program, "Hold On To Your Butts" to engage the public in cigarette litter prevention.
ZipCar
Imagine a world with one million fewer cars on the road. We do. Every day we are working towards a place with less dependence on personally-owned vehicles. Why? Because it matters. Less cars on the road means less congestion, less pollution, less dependence on oil, and cleaner, fresher air to breathe. Some folks don't believe it's possible for car sharing to have such a huge impact.
---
2015 SustainableUW Festival sponsors:
Rainier Sponsors
Cascades Sponsor

Olympics Sponsors
Foothills Sponsors
Puget Sound/Salish Sea Sponsors