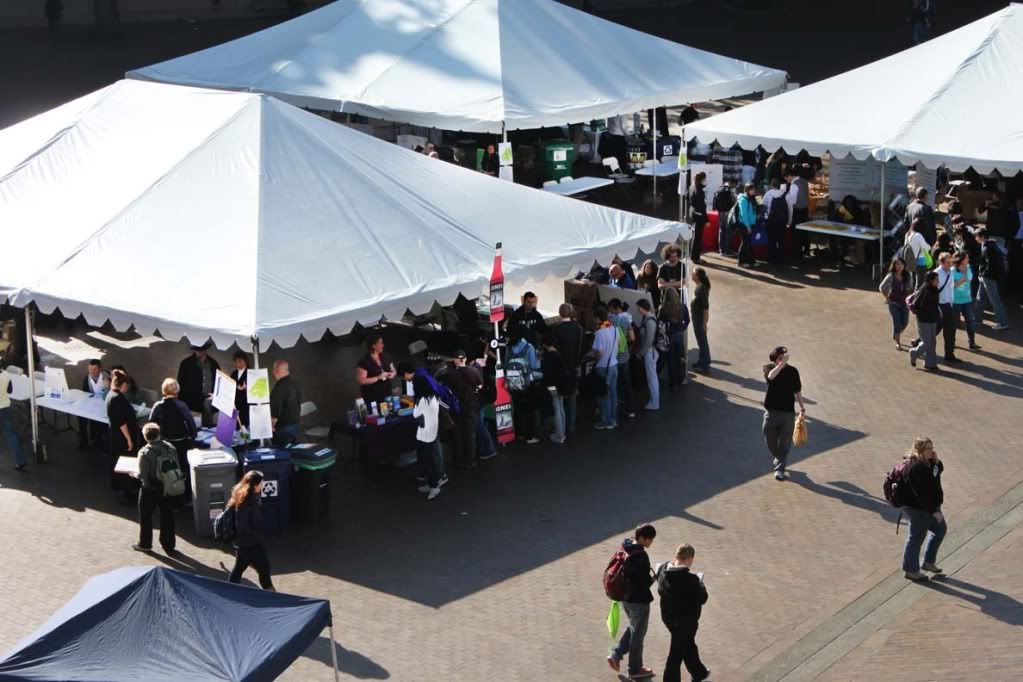 Sustainable Vendor Exhibition
Red Square, University of Washington
Wednesday, Oct. 22, 2014, 11:30 a.m. - 2:30 p.m.
Sample sustainable snacks and visit with over 40 exhibitors from UW and beyond who put sustainability first in their organization.
Sponsors:
Boeing is a responsible partner, neighbor and citizen to the diverse communities and customers we serve. We understand that driving environmental performance into all aspects of our business is good for the planet and is crucial to our long-term success. As our business and industry continues to grow, Boeing is committed to building a better future with innovative products and services that are cleaner, more efficient and help build a better planet.
For over a decade now, UW Surplus has supported the University's sustainability mission by helping keep surplus materials out of landfills and inviting the public to reuse and repurpose these items. All are welcome at our year-round, weekly Tuesday Public Store from noon - 6pm. You may be surprised at the great items you find!
As the Puget Sound's premier renewable energy provider, Artisan Electric is proud to set industry standards for quality, design, and customer service.  Whether optimizing current systems to run more efficient or converting general electric to solar power, Artisan Electric is committed to providing intelligent energy solutions for the way you live.  We are excited to work with residential and commercial customers to help shape Washington's clean energy future.
EnviroStars is an environmental certification program that offers a proactive way to influence our quality of life in Washington State – where students, residents, and businesses alike place a high value on natural resources and healthy lifestyles. The EnviroStars Certified logo provides an easy way for you to identify and support these businesses. It's good for business, good for the environment, and good for you!
Waste Management is the nation's leading recycler, and produces more renewable energy than the U.S. solar industry. In the Pacific Northwest, WM collects methane gas from its landfills and returns it to Seattle City Light, powering 10,000 homes in Seattle. WM also has 358 compressed natural gas (CNG) trucks in its PNW fleet, which not only increases fleet efficiency, but also reduces emissions.
Housing and Food Services will display and educate the campus community on what we are doing to drive sustainability on campus, from utilizing compostables in all of our food service operations, to drastically reducing energy use in residence hall living with Gold LEED certified building and our energy Smart Grid.
Keeney's Office Supply | Office Interiors have been leaders in the sustainability arena for many years and have worked with numerous government agencies and private businesses to help them achieve cost and carbon savings with regards to office supply procurement. Keeney's developed an internationally recognized Green Office Supply Program in 2008 in cooperation with the City of Seattle. This program has developed and grown over the years into a multifaceted resource to anyone wishing to operate on a more sustainable business level. 
UW Recycling's role on the UW campus extends well beyond just picking up trash—we serve as a leader in sustainability  by providing innovative recycling, composting and waste reduction solutions. We are recycling and solid waste contract administrators, education and outreach experts, waste collectors, waste diversion innovators, and sustainability enthusiasts for the UW Seattle campus.
Implementing sustainable communication structures on campus such as scan stations placed for students to enable a paperless option (save to USB or email), Convio email support enabling electronic communications, Mailing Services green truck fleet, and Reduction of Junk Mail.
UW exhibitors:
Alaska Airlines Environmental Innovation Challenge
Cleantech Innovation + Market Opportunity = Solutions for the Planet.  In the EIC, interdisciplinary student teams define an environmental problem, design a solution, produce a prototype, and create a business summary that demonstrates market opportunity and the potential for impact.
The Husky Athletic Sustainability Committee would like to share with the campus community our goals and initiatives for the 2014-15 academic year.
Bay Laurel Catering is located in Haggett Hall on north campus. They are as local as you can get. Bay Laurel supplies the majority of the grab and go sandwiches and salads we offer in our Express Markets and Cafes on campus. The sandwich wrap and the salad containers are compostable and products are delivered in hybrid powered vehicles. The Bay Laurel grab and go operation employs over 50 UW Students. Keeping the carbon footprint low and supporting UW students is what it's all about.
The Biodiesel Cooperative started as a project for a Human Center Design & Engineering class in 2010. Since then we have been funded and gained momentum and members. All our members believe that we can positively affect the University of Washington's sustainability by converting waste to a valuable product. We are passionate about alternative energy and are striving to ensure that it becomes a feasible option for our future.
The University of Washington Botanic Gardens was established in 2005 to unite the gardens and programs of the Washington Park Arboretum and Center for Urban Horticulture. As part of the School of Environmental and Forest Sciences and College of the Environment, UW Botanic Gardens is an international hub for plant science and ecosystem research, teaching, and stewardship.
The UW Clean Energy Institute is accelerating the creating of a clean energy economy and will grow the state of Washington's capacity to sustain our economy and the environment. ,.We are accomplishing this by recruiting top faculty and students, investing in state-of-the-art research equipment and partnering with other research institutions, educational program and industry partners. We have an active educational outreach program and are currently recruiting volunteer "Solar Ambassadors".
UW Campus Sustainability Fund (CSF)
The goal of the Campus Sustainability Fund is to create a sustainable campus and foster an environmentally conscious university culture by funding student-led projects that lessen the university's environment impact.
UW College of Built Environments - Community, Environment, and Planning
CEP is a major based around communal learning, and holistic thinking. With one of our main tenants being environment, we teach and encourage every student to think critically about the impacts on all environments that we live in, both built and natural.
UW Facilities Building Services Department - Custodial Services
Providing exceptionally clean and sanitary environments for the UW community and visitors to learn, teach, research and work.
The purpose of Earth Club is to plan and execute projects that encourage environmental stewardship on campus and in the UW community, including Earth Day. We also promote fellowship among UW students who care about the environment by holding events, volunteering in the community, participating in recreational outings, and hosting guest speakers to encourage education of environmental ideas and issues.
We work with campus (specifically the Greek Community) in helping to promote peer to peer sustainability.
The UW Sustainability office promotes environmental sustainability by engaging and connecting members of the UW community.
The UW Campus Grounds Management has several sustainability initiatives. 2014 will be the first year we will have a product from our in-house composting program which takes tree leaves and coffee grounds on campus to create a soil amendment used on the landscape and at UW Farm. Also Grounds Management utilizes an integrated pest management (IPM) approach for weeds and insect pests on campus and is working to prevent trees removed on campus from going into the waste stream by transforming the wood usable lumber.
Graduate & Professional Student Senate (GPSS)
GPSS promotes graduate student interests on campus, including campus sustainability efforts, and provides opportunities for student involvement by appointing graduate and professional students as representatives on various university committees.
Husky Grind is about more than providing a quality cup of coffee. We develop our flavor profiles by small-batch roasting on campus, and the rest of our beans are prepared locally by Seven Coffee Roasters. Origin cards let you know exactly where our beans come from including the country, farm, exporter and certifications. Single-origin practices follow the traditions of specialty brewers, letting you experience the character and subtleties in a particular region's crop. So drop in and warm up at your friendly neighborhood Husky Grind. Husky Grind also partners with design and agricultural programs on campus for coffee-related special events and seminars.
Joint Institute for the Study of the Atmosphere and Ocean (JISAO) 
Cutting-edge research in climate, ocean, and fishery sciences.
The Program on the Environment (PoE) offers a Bachelor of Arts Degree with a Major in Environmental Studies, a Minor in Environmental Studies, and a Graduate Certificate in Environmental Management.
The Environmental Studies program has been at the leading edge of interdisciplinary learning and teaching at the UW since 1998.
The Real Food Challenge promotes sustainable farming practices as one of its four criteria for Real Food. RFC looks at sustainability on a broader spectrum also categorizing real food as food that sustains health of humans, animals, economies, and culture. RFC encourages the UW to support this sustainable system by purchasing food that truly nourishes.
ReThink is a business sustainability student organization that seeks to bring revolutionary business techniques to the forefront of Foster and all departments of UW. We work to build a network of future employers, provide enlightening speakers, tour sustainable businesses and ultimately create solutions for our rapidly changing lifestyle. We are open to all students at UW.
Students Expressing Environmental Dedication (SEED) is a student organization at the University of Washington overseen by Housing and Food Services. Our mission is to promote sustainability in the UW's residence halls and campus community. From composting to bottled water, from tabling to pilot programs, we address a broad array of issues from many directions. We not only raise student awareness about sustainability but also work with administrative staff to effect institutional change on campus. We have a strong track record of influential, effective initiatives. But don't take our word for it - join us at one of our weekly meetings and start making a difference!
Society for Ecological Restoration University of Washington Student Guild
The Society for Ecological Restoration (SER) promotes ecological restoration as a means of sustaining the diversity of life on Earth and reestablishing an ecologically healthy relationship between nature and culture.
The UW SFC seeks to build a supportive community of engaged, empowered students through education about conscious consumption and their right to access nutritious, ethically-produced, and affordable food on campus.
Unifying concern about stormwater pollution into a constructive dialogue between students, faculty, administration and the greater Seattle community. This is achieved by collecting hard data about campus water use, quality and discharge.
Transportation Services encourages UW commuters to take advantage of the many great, sustainable commute options available to them--from walking and biking to carpooling and vanpooling to teleworking.
Our mission is to be the campus center for the practice and study of urban agriculture and sustainability, and an educational, community-oriented resource for people who want to learn about building productive and sustainable urban landscapes.
Yesler Swamp is part of the Union Bay Natural Area and provides valuable ecosystem services to the surrounding urban area. The swamp filters water before it flows into Lake Washington and is home to a variety of birds and native plants. Our restoration project removes invasive species and replaces them with native plants such as salmonberry, vine maple, ferns, evergreen tree species and flowering shrubs. In addition to restoration work, we received a $65,000 grant from the Campus Sustainability Fund to build a bird blind at the swamp. This structure will have an extremely low environmental footprint that adheres to green building specifications and communicates the importance of resource conservation. It will provide an outdoor classroom for groups visiting the UW Center for Urban Horticulture, allowing them to engage with the biodiversity that the swamp is home to.
Other:
The Pacific Northwest is more than a place to do business - it's our home. Because of this, we have an innate interest in the welfare of the region and its people, and in doing all we can to make it an even better place.
While we like to have fun at Blazing Bagels, we are very serious about what goes into our products. We use only natural ingredients - nothing artificial, ever! We pride ourselves in producing delicious, nutritious, preservative-free, delicious yes, it really does deserve to be said twice!), satisfying bagels and baked goods for everyone to enjoy.
Blue C Sushi (this company no longer exists)
Blue C Sushi celebrates the innovative designs, trends and pop culture found in modern day Tokyo. Our restaurants are vibrant, entertaining and interactive. 
Carbon Washington is an NGO dedicated to implementing a revenue-neutral carbon tax shift in Washington state. Environmental tax reform will improve the states economy and reduce Washington's carbon pollution.  It is a win/win for those of us who want to help spur economic growth and improve air quality by reducing pollution.
The University of Washington and Cedar Grove Composting have been working together for years to strive toward zero waste and divert food and beverage waste away from landfills to composting. Cedar Grove has been a global leader on approving compostable food and beverage containers for composting and has been a major player in UW Dining's waste diversion program. We started our first food service front of the house compost collection program in February of 2007 and the program has grown exponentially on campus thanks to Cedar Grove's support.
Chaco Canyon Organic Cafe (this company no longer exists)
We at Chaco Canyon pride ourselves on what we create in a sustainable business. From our sourcing focusing on local and organic produce, only offering compostable non-gmo to-go items, never offering plastic forks, recycling or composting an impressive 85-90% of our waste, among many more examples really highlight our commitment to sustainability and being an example of what's possible.
Here at Chobani we love to give back, especially to our local communities! You'll find our team at neighborhood events year-round, serving up fresh cups of Chobani and offering our support. Our mission is to harbor a strong sense of community and to create and sustain lasting relationships with our neighbors and friends.
We offer a Tip Recycling Program for the University where we pick up and recycle used plastic from the research labs.
Graybar is a leading distributor of electrical, communications and data networking products and provider of related supply chain management and logistics services. Through its network of more than 240 North American distribution facilities, it stocks and sells products from thousands of manufacturers, helping its customers power, network and secure their facilities with speed, intelligence and efficiency. Its Graybar PowerSmart solution helps customers increase energy efficiency today and into the future while extending the life of facilities and reducing maintenance costs. Graybar is committed to contributing to a sustainable society while adding value to our customers and suppliers and providing an atmosphere for our employees to learn, grow and prosper.
Honest Tea and their brand team have been sampling on Red Square for the past several years and they know how to do it right to be a zero waste partner. They collect all of their bottles for recycling and sample their drinks using compostable cups. And their teas are all Organic. Please visit them on Red Square, say hello, and let him know we appreciate the efforts Honest Tea puts forward to be a good steward of the environment.
Life Technologies believes in the power of science to transform lives. To support scientists worldwide, we offer high-quality, innovative life science solutions—from everyday essentials to instruments—for every lab, every application.
Medosweet sources all of it's milk for the UW locally, from Western Washington dairies. My favorite way to describe just how fresh the milk is: "The cows are milked on Sunday and we have the milk in our coolers on Wednesday." We use Medosweet milk in all of our espresso bars and production facilities. Many of our food providers use Medosweet as well, making that local and sustainable connection. Medosweet milk is antibiotic and steroid free. Come to Red Square and meet the team from Medosweet and drink Milk!
Please join us to sample Odwalla juice and bars. Odwalla has a great sustainability program. From water conservation, to their Plant - A - Tree program to the strides they have made with their bottle, Odwalla is doing it right.
Eco-conscious products from Office Depot can help you create a greener workplace. Recycled paper, remanufactured ink, efficient lighting and non-toxic cleaners are just some of the choices available at Office Depot.
Pinks Bakery
Pinks Bakery, located in Kent, Washington, has been a partner with us for many years. They made the switch to using Shepherd's Grain flour for all of their bakery items, including the donuts. When I am munching on my maple bar, I am supporting our family owned wheat farmers in Eastern Washington that are using no till farming methods to grow wheat. Please stop by and try the samples on Red Square.
The mission of Seattle Tilth is to inspire and educate people to safeguard our natural resources while building an equitable and sustainable local food system.
One of our most sustainable vendors is Theo Chocolate. Located in neighboring Fremont, Theo provides us with Fair Trade Organic chocolates. You can find Theo Chocolate in all of our Cafe locations on campus. If you love chocolate, we will see you on Red Square.
We are a cage free egg campus thanks to Wilcox Family Farms. The farm is located at the foot of Mt. Rainier outside of Roy, Washington. The glacier fed Nisqually River runs through the farm. The farm is located within the Nisqually Land Trust and is Salmon Safe certified. The eggs are cage free and Humane Certified. Come join us for an omelet and feel good about eating eggs from happy chickens.
Thousands of exceptional associates give their time and energy to protecting the environment, feeding the hungry and working to create a better and more sustainable world.
VWR has products that are aligned with Sustainable practices on campus.
---
2014 SustainableUW Festival sponsors:
Rainier Sponsor

Olympics Sponsor
Foothills Sponsors
Puget Sound/Salish Sea Sponsors