I say, good day fellow Huskies!
With 2016 UW Homecoming right around the corner, UW Sustainability's fantastic Century of Sustainability Timeline fully in place, and UW Huskies being such huge fans of bicycling to school, work, and yes HUSKY FOOTBALL GAMES, it's jolly good time for another UW Tweed Ride! The concept is simple. Attire yourself in something timeless and tweedy and then tour around our rustic campus on your bicycle (better - your father's bicycle; best - your grandmother's bicycle). And what better time to do it than during the annual SustainableUW Festival!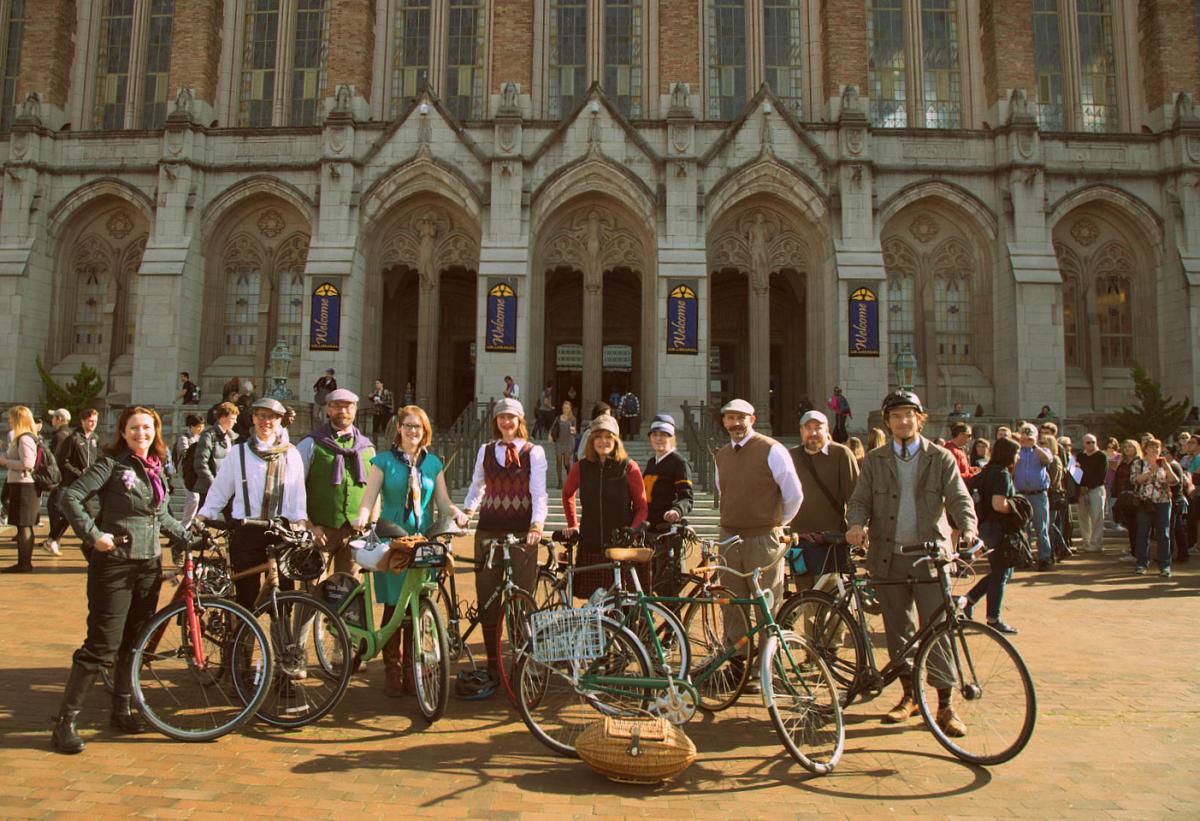 Join us for a unique mid-day sojourn not to be missed! We do hope to hear the jaunty ring of your bicycle bell joining with our own, to sing the glory of Washington forever! We will stop in select places to admire the finest campus buildings, enjoy sipping hot chocolate, hear tales of the past, and make photographs of our dapper cohort. An exhilarating article on the 2015 UW Tweed Ride can be found here: Tweed Ride bikes back in time.
---
WITH WHOM: Open to all, especially students, employees, and alumni of the University of Washington. Not a UW student, faculty, or staff but want to register? Simply send an email to sustainability@uw.edu to note your RSVP.
>>  Register for this fine event with the Whole U
MEET: Hansee Hall, southern face, University of Washington campus, Seattle. 
AT THIS APPOINTED TIME: Just prior to 11:00am, at which time the ride will begin...rain or shine. Ride lasts approximately one hour. 
ON THE DAY: Friday, October 21st, 2016
---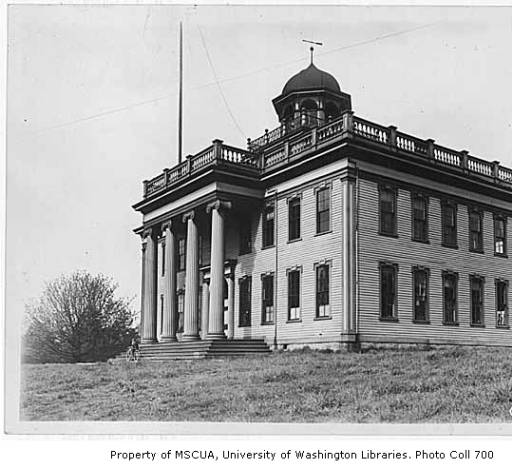 A message from our intrepid leader, Ted Sweeney, UW's Active Transportation Specialist:
If you batten down your eyelids and hoist your imagination, it is not a difficult task to spy this grand old University as it was just one hundred brisk shuffles of the calendar ago. Fewer halls of learning, yes, but still many of the finest, heartiest, best-bricked structures standing proud. No newfangled pocket computers but smart leather and canvas bags in hand. In place of woven-petrol shrouds, stately woolen coats and lithe linen shirtwaists. Not mellifluent horseless carriages and bellowing buses but instead the noble streetcar on its gleaming rail, the well-cobbled shoe-strike on the stone-paved way, and yes, indeed, the swish, click and hum of the fair bicycle upon the rough and winding path. Imbibe deeply that same sea-kissed air, that same mountain vista - this is a fierce and blessed place. Now unfurl those eyelids and join us, your joyous fellow lovers of anachronism and nostalgia, on a Tweed Ride through this ever-great campus. And no, bicycling is not a new adventure in our university's history. Note the astounding image to right of our Territorial University circa 1875 with the now famous four columns and tiny bicyclist in front of the columns steps (click on image to jump to larger version). 
Below is the map the ride will follow: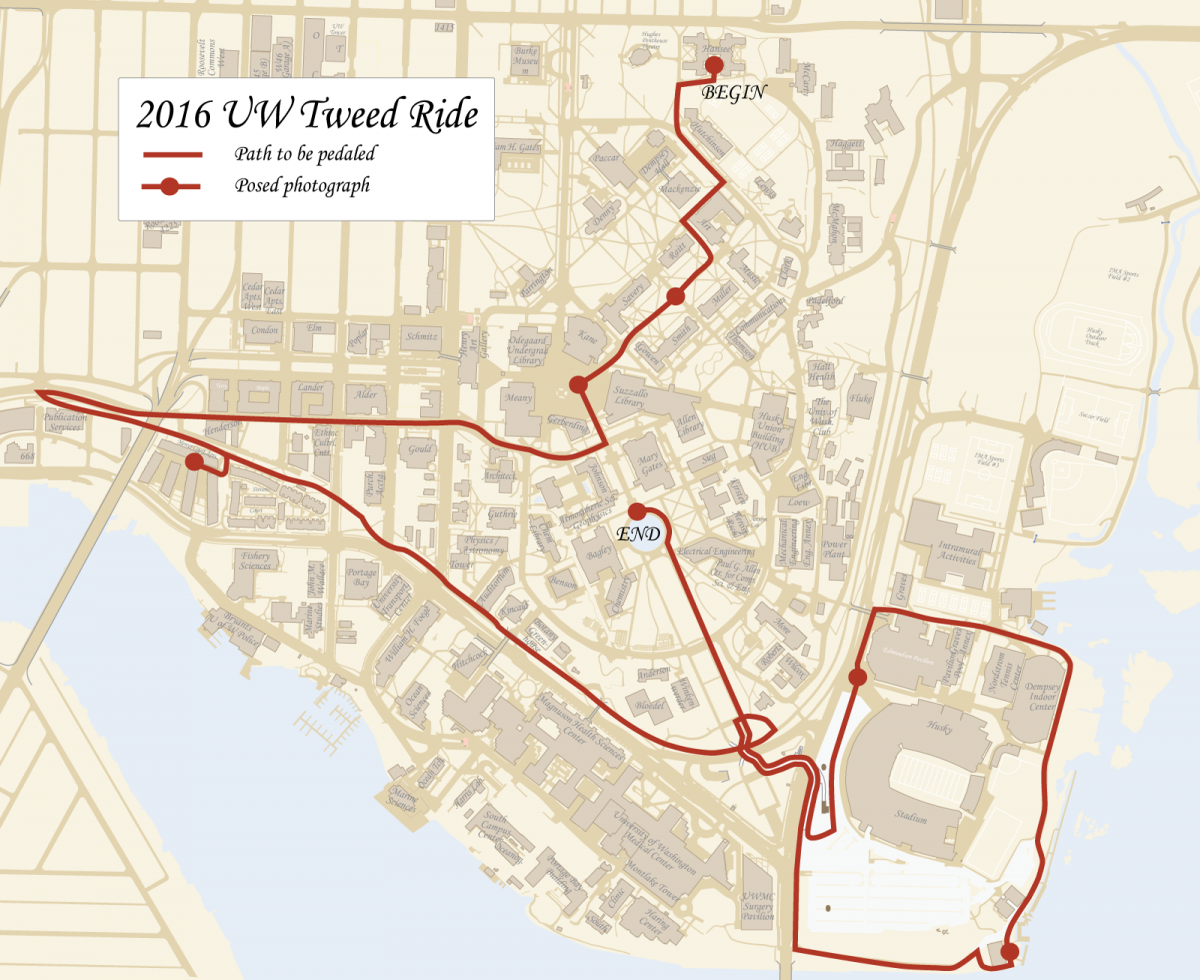 Questions Asked Frequently
Q: What of the bicycle helmet, are we to wear them on this tweed ride?
A: Good heavens, friend, of course we will wear bicycle helmets. It is, after all, the law in this place. They are required absolutely for all participants in the ride; please bring yours along.
Q: Now look here, my bicycle is made of the newest, finest material products of the space age, and hasn't the old-time aesthetic you suggest. Can I attend?
A: All bicycle styles are welcome on our Tweed ride. The design of the bicycle has changed relatively little since the introduction of the Safety Bicycle in the last 19th century (the first with two wheels of the same size!). Therefore, your metal mount is more classic than you think! That said, the more vintage bicycles in the herd, the better!
Q: How, precisely, are you asking that I attire myself when attending the Tweed Ride?
A: Woolen blazers. Knitted team jerseys. Linen dresses and shirts. It is up to you to decide what bygone era of natural, functional dress you wish to embody. Have fun with it - if the moths have made unfortunate inroads in the deepest grottos of your closet, fine local purveyors of second-hand goods can help. The fashion police will not be in attendance. Fun and a nostalgic flamboyance are the goals for all. Tweeds accompanied by purple shirts, knickers, bags, and/or other accessories you say? Well to the front of the line with you, you fully haberdashed Husky! Need some creative inspiration? Check out: Bike Pretty's "tweed" label or the DC Tweed Ride photos on Flickr.
Q: I say, I don't have a bicycle...whatever shall I do?
A: No worries friend, simply sign up and use one of the Pronto bikes available in several locations on campus.
And finally, we provide a historical document demonstrating that we Huskies are a bit of a rowdy sort going quite far back. Witness this document from March 1900 requesting the construction of an extension to the Lake Union Path to campus as, "during the wheeling season the beautiful ride from the city suddenly changes to the roughest travel over an ugly stretch of country." Learn more about this dandy letter here.