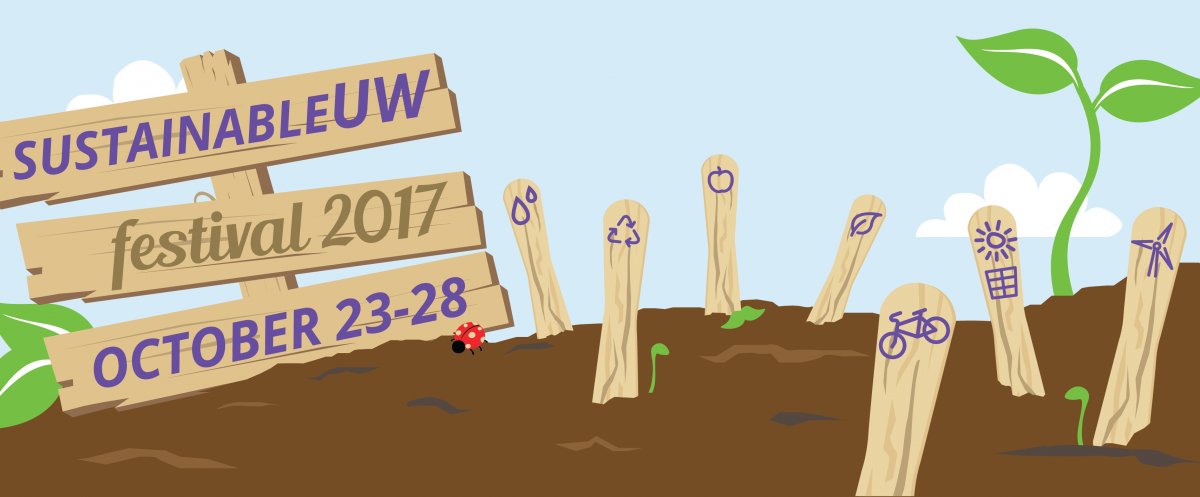 October 23-28, 2017
University of Washington
Sustainability efforts and events happen across the University of Washington every day, by students, faculty, and staff who are passionate about our future. The SustainableUW Festival celebrates those contributions and highlights opportunities for students, faculty, and staff to get involved. The SustainableUW Festival is designed to showcase the full scope of sustainability efforts across UW - events include campus lectures and seminars, volunteer opportunities and other events throughout the UW community.
The festival is just a slice of the overall sustainability efforts at UW. We hope the festival provides an introduction to some of the events touching on sustainability which happen every week throughout the year.
Wednesday, Oct. 25, 11 a.m. - 2 p.m. | Intellectual House
The centerpiece of the festival will the Sustainabilty Fair in UW's wǝɫǝbʔaltxʷ – Intellectual House. Dozens of exhibitors who put sustainability first will on hand to inform the UW community about their efforts. Learn about environmental student groups, UW programs, community partners and more.
Wednesday, October 11
Huskies for Humanity: Project Drawdown
The Most Comprehensive Plan Ever to Reverse Global Warming
7 p.m. | Kane Hall 210
Join us for a hope-inspiring presentation by and Q&A with Chad Frischmann, VP and Research Scientist of Project Drawdown.Project Drawdown is facilitating a broad coalition of researchers, scientists, graduate students, PhDs, post-docs, policy makers, business leaders and activists to assemble and present the best available information on climate solutions in order to describe their beneficial financial, social and environmental impact over the next thirty years.
This event is part of the Buerk Center for Entrepreneurship's EntreFest, in collaboration with UW Sustainability and ReThink. Free, but registration required.
Thursday, October 19
Husky Highlight: Campus Sustainability Fund (CSF)
CSF project spotlight and brainstorming mixer
5 p.m. | Allen Library Research Commons, Green A
The Campus Sustainability Fund (CSF) is a student-funded and student-run grant organization for sustainability projects on the UW campus. Meet and talk with students working on CSF projects before joining in a CSF project brainstorming activity. This is a great opportunity to learn about current student-led sustainability work on campus and then develop ideas for how you can make an impact yourself.
Friday, October 20
UW Sustainability open house
1-2:30 p.m. | Gerberding Hall room B40
A kickoff before the SustainableUW Festival week fully gets underway - stop by the UW Sustainability office to meet our staff and students while learning more about sustainability efforts across the University of Washington, and information on how you can get involved. The UW Sustainability office is in the basement of Gerberding Hall off Red Square; look for the signs pointing the way.
We will also be accepting food donations for the UW Campus Food pantry, and representatives of the pantry will be on hand to answer questions as well.
Monday, October 23
Sustainability Careers Meet & Greet
3:30-5 p.m. | HUB 340
Presentations on sustainability careers with representatives from the business, non-profit, government and education sectors, followed by a meet and greet for students to talk with the speakers. Presenters speak briefly on their organizations but also on their individual career paths. This event is for students in all majors who are interested in learning how to connect their career path with sustainability.
WashPIRG Renewable Energy Campaign
11:30 a.m. | Quad
The WashPIRG UW student chapter will discuss their plan to move UW to 100% renewable energy by 2050.
Tuesday, October 24
UW Surplus Public Store
12 - 6 p.m. | 4515 25th Ave NE
The UW is committed to contributing toward a greener world, and we try to let nothing go to waste if it can be reused, repurposed, or recycled. SustainableUW Festival sponsor UW Surplus takes in items from all UW departments and medical facilities. When a department doesn't need something anymore, they send it to us. We receive items every day, so our stock of items is always changing & evolving. Members of the general public may purchase surplus items during the UW Surplus Public Stores, which are held every Tuesday from 12 to 6 p.m.
Wednesday, October 25
Sustainability Fair
11 a.m. - 1:30 p.m. | wǝɫǝbʔaltxʷ – Intellectual House
The centerpiece of the festival will the Sustainability Fair in UW's wǝɫǝbʔaltxʷ – Intellectual House. Dozens of exhibitors who put sustainability first will on hand to inform the UW community about their efforts. Learn about environmental student groups, UW programs, community partners and more.
Climate Change Town Hall with Gov. Jay Inslee
2:45 - 3:45 p.m. | wǝɫǝbʔaltxʷ – Intellectual House
At this special town hall with UW students, Gov. Inslee will discuss Washington's current and future leadership on climate change action. All students are welcome to attend.
UW Farm to Table Dinner
6:30 p.m. | Center for Urban Horticulture, 3501 NE 41st St.
The UW Farm hosts its fourth annual Farm to Table Dinner Fundraiser. The UW Farm is a 1.5 acre, student-powered, urban vegetable market garden located on 3 sites at the University of Washington's Seattle Campus. Our mission is to be the campus center for the practice and study of urban agriculture and sustainability, and an educational, community-oriented resource for people who want to learn about building productive and sustainable urban landscapes. Our produce is sold to community members and UW institutions, given to learners/volunteers, and donated to the U District food bank and the UW Food Pantry. Featuring a delicious vegan and gluten-free friendly meal of locally grown produce, local beer and wine, games, live music, and more; this is an event you don't want to miss! All proceeds will go towards supporting the UW Farm and its students. Tickets are $30, $15 for students.
Thursday, October 26
UW Bothell film screening: "An Inconvenient Sequel: Truth to Power"
1:45 p.m. | UW Bothell Mobius Hall
UW Bothell & Cascadia College are hosting a screening of An Inconvenient Sequel: Truth to Power as part of a nation-wide event. The film screening will start at 1:45pm, followed by a live-streamed Q&A with Al Gore at 3:45 p.m.
Minimalism film screening
6 p.m. | Wallace Hall
The Student Association for Green Environments (SAGE)  is hosting this viewing of "Minimalism: A Documentary about the Important Things," with snacks and an after-film discussion.
Sally Jewell on Health and Nature - 2017 Doug Walker Lecture
6:30 p.m. | Benaroya Hall
Our nation is blessed with an abundance of public lands that have the potential to support happier, healthier communities, strong economies, and environmental resilience. In honor of the legacy of the late Doug Walker ('76), outdoor enthusiast and conservationist, join former U.S. Secretary of the Interior Sally Jewell ('78) to take a closer look at the role public lands and nature plays in our lives, and the importance of connecting all people to the natural world. The 2017 Doug Walker Lecture is presented by the University of Washington College of the Environment and in partnership with REI Co-op and Seattle Foundation. Registration for this event has reached capacity, but it will be live-streamed at http://bit.ly/UWenviro
Friday, October 27
Society for Ecological Restoration Native Plant Nursery work party
12:30 - 3:30 p.m. | Douglas Research Conservatory
Come learn about native plant propagation and production at the SER-UW Nursery. You can participate in a variety of nursery tasks including sowing seeds, transferring plants to larger pots, fertilizing, weeding, and more. Everyone is welcome and no experience is needed! Snacks provided for all volunteers. Please wear sturdy shoes and clothes that can get a little dirty. Please RSVP so we can ensure there is enough work for everyone!
Saturday, October 28
UW Farm volunteer hours
10 a.m. - 3 p.m. | Mercer Court
The UW Farm is a student-powered, urban vegetable market garden located on three sites at UW. Everyone is welcome to volunteer during open volunteer hours, but if you've never been to the UW Farm before, please begin by signing up to be a volunteer. This helps us track volunteers and insures you in case of injury.
---
Full Event calendar:
2017 SustainableUW Festival sponsors:
Foothills Sponsors
Puget Sound/Salish Sea Sponsors