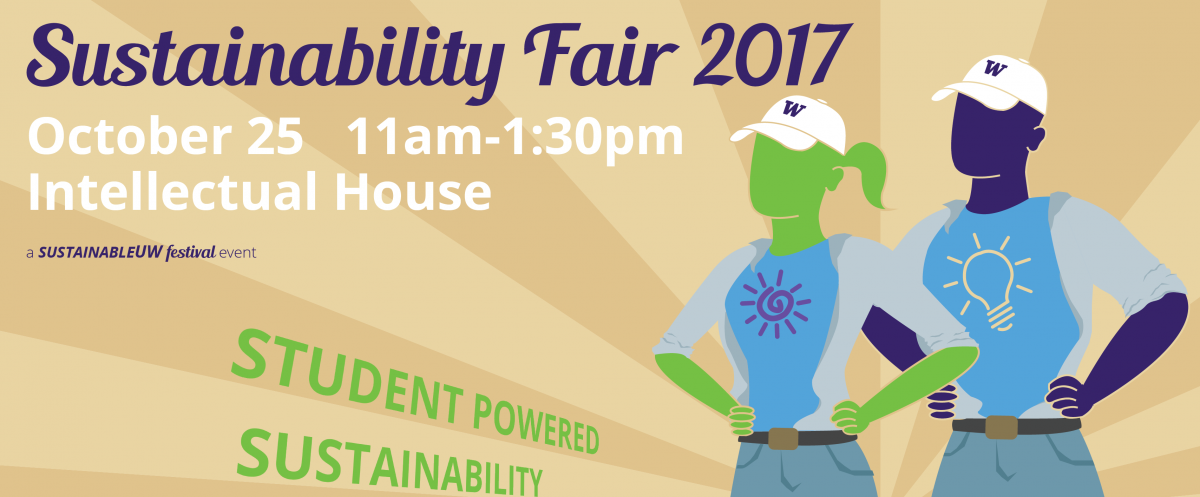 Wednesday, October 25, 2017
11 a.m. - 1:30 p.m. | wǝɫǝbʔaltxʷ – Intellectual House
Time change: the Sustinability Fair will end at 1:30 p.m. to prepare for Governor Jay Inslee's Climate Change Town Hall at 2:45 p.m. in wǝɫǝbʔaltxʷ – Intellectual House.
Join us in wǝɫǝbʔaltxʷ – Intellectual House to visit with dozens of UW departments, student groups, organizations, vendors and community partners and learn what they're doing for sustainability. Sample sustainable food samples from campus vendors as you learn about sustainability efforts at UW and how you can get involved.
The theme of this year's fair is "Student Powered Sustainability." In addition to showcasing student groups among the exhibitors and highlighting resources for students, the fair will feature a poster presentation on student projects.
2017 Exhibitors Include:
Alternative Spring Break
ASUW Food Coop
Buerk Center for Entrepreneurship
Campus Sustainability Fund
Climate Justice Work Group
Coca-Cola
College of the Environment
Community, Environment, and Planning major
Earth Club
EcoReps
Engineers without Borders
Green Futures Lab
Grounds Management
Imperfect Produce
International Forestry Student Association
ReThink
Rotaract Club
SEED
Society for Ecological Restoration - UW Chapter
Special Olympics
Stirling Freezers
UW Surplus
Sustainability Action Network
Sustainability Game Jam
Sustainable Development
UW Botanical Gardens
UW Bothell
UW Creative Communications
UW Emergency Management
UW Environmental Innovation Challenge
UW Green Athletics
UW Mailing Services
UW Recycling
UW Solar
UW Sustainability
UW Transportation Services
WashPirg Student
Whole Foods
Food and event support provided by:
Ellenos
Charlies Produce
Essential Baking
Peace Tea
Bright Greens