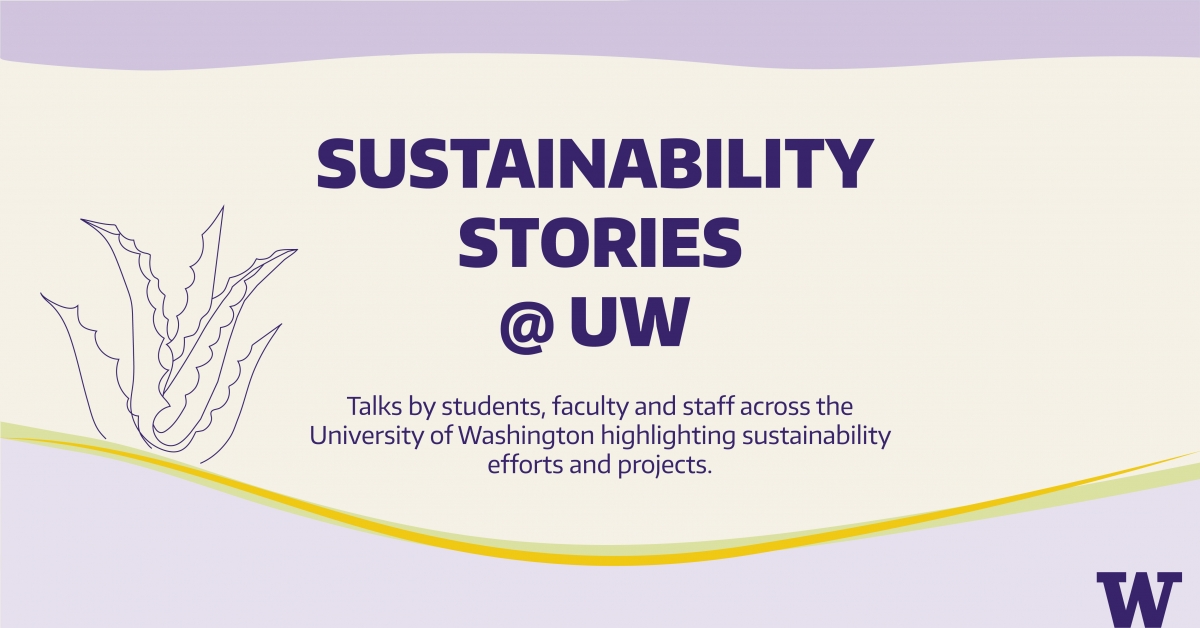 The Sustainability Stories @ UW speaker series, hosted by UW Sustainability, features students, faculty and staff across the University of Washington. These talks highlight sustainability efforts and projects.
Recorded talks:
Learn about the Sustainability Action Plan
UW Sustainability staff provided an update on what's happening and how we're doing in the first year under the UW's Sustainability Action Plan, along with how students, faculty and staff can get involved with the process to determine the updated actions for the upcoming year. Recorded February 17, 2021.
Sustainability stories: waste reduction
This Sustainability Stories event had two presentations around waste reduction: Julia Deák Sandler on "Ditching the diapers for environmental justice," and Madeline Schroeder of UW Recycling on what a waste audit found at the University of Washington, and how we have addressed the findings. Recorded on April 15, 2021.
Diversity, Equity and Inclusion
Vegan Studies with Jessica Holmes
"Local adaptations for food security in the age of COVID-19"
"Incorporating Nature interaction into Urban design through Nostos AI"
Investing in intersectional sustainability with the Campus Sustainability Fund
Ursula Valdez
---
Previous talks:
Starting in January, UW Sustainability presented a series of talks highlighting sustainability efforts happening across the University of Washington. Talks will be followed by Q&A and networking time.
January 16: Reducing waste at UW
Join UW Recycling and UW Surplus for a discussion on reducing waste at the UW. Learn more about what both groups are doing to help keep our waste out of the landfill. UW Recycling will also talk about the SCRAM (Students Cleanup, Recycle and Moveout) program, which encourages students to donate unwanted items when moving out of residence halls. Last Spring, the program secured more than 43 tons of donations for local groups. UW Surplus will provide information about their operations and the public store, which finds new homes for items which are no longer wanted by UW departments.
January 30: Food system sustainability
Learn about food at UW and beyond with the UW Farm and UW Food Pantry.
February 13: Greening athletics
Karen Baebler, Assistant Athletic Director for Sport Operations, will discuss UW Athletics' sustainability efforts.
February 27: UW Botanic Gardens
UW Botanic Gardens includes the Washington Park Arboretum and the Center for Urban Horticulture. Learn about how the Botanic Gardens are celebrating the 50th Anniversary of Earth Day with an ongoing commitment to model sustainability in environmental stewardship, build climate resilience, and cultivate new generations of environmental stewards. This presentation will also discuss programs and resources the Botanic Gardens offers to the UW community.
CANCELED: March 12: Campus Sustainability Fund
The CSF provides grants to student-powered sustainability projects on campus. Hear about current projects underway and how you can apply for funding.
April 9, 12 p.m. - Diversity, Equity & Inclusion
Terryl Ross, College of the Environment Assistant Dean of Diversity, Equity and Inclusion, and Isabel Carrera Zamanillo, Programs Operations Specialist, will discuss how sustainability work  can be more inclusive and welcoming to all of our students, staff, faculty and community partners, as well as the College of the Environment's Intersectionality Project.
April 16, 12 p.m. - Vegan Studies
Jessica Holmes taught the first ever Vegan Studies course at UW this fall. Her talk "Vegan Studies: Teaching Equity, Justice and Sustainability through the Lens of Veganism" will discuss the emerging academic field of Vegan Studies–what is it, how might we situate it within current models of scholarship and activism, and how does it relate to issues of sustainability, ecofeminism and social justice? How might veganism serve as a potential basis for radical social resilience and coexistence on a planet in crisis?
April 28, 12 p.m. - Yona Sipos, "Local adaptations for food security in the age of COVID-19"
With multiple disruptions to food systems emerging through the pandemic, how can we each adapt locally to promote food security in our own homes and communities? This discussion led by UW's Yona Sipos, core faculty in Food Systems, Nutrition, & Health, touched on how to support local farmers, food banks, and access to fresh and local food at this time.
June 3: Incorporating Nature interaction into Urban design through Nostos AI
Audryana Nay is a master's student at the University of Washington in the School of Environmental & Forest Science and the founder of Nostos AI, which seeks to create a design tool for urban planners to incorporate meaningful and rich interactions with nature in the sustainable city designs of the future. Climate scientists agree that in order to have any chance of continuing to live on this planet as a species, humans will need to coalesce into dense megacities. Urban planners across the world have already begun designing the sustainable cities of the future and include every aspect of human well-being save for one glaring omission- nature interaction. There is currently no tool for incorporating nature interaction into urban design, let alone quantify it. Nostos AI seeks to fill this gap in the urban design industry, providing a design tool that can add meaningful and authentic human-nature into our cities allowing humanity to thrive.
June 18: Investing in Intersectional Sustainability with the Campus Sustainability Fund
The Campus Sustainability Fund is a student-run and student-funded grant program that works to support and facilitate intersectional sustainability projects on the UW campus. In the recent years, the CSF staff and committee has made the conscious and intentional decision to lead the CSF towards intersectional sustainability. The CSF team particularly recognizes the disproportionate ways in which climate change affects Black communities and excludes them from being a part of sustainability efforts. To provide more equitable support to the Black students, faculty, and staff at the University of Washington, a summer grant option in partnership with the UW Resilience Lab will be available for students to use in order to support further equity and inclusion work. 
CSF student staff will present on the CSF's work around intersectional sustainability, highlight some existing funded student projects and show how students can utilize the new summer grant option for this work. 
July 1: Husky Green Award winner Ursula Valdez
"Teaching and learning in conservation and sustainability: my personal journey going from passion for nature to using conservation science to make life choices and "walk the talk," with Ursula Valdez, faculty in the UW Bothell School of Interdisciplinary Arts & Sciences and 2020 Husky Green Award winner.
Her description of the talk: "It is common that people who love nature end up in a biology or wildlife science career. It happened to me, as I have loved bugs, birds, plants and running around in the wilderness since I was a kid. But for those of us who major in Ecology and conservation biology, not only do we learn about how natural systems work, cell function, and a little physiology, we also learn how organisms interact with each other and with the environment. In addition, an eye-opening experience is to learn that a huge factor affecting biodiversity and ecosystems is the negative impact that human society has in these areas. Thus, with more knowledge comes more responsibility to take action to reduce these negative impacts, and to raise awareness about them. As an ecologist and instructor on these topics, I feel that my commitment with conservation brings with it even more responsibility to take action, and not only to teach ecological and conservation science theory, but also to be consistent in my personal actions. I will share some examples of how I have been embracing the challenge to become a responsible, science-informed and better member of the ecosystem that we are part of, both while teaching, doing field work and in my urban life."
---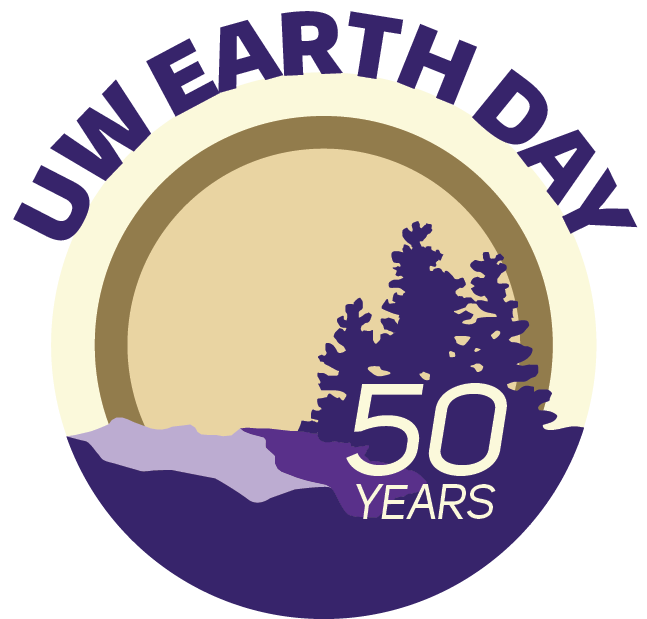 This series started as part of the University of Washington's recognition of the 50th Anniversary of Earth Day in 2020.