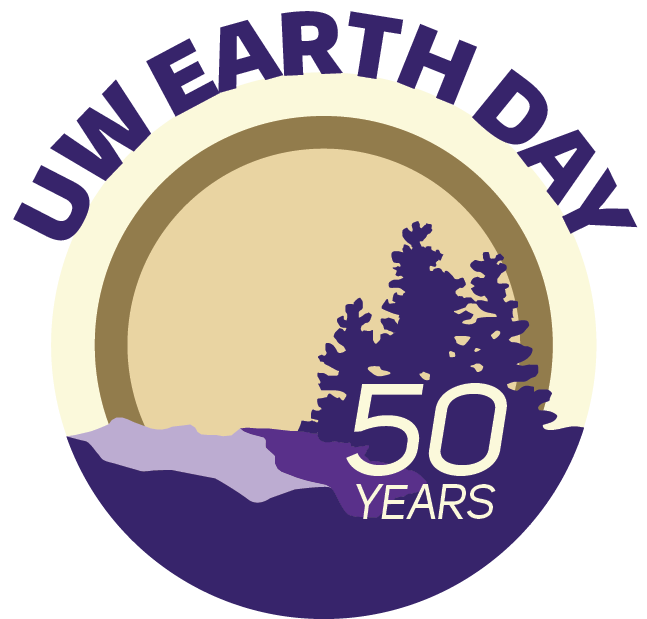 The annual UW Husky Green Awards recognize exemplary achievements of individuals and teams from all UW campuses who have demonstrated leadership, initiative and dedication to campus sustainability. The Husky Green Awards have been sponsored and selected by the Environmental Stewardship Committee since they began in 2010, and are the only recognition program at the University which recognize a commitment to sustainability.
Husky Green Award winners have traditionally been announced on Earth Day. However, due to this year's event restrictions, the 2020 Husky Green Awards will be announced on Monday, April 27. See the list of 2020 Husky Green Award winners. Information on all this year's nominees is below.
---
Husky Green Award nominee: Alpha Omicron Pi
Student group
Alpha Omicron Pi (AOII) is a trailblazer for sustainability in the Greek community on campus when it comes to saving water and reducing pollution.
The sorority took on a major project last year, working with the local RainWise program to install four rainwater cisterns at their house in Fall 2019 after extensive planning. AOII is expected to save 20,000 gallons of rainwater runoff each year, which will be reused. After completing the installation, the members reached out to the national AOII organization to implement change in the sustainability efforts of AOII chapters worldwide.
AOII also promotes sustainable practices by educating community members about sorting waste, purchasing local foods, and making others aware of their water usage. They have a leadership position called the "Green Chair," whose mission is to implement waste-reducing and energy-efficient projects in the house. AOII often collaborates with environmental groups on campus, like helping UW Farm with restoration projects or providing feedback to the upcoming Sustainability Action Plan. Through their activism and involvement, AOII is working to create a green future at the UW.
Husky Green Award nominee: Andrew Hout
Student, UW Green Greeks
When an opportunity to create change presents itself, Andrew Hout will seize it. Through the years, he has involved himself in projects and leadership positions centered around sustainability. Hout has been Director of Finance and a project leader for the Green Greeks, and started a Clothing Collection project, which is a continuous effort encouraging Greek members to donate unwanted but useable clothing rather than trashing them. 
His environmental activism isn't exclusive to his extracurricular activities; he is pursuing an Environmental Science and Resource Management (ESRM) major and Entrepreneurship minor to achieve his dream of creating a sustainable business.
Husky Green Award nominee: Avie Niece
Student, Intercollegiate Athletics
In the intersection of athletics and sustainability lies Avie Niece, a student volleyball player who started the Student Athletes at UW for Sustainability (SAUWS) group. After forming the group, she worked to plan an Earth Day event for other student athletes to help restore the Union Bay shoreline, where their athletic facilities are located. A leader on the court and off, Avie is setting the foundation for future student athletes to carry on SAUWS after she graduates this year. 
Niece also took the initiative to make electronic signage for their dining hall to show student athletes how to properly sort their waste. She is also bringing her efforts into the professional world by majoring in Environmental Studies with a minor in Urban Ecological Design. Through planning events and leading meetings, the organization she started will carry her legacy of promoting sustainability in sports. Now, SAUWS is active with about 20 members who are advocating for changes to operations in the athletics department.
Husky Green Award nominee: Chris Wade
Faculty, UW Bothell School of Nursing and Health Studies
If you're sitting in Chris Wade's nursing classes, you might be a little surprised to hear him teaching about sustainability. At UW Bothell, Wade often weaves climate change discussions into his curriculum—and is working to do the same across all fields of study. Wade created a working group at UW Bothell to further this goal, which has since grown into a Teaching and Learning Community. Now there's an interdisciplinary mix of faculty, staff, and students onboard for making climate change education more prominent.
The conversation around climate change never ends with Wade around. His dedication shows when he continues to keep people thinking about this topic by frequently leading discussions about climate change integration. With this grand goal in mind, he considers many strategies and ideas for ensuring that students can learn about sustainability during their time at UWB.
Husky Green Award nominee: Center for Shared Services
Staff team, Health Sciences Administration
Since its formation in 2018, the Health Sciences Administration Center for Shared Services (CSS) has committed to limiting their use of consumable and disposable items.
By going digital with their work when possible, the CSS prioritizes efficient procedures and minimizes waste. The CSS offers its services in a way that prioritizes efficiency and conservation.
Husky Green Award nominee: College of the Environment Diversity, Equity and Inclusion
Staff team
The College of the Environment's Diversity, Equity, and Inclusion team is always asking hard questions to see if they're representing groups equally in the conversation about sustainability. Part of the College of the Environment, the DEI seeks to create a perspective that is inclusive of various identities, and propose solutions to key environmental issues. Two members, Terryl Ross and Isabel Carrera Zamanillo, have been integral in a collaborative planning process with UW Sustainability to plan Earth Day events for the past few years.
They frequently connect with diverse groups to incorporate their voices and feedback in the DEI's projects and events. The DEI spearheaded the Intersectionality Project, a collaboration with UW Sustainability, to bring together people and encourage them to share authentic dialogue relating to environmental sustainability. With the DEI, intersectional representation is a priority both on and off campus.
Husky Green Award nominee: Elise Glassman
Staff, UW Sustainability/Office of Budget and Planning
Diversity, equity, and inclusion are always on Elise Glassman's mind. Elise works as the project manager in the Office of Budget and Planning, and formerly held the same role at UW Sustainability.
She managed the development of the Sustainability Action Plan, where she implemented a DEI lens early in the process. To follow through with that commitment, Elise connected with underrepresented groups and international students to mix their feedback into the plan. When hiring new students for the office, Elise always focused on prioritizing DEI during the process. She also offers recognition to everyone involved with the office, making sure to thank custodial staff often and offer help to those needing assistance. Elise's passion for sustainability also shows in her personal life as she frequently utilizes public transportation and eats vegetarian.
Husky Green Award nominee: Jan Whittington
Faculty, Urban Design and Planning
Jan Whittington's leadership paves the way for students to become involved in improving campus sustainability. As an associate professor in the Department of Urban Design and Planning and the director of the UW Solar group, Whittington works with students both academically and professionally to advise them in proposing and designing new solar panel installations across campus. 
As an interdisciplinary RSO, the members of UW Solar come from a variety of backgrounds, ranging in both age and areas of expertise. Whittington encourages students to address their projects from many lenses and angles, allowing all members to play a part. For example, students need to evaluate physical infrastructure, ease of installation, future research potential, and policy change. Through her impact, UW Solar acts as a de-facto alternative energy consulting firm on campus.
Husky Green Award nominee: Kate Simonen
Faculty, Architecture
For associate professor Kate Simonen, her expertise in architecture goes hand-in-hand with her passion for reducing carbon emissions. Her research has focused on the innovation of construction materials and practices that will go a long way in creating a low-carbon future. Kate heads the Carbon Leadership Forum (CLF) as the founding director, powering research on a link between environmental life cycle assessments to construction methods. 
Kate's efforts are bringing more attention to low-carbon practices in the architecture community. For instance, ARCHITECT Magazine referenced the CLF in their January 2020 edition entitled "The Carbon Issue." Numerous media outlets have recognized Kate in the media for her commitment to sustainability. Now, Kate continues to call for action to minimize carbon in the built environment community.
Husky Green Award nominee: Lauren Rowe
All around UW Marketing and Communications, Lauren Rowe encourages her peers to practice mindful habits. Since joining the office one year ago, she has informed others about small sustainable changes they can make in their daily office work. She is also part of the UW Tower Sustainability Committee, where she continues sharing her knowledge of green practices.
Some of her activism includes her reminding others to use reusable cups and repurposing printed documents as scratch paper. Recently, Rowe took on the task of recycling used pens in the UW Tower. She also helped produce the Sustainability Film Series, which showcased a monthly film for community members to learn more about local efforts to support the Earth. Outside of the office, she also volunteers with the UW Botanic Garden to keep the greenery beautiful.
Husky Green Award nominee: Project IF
Student group
Project Indoor Farm (Project IF) combines service and sustainability in their work throughout the seasons. Like the name describes, Project IF is an urban farm housed inside Condon Hall.
The operations at Project IF create a closed loop food ecosystem, meaning that students grow, sell, and consume the vegetables on campus. This process reduces carbon emissions by minimizing food miles to almost zero since these crops don't travel far when going from farm to table. Students grow fresh vegetables like lettuce, radish, arugula, and mint at Project IF. This group maintains strong community ties as they often donate to the U-District Food Bank, and the net profits the IF makes goes towards food-related education and outreach.
Project IF is also collaborating with the Woof3D RSO to design a gadget that can facilitate the process for seeding microgreens. The farm has operated every single month since its formation in 2018, with its members dedicating themselves to growing food and providing farm tours for community members.
Husky Green Award nominee: School of Nursing Learning and Information Technologies
Staff team
The leadership members of the School of Nursing's Learning and Information Technologies (L&IT) department are always brainstorming ways to create a more sustainable office. L&IT leads by example, putting in the work to help other divisions to succeed as well as taking their own initiative. They keep in constant communication with their members to promote the UW's sustainability goals and remind others to think green. 
There's a campaign at the L&IT to reduce paper usage by reducing the number of personal printers in the department. In fact, they manage printers for the other departments in the School of Nursing. Thinking both economically and environmentally, L&IT took the steps to become paperless as a group. Within the past year, L&IT leadership researched the effects of printing to present this information to other departments, joining hands to reduce paper consumption. They also encourage other offices to become Green Office Certified to become part of the movement to promote sustainability at UW.
Husky Green Award nominee: SEED
Student group
Aiming to reduce waste in the dining halls, the SEED (Students Expressing Environmental Dedication) student group developed reusable to-go containers for students buying food. Led by executive director Jenna Truong, SEED secured funding from the Campus Sustainability Fund to make this project a reality this school year. SEED collaborated with Housing & Food Services to start up a pilot program in autumn 2019.
Through this trial process, a student shows a special token to a cashier at Local Point. Their food is then served in a green reusable container. Then, the student will wash their container after their meal and drop it into a collection machine at Local Point, where workers will clean containers for their next use, restarting this cycle. SEED is now analyzing the effects of this project. As they focus on reducing waste in dining halls, SEED is also looking to expand this system so more students can participate.
In their usual club activities, SEED hosts vegan/vegetarian workshops and tours to sustainable spots around the city. Their club has doubled in size over the past two years, pushing for the UW community to pick up personal choices that prioritize sustainability.
Husky Green Award nominee: Shelby Carrol
Student, UW Green Greeks
Each aspect of Shelby Carroll's life connects back to her passion for sustainability. She's held a variety of leadership positions at the UW dedicated to enacting change on campus.
As the director of the Green Greeks Representative Program, Shelby ensures fraternity and sorority members attend their monthly meetings, which discuss sustainability measures taking place in their houses. If a house needs extra help in making their methods more sustainable, Shelby works with their representative to work out a solution. Green Greeks is at full capacity and the members work hard to join in on the mission. Shelby helped bring the club to this level by engaging them with guest speakers and reaching out with volunteer opportunities. She introduced multiple projects to the Green Greeks, like clothing drive donations, waste reduction initiatives, and trimming invasive species near U-Village.
Outside of the Greek community, Shelby also worked for UW Recycling. From that experience, Shelby carried her knowledge over to the Green Greeks to educate the members. Shelby manages both the thriving Green Greeks program and a full course load as a student.
Husky Green Award nominee: Sustainability Curriculum Coalition
Student Group
The Sustainability Curriculum Coalition (SCC) is on a quest to make students' voices heard when it comes to advancing sustainability efforts on campus.  Formerly the Sustainability Credit Coalition, this RSO originally advocated for UW general education requirements to require students to take a course about sustainability, which passed in an ASUW bill last year. Ready to tackle more trials, the RSO changed its name afterwards to adapt to their mission of increasing opportunities for learning about sustainability on campus.
As the SCC underwent major transformations from a name revamp to officer changes, they kept their eyes set on their overall goal of creating a sustainability-educated and environmentally-just UW. At the Student Sustainability Forum in January, co-leaders Anya Gavrylko and Emma Wilson attended to advocate for student input for the upcoming Sustainability Action Plan, a list of actions for UW to reduce their carbon footprint.
The SCC also works to redefine sustainability to not just be limited by environmental components, but also consider social and economic factors. Through their activism, the SCC is driving a movement to shape a green, inclusive future for the UW community.
Husky Green Award nominee: UW Tacoma's Giving Garden
The efforts of the Giving Garden at UW Tacoma center around addressing food justice for its community members. This organization is partnered with the campus food bank, known as The Pantry, to distribute food to their students, one-third of whom are facing food insecurity.
The Giving Garden uses sustainable methods to grow their greens, like keeping rain barrels, maintaining a living roof, and creating their own compost. Taking initiative, the Giving Garden also promotes these practices on campus and within the greater Tacoma community. These opportunities for service learning create a space for conversations about underserved populations and their experience with food justice. Students clocked in over 600 volunteer hours in 2019 and hosted 16 events. The same year, staff also incorporated the Giving Garden into five curriculums at UWT to teach food security, sustainable urban agriculture, and sustainability.
Husky Green Award nominee: UW Tower Green Team
Staff team
The members of the UW Tower Green Team always encourage their peers to practice mindful habits. The Green Team has helped host the Sustainability Film Series, which showcased a monthly film for community members to learn more about local efforts to support the Earth. Some of these screenings covered topics like the life cycle of a t-shirt, blue carbon in marine ecosystems, and citizen action against fossil fuels.
With the help of a grant from the Campus Sustainability Fund, the Green Team created a "Green Square" garden this year to showcase native plants, vegetables, and herbs. This project is a prime example of adapting urban spaces to support green food production.  Throughout the building, Green Team members implemented compost bins and electronic waste drop-off opportunities. They also participate in local conferences to help inspire higher education institutions to enact greener policies.
Husky Green Award nominee: Ursula Valdez
Faculty, UW Bothell School of Interdisciplinary Arts & Sciences
Ursula Valdez views sustainability through a variety of lenses. Now a lecturer, she started her movement at UW during her time as a graduate student in the department of biology, where she created the Bio-Sustainability Group. She pushed her department to compost and use reusable items before these sustainability measures were formally implemented. At that time, many departments still used disposable utensils for food, making Valdez stand out as a trailblazer for change.
As a faculty member, Valdez also incorporates conservation and sustainability into her classes and activities. She actively encourages students and other researchers to document avian diversity and natural history in urban spaces and educates them on how to restore these habitats. She also encourages students and colleagues to reduce their personal ecological footprint in both their academic and personal lives. Due to popular demand, Valdez also created a "Sustainability on a Student Budget" course to teach students how to embrace affordable, sustainable practices for everyday life. One such practice is making eating-utensil kits and reusable beeswax cloths to replace single-use plastic bags, a skill she taught as part of class activities and also to more people during Earth Week 2019. As part of some of her courses' activities, she also assigns students to contact politicians and newspapers to propose solutions to modern environmental issues
Outside of the university, she co-founded the Tambopata Center for Education, Science, and Conservation (CECCOT, acronym in Spanish), an organization that promotes the conservation of tropical diversity in the Peruvian Amazon.
Husky Green Award nominee: The Whole U
Staff team
The Whole U strives to foster community and promote wellness within the UW community. Here, sustainability is considered an area of wellness.  As part of their outreach, the Whole U hosts workshops and development opportunities, along with creating videos and articles to share the idea that sustainability can be utilized anywhere and anytime. 
Going into the new year, the Whole U created the "Dare to Reduce" challenge to showcase campus events that staff, faculty, and students could attend to learn more about green habits they could adopt.  Sustainability has been a long-time priority of the Whole U. Now, they're helping to create the engagement portion of the Sustainability Strategy. Through their dedication, the Whole U encourages community members to exercise personal and environmental wellness whenever possible.
Husky Green Award nominee: Yona Sipos
Faculty, Nutritional Sciences
Yona Sipos inspires passion in her students during her Food Systems, Nutrition, and Health lecture, while also leading by example.
She goes beyond the coursework to teach environmental justice topics to her students and also promotes ways to engage with these topics. 
Groups across campus and the greater Seattle area are familiar with her work, too. Sipos co-chairs the advisory team for The UW Farm, where she helps to support the farm's operations. She also contributed her knowledge and enthusiasm to the creation of the upcoming Sustainability Action Plan. Sipos is currently launching the inaugural food systems capstone, engaging multiple local leaders in community-based projects for senior UW students.
She has played a role in producing sustainability reports on food systems, in addition to serving on a couple of food policy councils in Canada and the US and supporting a regional foodshed network in the Chesapeake.
Sipos uses food systems draws a bridge between academic and non-academic worlds. She creates spaces for students and community members to get involved in the field of food justice and pushes them to reflect on the social, ecological, and economic impacts of their work.
---
All nominees:
Individuals
Shelby Carroll, student, UW Green Greeks
Elise Glassman, staff, UW Sustainability/Office of Budget and Planning
Andrew Hout, student, UW Green Greeks
Avie Niece, student, Intercollegiate Athletics
Lauren Rowe, staff, UW Autism Center
Kate Simonen, faculty, Architecture
Yona Sipos, faculty, Nutritional Sciences
Chris Wade, faculty, UW Bothell School of Nursing and Health Studies
Jan Whittington, faculty, Urban Design and Planning
Ursula Valdez, faculty, UW Bothell
Groups
Alpha Omicron Pi, student group
Center for Shared Services, staff team, Health Sciences Administration
Diversity, Equity and Inclusion Office, staff team, College of the Environment
Learning and Information Technologies, staff team,School of Nursing
Project Indoor Farm (Project IF), student group
Students Expressing Environmental Dedication (SEED), student group
Sustainability Curriculum Coalition, student group
UW Tacoma Giving Garden
UW Tower Green Team
The Whole U