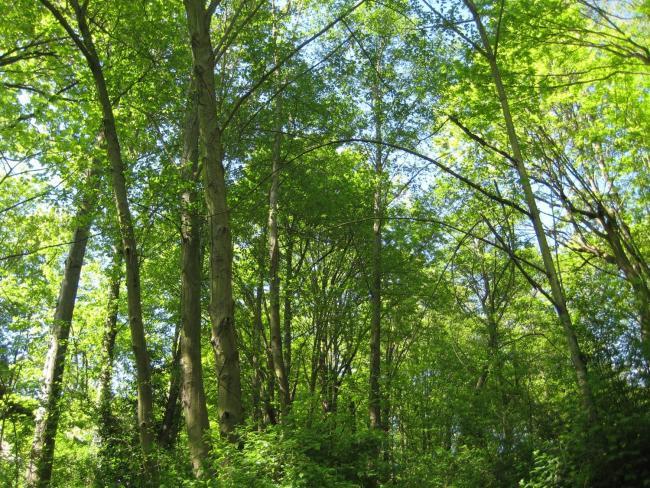 University of Washington
NE corner of the Seattle campus, bordered by: McCarty Hall, the 45th Street viaduct, and the Burke-Gilman Trail
Project Goals
Ecological restoration of Kincaid Ravine through removal of invasive species and re- establishment of appropriate native plant communities (e.g. wetland, and upland forest).
Engagement of students and academic units in both the initial restoration and long-term stewardship in order to create learning opportunities and environmental awareness.
Project Timeline
The project will occur in several phases:
Planning Phase - This occured in spring through fall of 2013. During that time, the groundwork for success was established by cementing important partnerships, creating a restoration design, and preparing to launch the restoration work during Winter 2013.
Phase I - This occured in the 2013-2014 academic year. The work involved the major removal of invasive species, installing hundreds of native plants, and other restoration work (e.g. slope stabilization, installing mulch, and creating maintenance access).
Phase II - This will occur from summer 2014-2016. The work during this time involves two to  three years of maintenance, including ongoing monitoring which will guide continued removal of  invasive species regrowth, and care for planted native species and replanting when necessary.  This phase will be performed in partnership with The UW Chapter of the Society for Ecological Restoration, The UW Restoration Ecology Network capstone students, UW Grounds, EarthCorps, and other RSOs.
Phase III - This will occur from 2016 on. The work during this time is anticipated to be minimal, and will be primarily performed by UW- SER and UW Grounds. The primary tasks will be continued invasive species maintenance. Ongoing support from volunteer groups will be integrated as part of a long-term stewardship plan.
Fun Facts:
The Kincaid Ravine project is a graduate student project being funded by the Campus Sustainability Project.
Healthy urban forests provide both ecological and economic benefits, such: improved air and water quality, temporary stormwater retention, carbon
sequestration, and beneficial wildlife habitat.
Links to Additional Resources: