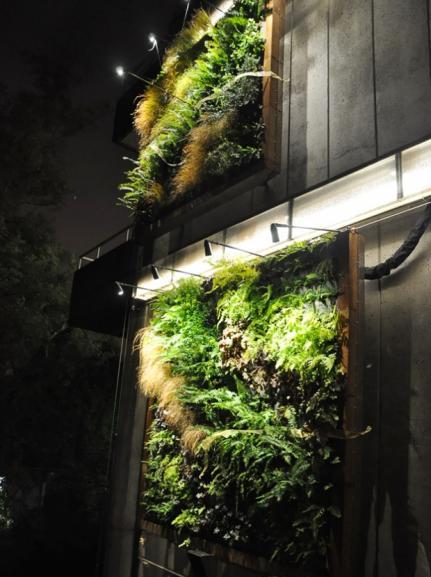 University of Washington
Gould Hall
The Biodiversity Green Wall, Edible Green Screen and Water Harvesting demonstration Project is a twophase project to be constructed at Gould Hall. Phase I, the Feasibility and Design Study, was awarded funding by the Campus Sustainability Fund in the summer of 2011 and will be completed by the end of the year.  
During Phase I, students coordinated with over 29 campus faculty and staff including the College of Built Environments, Campus Architect  and Landscape Architect, Capital Projects, and UW Grounds and Maintenance. This proposal is for $86,800 of support, about 80% of the cost to complete Phase II, Construction and Documentation, with work completed in November of 2012. 
As an entirely student-led design and construction effort, students will transform a blank concrete wall into a showcase of improved habitat that fosters diverse native species, innovate rainwater harvesting methods, utilize solar power for lighting and irrigation pumping, try new methods of local food production, and test green systems that will potentially reduce building heating and cooling energy demand to help the campus reduce its carbon footprint and achieve its sustainability goals.  Successful implementation of the Demonstration Project may lay the groundwork for the construction of other green walls on campus, helping the campus achieve its multiple sustainability goals.
Fun Facts:
An entire "Green Screen" two stories tall is dedicated to edible plants.
Links to Additional Resources: