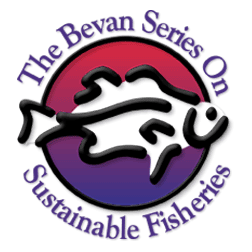 Every year the UW School of Aquatic and Fishery Sciences hosts the Bevan Series on Sustainable Fisheries, a set of lectures focusing on current issues affecting fisheries and marine conservation. The goal is to present as many viewpoints as possible and focus on viable solutions, not just problems.  
The series has been presented during the winter quarter since 2002, with many of the talks available on YouTube.
The Bevan Series is dedicated to the memory of Don Bevan, former director of the School of Fisheries and dean of the College of Fisheries. He was involved in the enactment and reauthorization of the Magnuson Act, the primary law governing marine fisheries management in U.S. federal waters, and also helped found what is now the School of Marine and Environmental Affairs.
Fun Facts:
Bevan Series lectures are free and open to the public.
Project Contact Name:
School of Aquatic and Fishery Sciences
Links to Additional Resources: