Introduction
Air travel has historically made up around 10% of the UW's annual greenhouse gas emissions. Reducing emissions associated from this travel is one of the 10 targets outlined in the UW's Sustainability Action Plan. In order to help determine the best methods to do so, the Sustainability Action Plan working group surveyed faculty and staff around attitudes on travel and related topics. This data will be used to help guide UW's future policies and efforts around air travel. UW Sustainability is happy to share the following preliminary survey results with the campus community as responses continue to be analyzed.
survey response
The survey was done during the 2021 Fall Quarter, targeting faculty and staff across the UW.
Respondent makeup: 8% UW Bothell, 6% UW Tacoma, 72% UW Seattle, 13% UW Medicine
14% of respondents were "frequent flyers": they flew more than 6 times per year prior to the pandemic.
Among flyers:

50% said they would prefer to travel the same amount in the future
43% said they would prefer to travel less
7% said they would prefer to travel more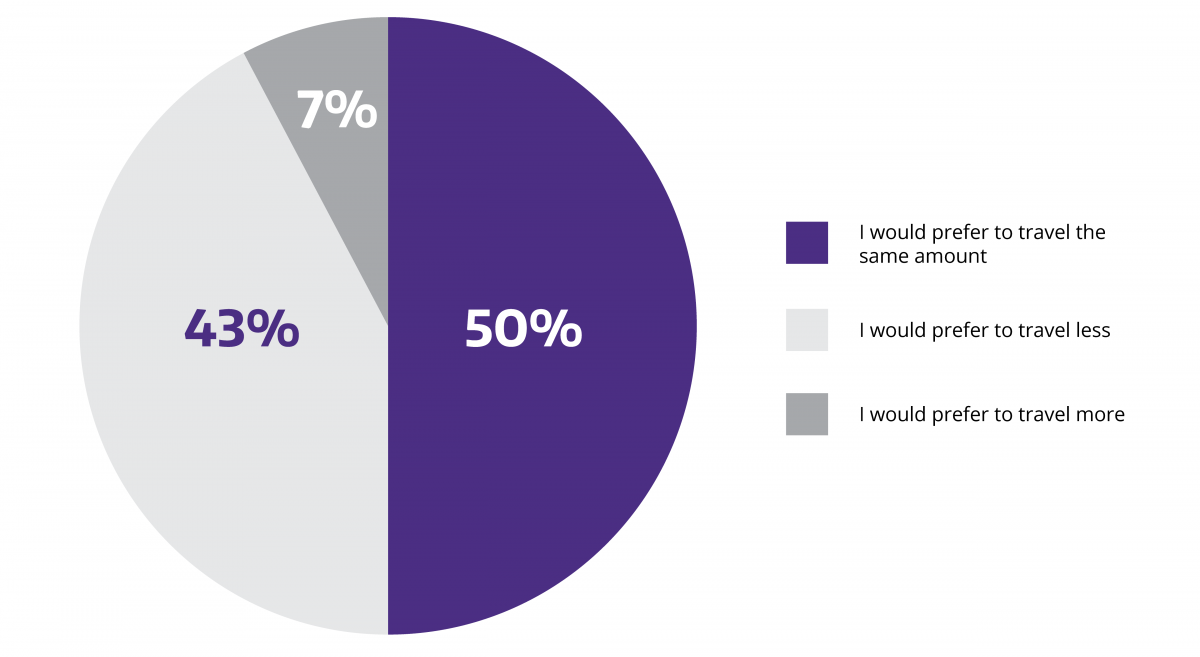 possible solutions (PRELIMINARY)
1. Replacing Air Travel with Remote Options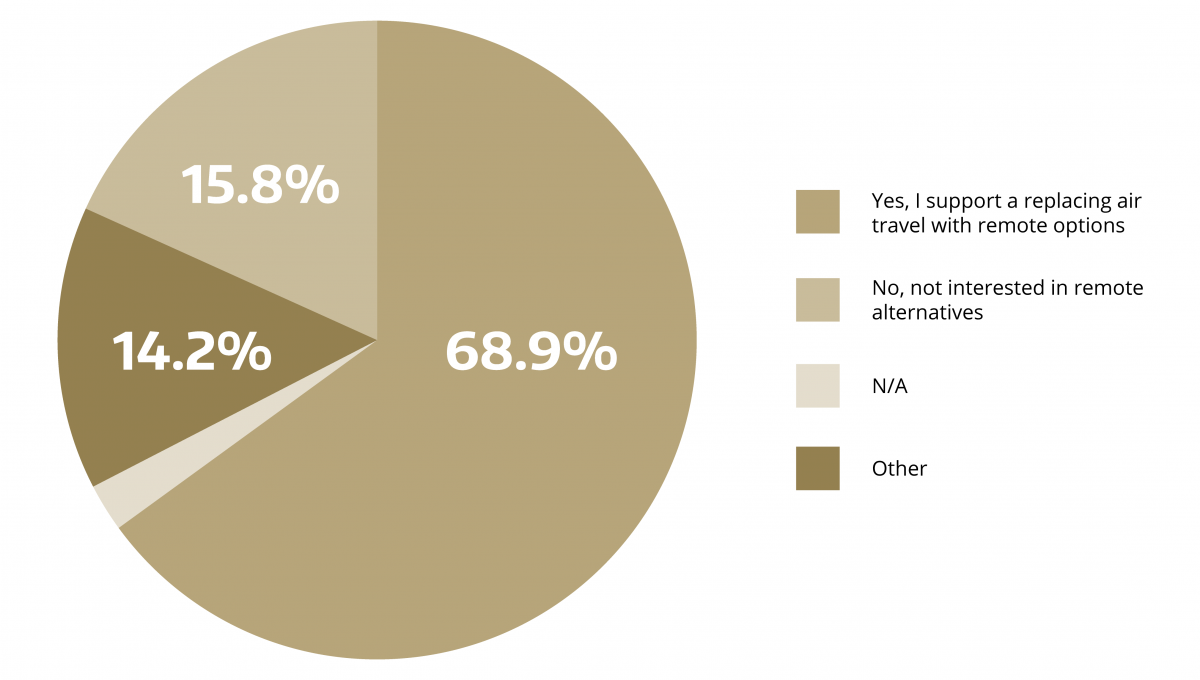 2. Campus Wide Air Travel Fee
Would you support a campus wide fee on professional travel that contributes to a fund for UW projects that reduce carbon emissions? Theoretically, this $5 - $15 fee would be collected on a per-flight basis from departments.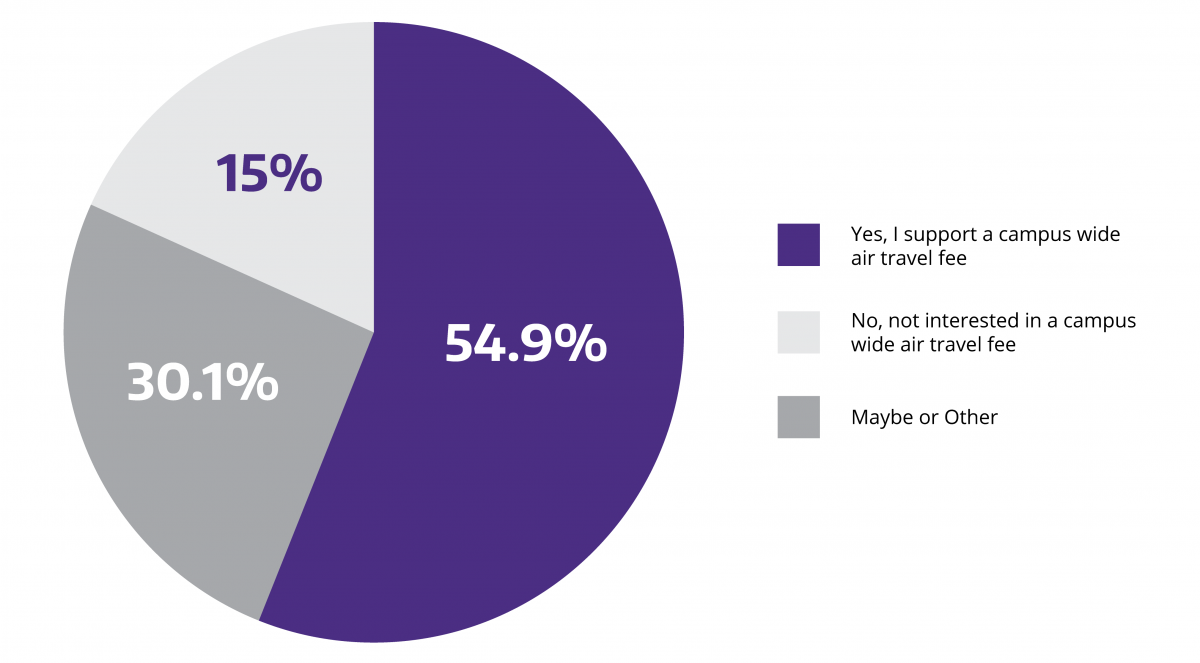 3. Carbon Offsets
49% fully support the UW purchasing carbon offsets for travel
20% support if well-vetted and proven offsets
13% would prefer to prioritize reducing emissions in the first place
7% oppose carbon offsets because they are not effective at reducing emissions
Other concerns: costs, need to verify offsets, desire to support campus projects that reduce emissions, skeptical of efficacy, offsets will encourage more travel
context: travel as a portion of Green house gas emissions
Air travel makes up 9% - 13% of UW's greenhouse gas emissions annually, and 35% of UW's scope 3 emissions. The U.S. Energy Information Administration's 2021 outlook predicts that despite reductions in travel due to pandemic lockdowns, air travel demand will return to 2019 levels by 2025. Assuming these trends hold true for the University in a business as usual scenario, the university will slowly return to 2019 travel emissions (27,579 mtCO2) over the next few years.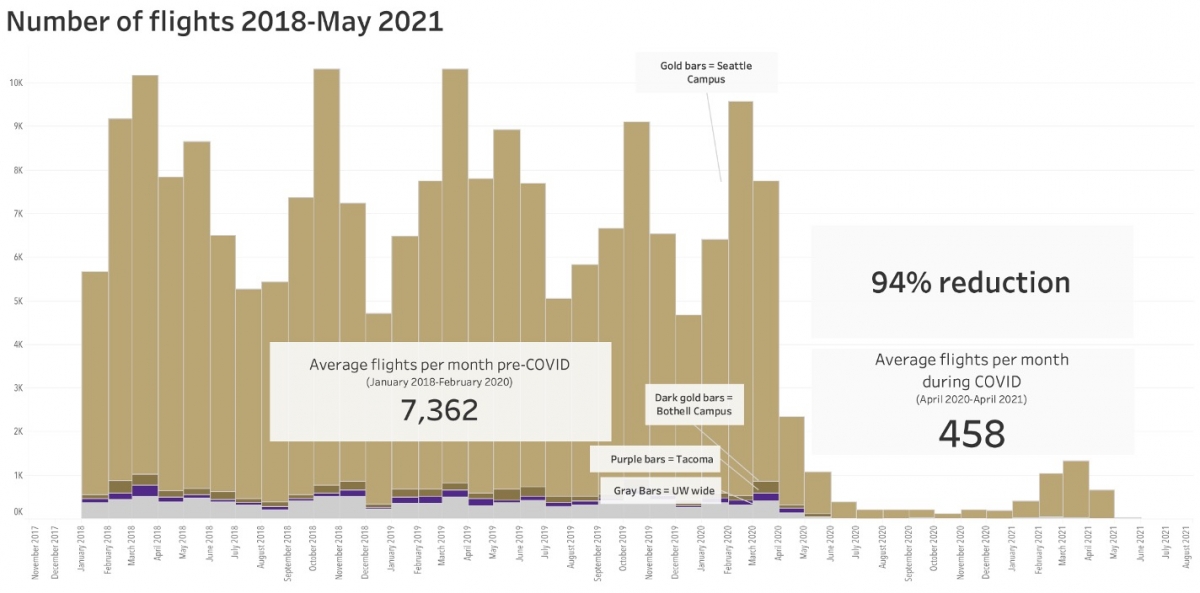 background & distribution
This survey work was supported by the Campus Sustainability Fund, and included 26 questions with 501 responses. The survey was designed by Maggie Yuse with the support of Dr. Ellen Moore, a Teaching Professor in the Culture, Arts and Communication division of the School of Interdisciplinary Arts and Sciences at UW Tacoma. Maggie is a graduate student in the Evans School of Public Policy & Governance and member of the Professional Travel Sustainability Action Plan workgroup. The goal of the survey is to identify attitudes across the UW's three campuses about professional travel in the wake of the COVID-19 pandemic. The results will be used to inform the workgroup and their future policy recommendations.
The survey was launched on September 15, 2021 at 10 am and was open until October 15, 2021 at 5 pm. The survey was sent to UW Today, UW Insider, and the UW Sustainability Listserv. It was also distributed individually by Professional Travel Workgroup members including Maggie and Ellen. These communications also used snow-ball sampling techniques, encouraging respondents to share the survey with their colleagues. A limited number of printed posters were also used on campus. Note: the survey did not screen out people who responded that they do not travel by air for University business.