October 24th - 26th 2011
UW Seattle Campus
The UW Sustainability Summit celebrates the University's leadership and accomplishments in environmental stewardship and sustainability. It provides the opportunity for students, faculty, and staff to find ways to get involved with sustainability on campus, and to learn about the Campus Sustainability Fund, the UW Climate Action Plan, and how our community partners play a role in UW sustainability. With a variety of exhibitors and discussion groups, something is sure to spark your interest. See what to expect by checking out the 2010 Sustainability Summit page.
Send Questions to sustainability@uw.edu.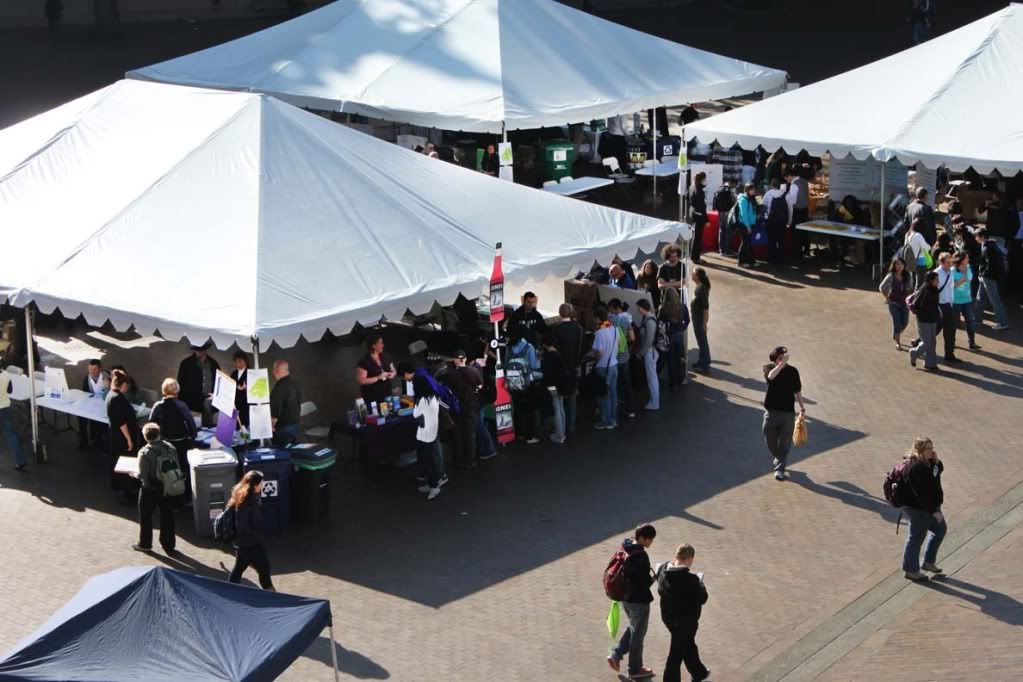 On this page:
Main Event Schedule
Additional Events
Speakers
Exhibitors
Sponsors
Planning Committee
Volunteer
Contact Us
Main Event Schedule
Wednesday October 26th, 2011
Exhibitors on Red Square 
11:30 am to 2:30 pm
Red Square 
See exhibitors
Speakers Series & Panel Discussion
4:30 PM - 6:30 PM 
Johnson Hall, Room 102 
See speakers
Reception & Campus Sustainability Fund Poster Session
6:30 PM - 7:30 PM
Johnson Hall Lobby  
Projects Presenting Posters:
Capital Projects Office (LEED Performance Analysis Intern)
Owl Boxes
Commuter Profile
Green Futures Lab (Living Systems and Biodiversity Green Wall)
UW Farm
Do It Yourself Bicycle Repair Stations
Urban Forest Management Plan
The Carlson Center (Sustainability Service-Learning Liaison)
Identifying Effective Communication to Promote Composting
Real Food Challenge
The Nest Cafe - UW Student Food Co-op
Additional Events
Monday October 24th, 2011 
National Food Day
Film Showing
5:30 PM - 9:00 PM
Walker-Ames Room, Kane Hall
Carbon Nation (Sponsored by The UW Center for Innovation and Entrepreneurship)
Real Food Challenge Discussion Intermission
Unwasted: The Future of Business on Earth
Tuesday October 25th, 2011
Campus Sustainability Fund Open House
9:00 AM - 1:00 PM
Gerberding Hall, B40 (Environmental Stewardship & Sustainability Office)
Speakers
Speakers & Panelists
Neil Chambers, CEO & Founder of Chambers Design, Inc.
Susan Thoman, Director of Communications & Public Affairs at Cedar Grove Composting, Inc.
Doug Howell, Cascade Chapter of the Sierra Club
Moderator
Lisa Graumlich, Dean of the College of the Environment
VIP Guest Speakers
Mike McGinn, Mayor of Seattle
Sandra Archibald, Dean of the Evans School of Public Affairs
MC
Jamie Rowe, Campus Sustainability Fund Coordinator
Exhibitors
Student Groups
Biodiesel Cooperative
Campus Sustainability Fund
UW College Greens
Commuter Profile
Earth Club
GreenEvans
Real Food Challenge
SEED
Society for Ecological Restoration
Student Food Co-Op
UW Farm
UW Peace Corps
Washington Student Association
University Departments
UW Bay Laurel
UW Capitol Projects Office
UW Combined Fund Drive
UW Custodial Services
UW Center for Innovation and Entrepreneurship
UW Environmental Stewardship & Sustainability
UW Facilities Services
UW Grounds
UW Green Futures Lab
UW Housing & Food Services
UW Intercollegiate Athletics
UW Joint Institute for the Study of Atmosphere and Ocean (JISAO)
UW Mailing Services
UW Paper Conservation Team
UW Program on the Environment
UW Recycling & Solid Waste
UW Surplus
UW Zimride
External Organizations
Cascade Bicycle Club
Cedar Grove Composting, Inc.
Coca Cola
Earth Share Washington
The Essential Baking Company
Food Services of America
Honest Tea
King County Metro Transit
Mighty-O-Donuts
Mt. Baker Bio
NatureWorks LLC and StalkMarket/Asean Corporation
Odwalla
Office Depot
One Energy Renewables
The RE Store
Seattle City Light
Seattle Tilth
Sustainable Path Foundation
Theo's Chocolate
Tully's / Green Mountain Coffee Roasters
Waste Management
Wilcox Farms
Zero Waste Washington
If you are interested in exhibiting at our Sustainability Summit, please contact us at sustainability@uw.edu.
Sponsors
Thank you for making this year's summit possible!
Gold Sponsors
Silver Sponsors
Bronze Sponsors
In-Kind Sponsors
UW Bay Laurel
UW Program on the Environment
UW Recycling & Solid Waste
Table Sponsors
Theo's Chocolate
Planning Committee
This year's planning committee consists or members from the following groups:
UW Campus Sustainability Fund
UW Housing & Food Services
UW Educational Outreach
UW Environmental Stewardship & Sustainability office
UW Program on the Environment
UW Recycling & Solid Waste
UW Mailing Services (Creative Communications)
Volunteer
We are no longer seeking volunteers for the Sustainability Summit. Sign up to help out with the event set up, take down, and other tasks.
Contact
At this time, any questions or ideas regarding the Sustainability Summit should be directed to sustainability@uw.edu.