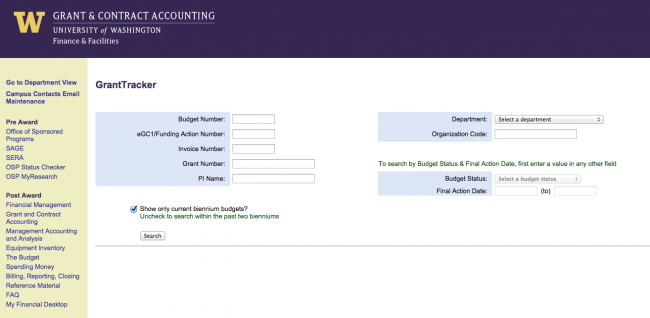 As of March 1, 2016, Grant and Contract Accounting (GCA) digitizes and uploads department copies of journal vouchers to GrantTracker, its database-driven website, instead of sending them through campus mail. The change has contributed to the University's goal of sustainability by reducing the amount of paper needed to administer its grants and contracts.
GCA provides post-award financial management for research awards. Among its responsibilities, GCA processes indirect cost adjustments, deficit transfers, and reverse revenue transactions for its campus customers. Before March 1, 2016, GCA would send copies of the journal vouchers used to conduct these tasks through campus mail to notify the UW departments about transactions affecting their budgets. These journal vouchers could potentially get lost in the mail or sent to an incorrect box number, resulting in delays in getting the information to the departments.
Since GCA typically mailed over 100 JVs to campus each month, this new process saves approximately 1,500 sheets of paper per year, and the departments receive copies of the journal vouchers even faster than before. GCA has also received enthusiastic feedback from its departmental contacts, saying the change has made it easier to review and track changes to their research budgets.
Fun Facts:
In 2015, GCA applied $1.9 billion in new and supplemental research funding to UW budgets.
GCA closed 2,880 budgets in 2015. All budgets must be fully reconciled and all deficits transferred to outside budgets prior to closing.
Project Contact Name:
Grant and Contract Accounting