2015 Earth Week activities
Earth Day is April 22, but there are events celebrating our planet and the environment during the entire Earth Week and beyond. Sqwatch will be there, you should be too! Here is a sampling of some of the events happening around UW as part of the Earth Day celebration:
April 16
Nosh on Nature: Real Food Really Matters, 11:30 a.m.
Wallace Hall 012
Come together to discuss how your student voice can support environmentally conscious eating. Speakers are members of the Husky Real Food Challenge: Katie, Emma, Dani L and Dani G. Real Food samples will be provided by Bay Laurel Catering.
April 17
University Hill site cleanup, 10 a.m.
Join UW EcoReps and start to transform a vacant lot at NE 47th St and 22nd Ave into an asset for the community.
More information.
April 20
WAHESC Sustainability Hour, 4 p.m.
Viewing in Ocean Sciences Building, Room 203
The Washington Higher Education Sustainability Coalition (WAHESC) invites you to learn about cutting edge sustainability initiatives on campuses around Washington State in this first ever state-wide broadcast. The purpose of this event is to inspire, engage, and connect our regional higher education institutions during Earth Week. The broadcast on April 20th from 4:00pm-5:00pm will feature eight short presentations from staff and student sustainability advocates.
April 21
Earth Day Seminar with WA Toxic Coalition, 12 p.m.
Celebrate Earth Day with a seminar on healthy living with the Washington Toxics Coalition (WTC). They are devoted to protecting human health and the environment in Washington State from harmful chemicals. Nanci Uding, grant and research specialist at WTC, will talk about some of the primary chemicals of concern for the health of people and the environment in the Puget Sound region. This event is sponsored by the Whole U and UW Combined Fund Drive.
Register here. 
Earth Week fun with chalk, 3:30 p.m.
Drumheller Fountain, in front of Rainier Vista Field
Join UW Earth Club and other environmentally aware students to join together and draw a giant picture of the Earth with chalk. You are encouraged to incorporate some kind of conservation/recycling symbol in their picture or draw something you love about this planet that you want to protect. To conclude the event, we will write on a scrap of paper a pledge to do something earth-friendly (such as taking shorter showers, turning off lights, etc).
CSF Bike Tour, 3:30 p.m.
Discover sustainability projects around campus with the Campus Sustainability Fund! Meet at the Pronto bike sharing station at 15th Ave NE and W Stevens Way NE. Use your own bike, or use a Pronto bike courtesy of CSF. 
Sustainability in the Curriculum conversation, 4 p.m.
Cascade Room, Haggett Hall
All UW faculty, students and staff from all campuses are invited to join the conversation exploring the question, "If the UW were to be a leader in sustainability education, what would that look like?"
RSVP here
UW Bothell Good Food movie screening, 5:30 p.m
UW Bothell UW2 Commons
"Good Food" visits producers, farmers' markets, distributors, stores, restaurants and public officials who are developing a more sustainable food system for all.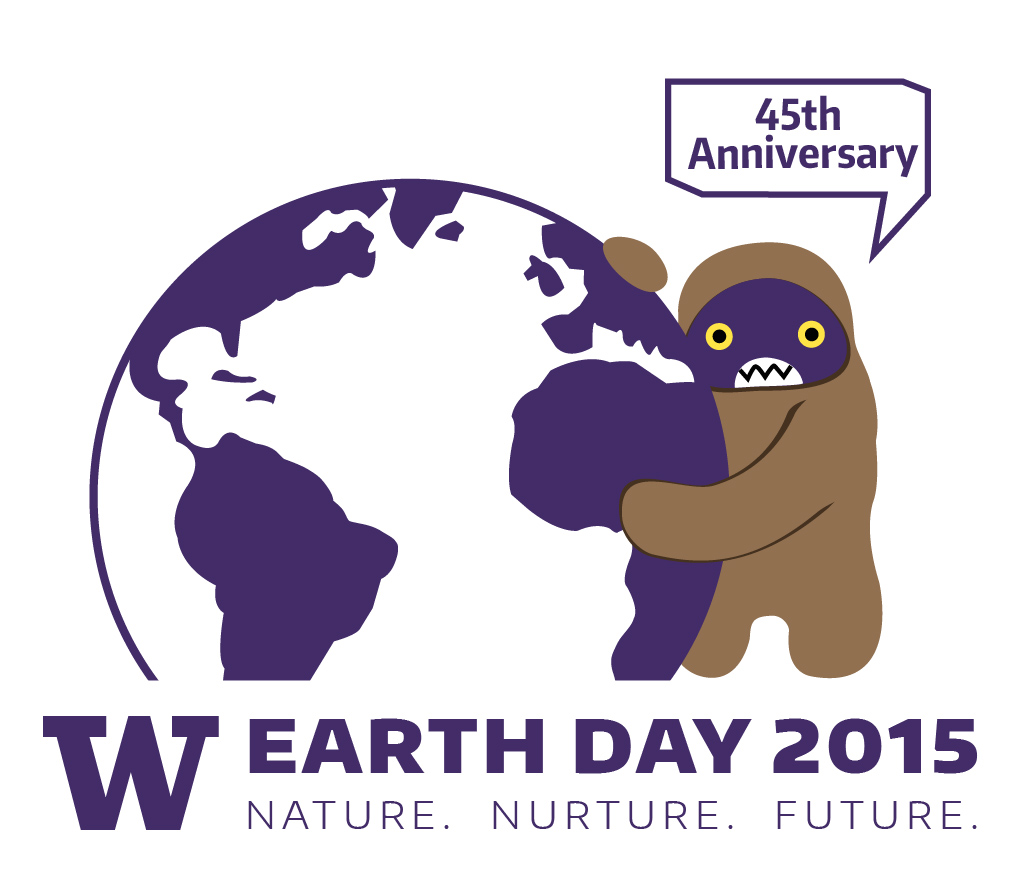 April 22
UW Earth Day Celebration on Red Square, 10 a.m. - 3 p.m.
Red Square is the site of UW's central Earth Day festivities, including exhibitors, music, speakers and the Husky Green Award presentations. Find full details at our Earth Day page. The Husky Green Award presentation will begin at 1:15 p.m.
Yesler Swamp work party, 9 a.m.
Yesler Swamp will be holding a work party on Earth Day! Bring shoes and clothes that can get dirty/muddy, in addition to a water bottle and a snack. Tools and gloves are provided.
More information
Earth Day volunteer event with UW Botanic Gardens, 10 a.m.
Volunteer with UW Botanic Gardens for an Earth Day work event in the Union Bay Natural Area, 10 a.m. - 3 p.m.
More information
University Slough work party, 10 a.m.
The Washington Conservation Corps needs volunteers to help remove old landscape fabric from a planting project along University Slough (between the Golf Driving Range and IMA Field #1). Native plants in the area should flourish with the fabric removed, and they will create important shade and soil stabilization at the site. Refreshments, tools and gloves will be provided for volunteers. Come out and help as you can anytime during the 10 a.m. - 3 p.m. event.
UW Bothell Earth Day Fair, 10:30 a.m - 3 p.m.
Join us in the UW Bothell Plaza for the annual Earth Day Fair! Learn about ways to get involved with local organizations and campus groups, what is being done in the area to promote sustainability, and what can you do to help!
UW Tacoma's Earth Day Celebration, 12:30 p.m.
Join the rally raising awareness among UW Tacoma and surrounding community around Active Transportation being an action that everyone can participate in. Be a Planeteer and help your community win the battle against climate change. Featured speaker: Ron Sims, former U.S. HUD deputy secretary, former King County Executive. There will also be live music and more along the Prairie Line Trail.
Environmental Justice: Why women of color need to lead the environmental movement, 5:30 p.m.
Ethnic Cultural Center
Divest UW is hosting a panel and discussion featuring women activists and scholars that will be discussing the importance of frontline communities being engaged in the environmental justice movement. It will be an interactive dialogue where the audience can ask questions, followed by an open mic where people are invited to express their feelings about the environment creatively. RSVP on Facebook.
Earth Day Clothing Swap and Potluck, 5:30 p.m.
The ASUW Student Food Cooperative is hosting this clothing swap and potluck in Thomson 231. Come revamp your wardrobe without the nasty environmental costs. Bring any and all clothes your are hoping to exchange, a dish to share, and your own plate and utensils. All are welcome!
April 23
CSF Bike Tour, 1:30 p.m.
Discover sustainability projects around campus with the Campus Sustainability Fund! Meet at the Pronto bike sharing station at 15th Ave NE and W Stevens Way NE. Use your own bike, or use a Pronto bike courtesy of CSF.
UW Bothell Citizen Engagement Workshop, 3:30 p.m.
UW Bothell Husky Hall 464
Ready to get involved with environmental policy after Earth Day? Join professors Martha Groom and Karrin Klotz, alongside Seth Balhorn of the Sierra Club, for an engaging session on how to get involved locally with environmental policy.
Climate Activism 101, 5:30 - 7:30 p.m.
Program on the Environment Commons in Wallace Hall
Join The Alliance for Jobs and Clean Energy, Washington Environmental Council, and SEED (Students Expressing Environmental Dedication) for an evening of skill and information sharing about how Washington can lead the nation on climate action and what you can do NOW to help. Learn about the political tools we can use to fight global warming, the new Alliance for Jobs and Clean Energy, and how YOU can make a difference in the fight to address global warming. You will leave equipped with the tools and next steps you need to be an effective champion for climate action in your community and beyond.
April 24
Outlaws, Out for Business, Out for STEM - Earth Day Networking & Discussion, 10 a.m.
Join Outlaws, Our for Business, Out for STEM, other LGBTQ student groups for a discussion on how the LBGTQ community can work together to protect and celebrate people and place. Meet with several LGBTQ leaders from the community who have successfully integrated their passions for diversity and the environment in their life and work. The special guest will be Pennsylvania State House of Representative member Brian Sims.  Law School, Room 212.
Society for Ecological Restoration work party, 12 - 4 p.m.
The Society for Ecological Restoration and Campus Sustainability Fund are hosting a work party near PACCAR Hall. Volunteers will get free food and chances to win CSF reusable water bottles as well as contributing to the campus landscape.
Deconstructing Earth Day: the many aspects of protecting and celebrating people and place, 2:30 p.m. - 4 p.m. 
What better way to finish up Earth Week (and the 45th anniversary of Earth Day) than to join other UW students, faculty, and staff in an informal discussion about elements of Earth Day and sustainability that leave a lot of room for improvement. How do we build an inclusive future on campus, in our communities, and in our world that incorporates the full spectrum of social, cultural, ecological, and economic dimensions of sustainability. The discussion circle will include several local and national special guests that are passionate activists on topics such as diversity, social justice, the environment, and economic equity. Special guests include Abigail Echo-Hawk, Associate Director of Partnerships for Native Health, Colleen Echohawk-Hayashi, Executive Director of Chief Seattle Club, and Pennsylvania State House of Representative member Brian Sims. The event will take place at the newly opened "wǝɫǝbʔaltxʷ" (Intellectual House), anticipated to receive a Gold LEED Certification.
UW Farm Earth Week Pizza Bake
The UW Farm is hosting a pizza bake at the Botany Greenhouse location to celebrate Earth Week. Everyone is welcome: bring toppings to share or donate a couple bucks to help cover the dough costs, and celebrate Earth Week!
April 25
Earth Day in the Arboretum with Student Conservation Association, 9 a.m.
Everyone is welcome for an Earth Day work part in the Arboretum. Click here for more information and to register.
UW Bothell Restoration Work Party, 10 a.m.
Join the Friends of North Creek Forest for a restoration event. A BBQ Lunch and all tools are provided. Click here for more details and location information.
All Greek Street Cleanup, 10:30 a.m.
Join EcoReps in cleaning up the streets around the Greek community. Help make the area look beautiful and trash free!
And more:
If you're looking for more ways to get involved, check these sites for other area volunteer opportunities:
Seattle Parks and Recreation volunteer calendar
GreenSeattle Partnership calendar (work parties in forested Seattle parkland)
Earth Corps volunteer calendar
King County volunteer opportunities calendar
Sponsors:
The full Sustainability Events calendar is below.