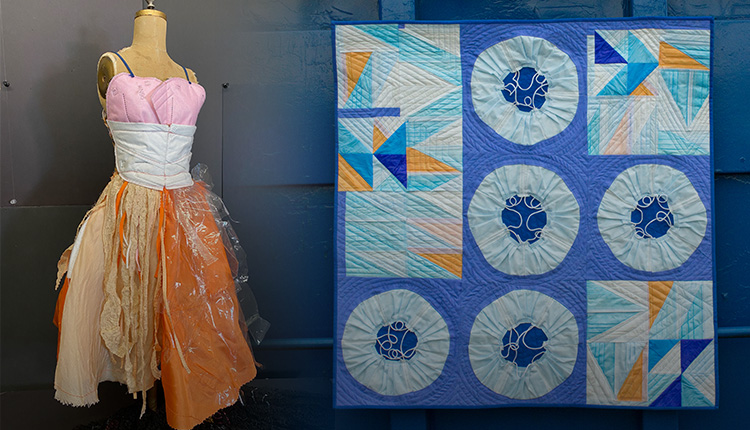 Five winners transformed trash into stunning art pieces in the third annual UW Trash Art Contest.
The contest, organized by UW Recycling, received more than 20 submissions from students, faculty and staff in the categories of literature, 2D art and 3D art. The artwork needed to be created from items normally thought of as trash. Artists were asked to express feelings or ideas about waste, or a sustainability topic that relates to waste.
This year's winners were:
2D art category
Disposable by Louise Wackerman
Pollution In, Pollution Out by Rachel Yi
3D art category
Metamorphosis by Isabella Harris
Golden Venture Folded Basket by Lynzley Kolakowski
Literature category
Animal Communions by Robin Ellen Brooks
Click the name of the artwork to read the artwork's description below.
---
This year's competition was close. The creativity and originality of all of the submitted pieces blew the UW Recycling selection committee away. Pieces ranged from clothing made out of plastic packaging to a bird made out of used Scantron sheets.
"It was inspiring to see the different ways the submitted works approached the concepts of sustainability and waste!" said student judge Leena Janmohamed. "I loved reading the accompanying artist statements to learn more about the materials used and the thought process behind each piece."
Click the slideshow below or see the album on Flickr to view all of the 2022 art submissions.
Artists created pieces from materials normally thought of as trash, or written work about waste and sustainability. UW Recycling's goal for the contest is for people to see waste from a different perspective and consider its impact on the environment.
Submissions were judged based on the following criteria: originality and creativity, clarity of waste/sustainability theme, material usage, and relevance to personal and/or UW campus waste.
The winning art pieces in each category are highlighted in detail below.
2D Art category
Painting, photography, collage or other pieces that may be hung from a wall
1st place winner: Disposable by Louise Wackerman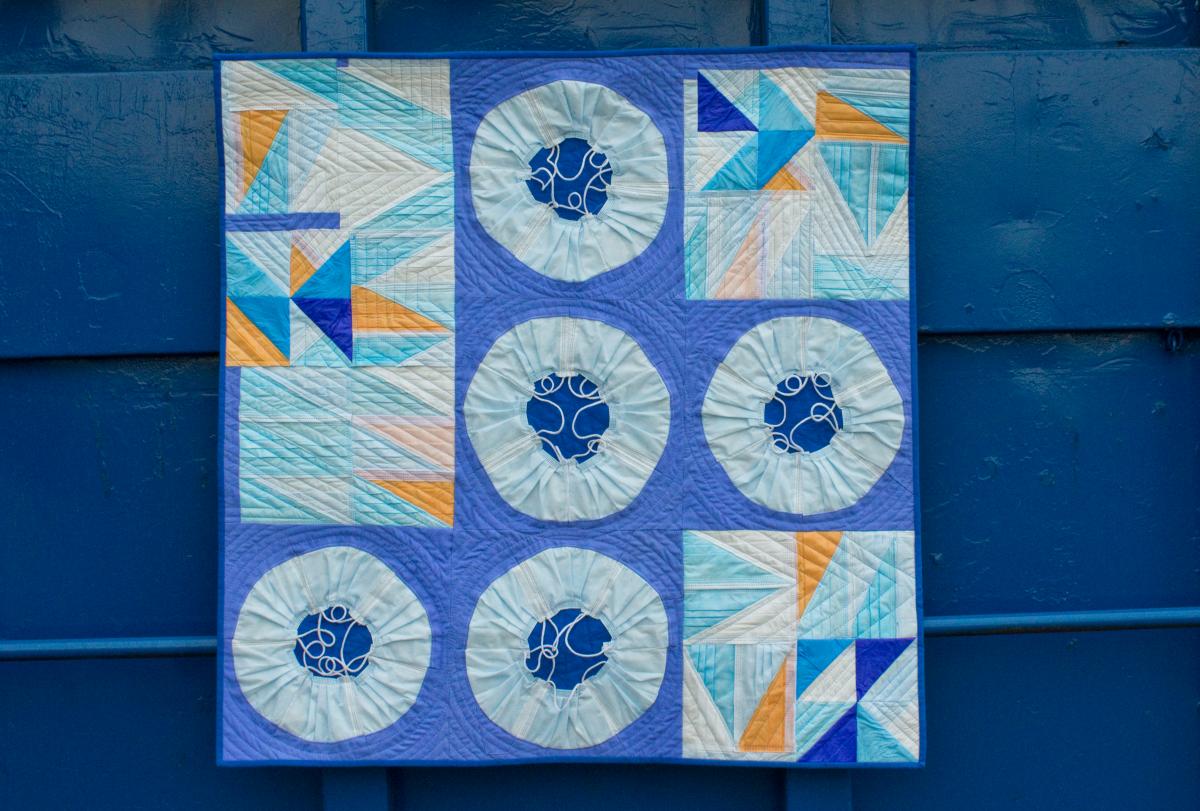 Art piece created from disposable masks, disposable gloves and used scrubs. The back of the quilt is made of upcycled sheets and more of the used scrubs that were used on the front. Details submitted by artist.
Brief description and theme of the art piece
Disposable is a small quilt made of, you guessed it, disposable materials: Masks, disposable gloves and worn out scrubs. Today,  if you walk around the city, the UW campus and UWMC and you will pass at least one (probably many more) masks disposed of on the sidewalk or in the bushes. Walking by these strewn-about disposable items intended to keep us safe, I knew I had to use these items in a non-disposable way. The circle shapes are made from masks I've worn to work each day. The quilting inside these masks represents the germs bouncing around inside the masks, but not being shared with those around me. The circular quilting around the masks represents the germs staying on the outside, another reason we wear the masks. The unused masks, gloves and worn out scrubs represent all the disposable materials used in our healthcare system to keep us free of germs, yet what are they doing to our environment long term? The quilt is 36 inches wide and 38 inches tall.
How is this relevant to your personal and/or UW campus waste?
This quilt is relevant to my personal experience in so many ways! For the last 10 years I have worked as an architect in the healthcare industry in local hospitals, including UWMC and Harborview. I have always grappled with the irony of all the disposable items used in healthcare to keep our patients safe and healthy versus the amount waste these same items make in order to also keep our patients safe and healthy. When I transitioned to an employee at UWMC last year I had to give up my handmade, washable face masks for the disposable one-time-use masks. Every day on my walk to work, I pass mask after mask disposed of on the ground of the UW campus. As I mentioned in the above statement half of the masks used in the quilt were used by me on the UW campus. This quilt is literally made of my own personal, disposable trash being upcycled into a work of art.
Follow the artist on Instagram @imfeelincrafty
2nd place winner: Pollution In, Pollution Out by Rachel Yi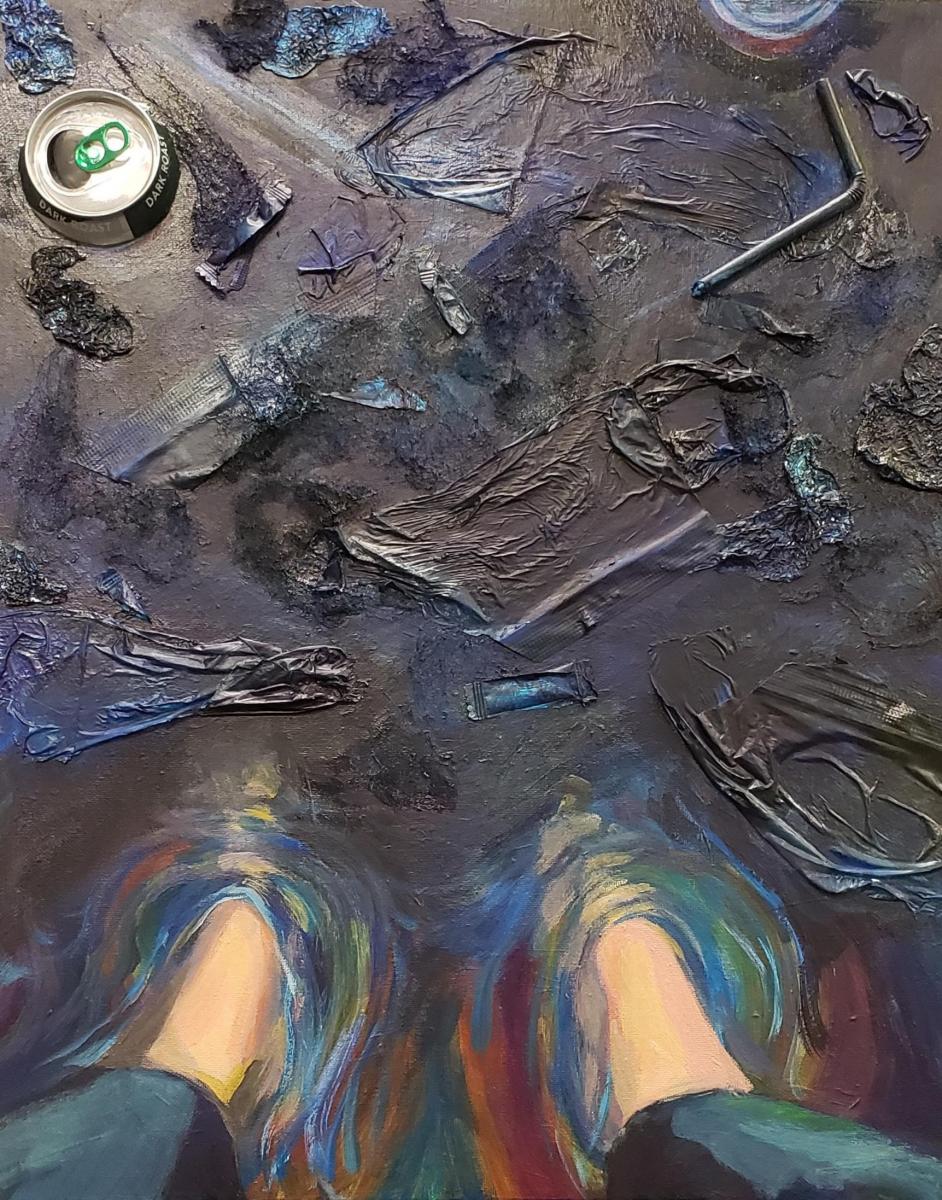 Art piece created from canvas, acrylic, gesso, trash (cans, straw, cotton, plastic bags, tin foil, mesh, candy wrappers). Details submitted by artist.
Brief description and theme of the art piece
Pollution is a serious problem that the world collectively contributes to and is still not paying heavy attention to. I find pollution disgusting but fascinating as an artist in how it, specifically oil slicks, makes interesting patterns and colors. All of it comes from man, so I drew a person's feet dipping in the water, like one does in a pool or at a beach - ignorant to our actions. All the while the disgusting textures float around and make me snap back into reality and understand what pollution actually is again, and how much of a problem it really is.
How is this relevant to your personal and/or UW campus waste?
All the materials used on the canvas reflect what I use in my day to day life (most of it), so whenever I look it at, it denotes me to keep aware of my trash and organization output. I don't know if my trash will end up in the actual landfill, the ocean, or on the streets, so the one thing I can control and know for sure is my output, which the painting always reminds me of. It also corrects my thought process every now and again, reminding me that it's not pretty in any way, shape, or form; it's gross, muddy, and something I wouldn't dip my feet in.
3D Art category
Sculpture, model or other pieces that stand upright
1st place winner: Metamorphosis by Isabella Harris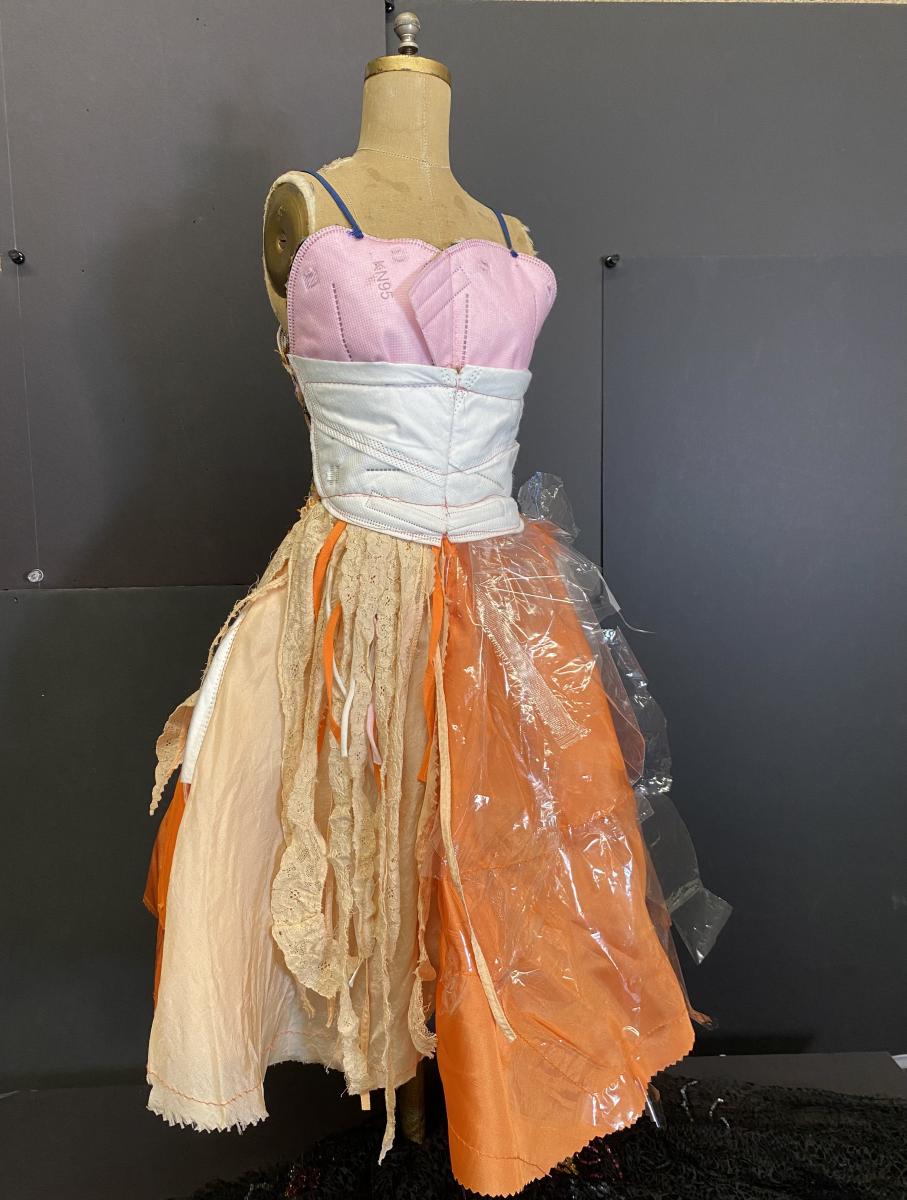 Art piece created from face masks, the plastic covering of single use masks and fabric from clothes that would have been thrown away. Details submitted by artist.
Brief description and theme of the art piece
This art piece is a dress on a half size model. Since masks have become a daily use waste item, I wanted to use them in my piece. The fabric waste plus the final piece being a dress is supposed to allude to the fast fashion consumption which leads to more waste in land-fields. The name Metamorphosis comes from the fact these items are changing and becoming something new.
How is this relevant to your personal and/or UW campus waste?
This personal to me because I am drama design student who focuses on costume design. So the medium is what I'm used to working with, sewing. As a costume designer we worked during the pandemic so we went through many masks, but also as a costume designer I have to buy from fast fashion and Amazon at times. This piece is a reflection of my inner thoughts as I determine if i should repurpose an item of clothing or purchase something new.
Check out the artist's other work on their website.
2nd place winner: Golden Venture Folded Basket by Lynzley Kolakowski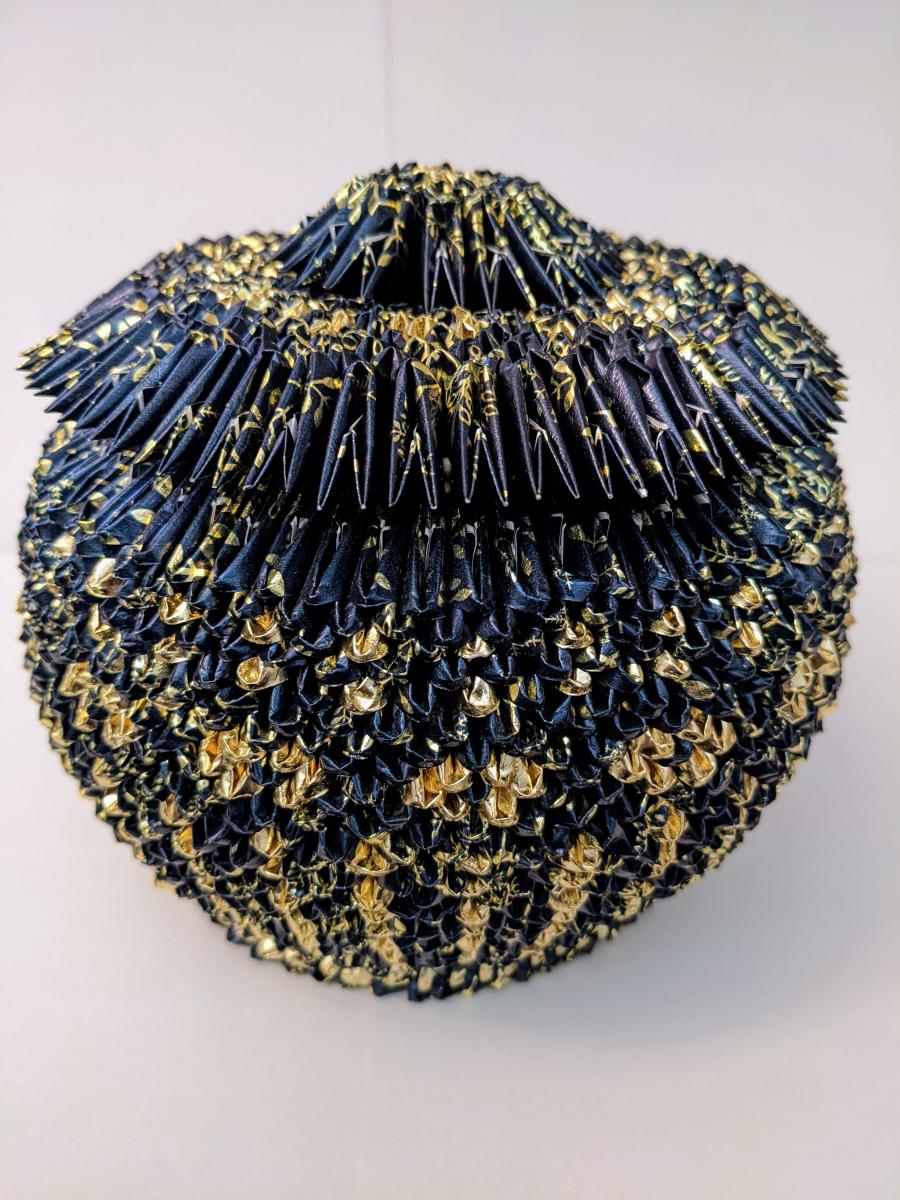 Art piece created from recycled wrapping paper and glue. Details submitted by artist.
Brief description and theme of the art piece
I created my basket using a paper folding technique known as golden venture folding or 3D origami. Golden venture folding requires the artist to fold hundreds if not thousands of modular pieces that fit together to create a 3D sculpture. The process of folding requires the artist to be patient and persistent but I find it to be a chance for me to feel peaceful and content. To complete my basket, I folded about 2,500 pieces made from repurposed blue and gold wrapping paper.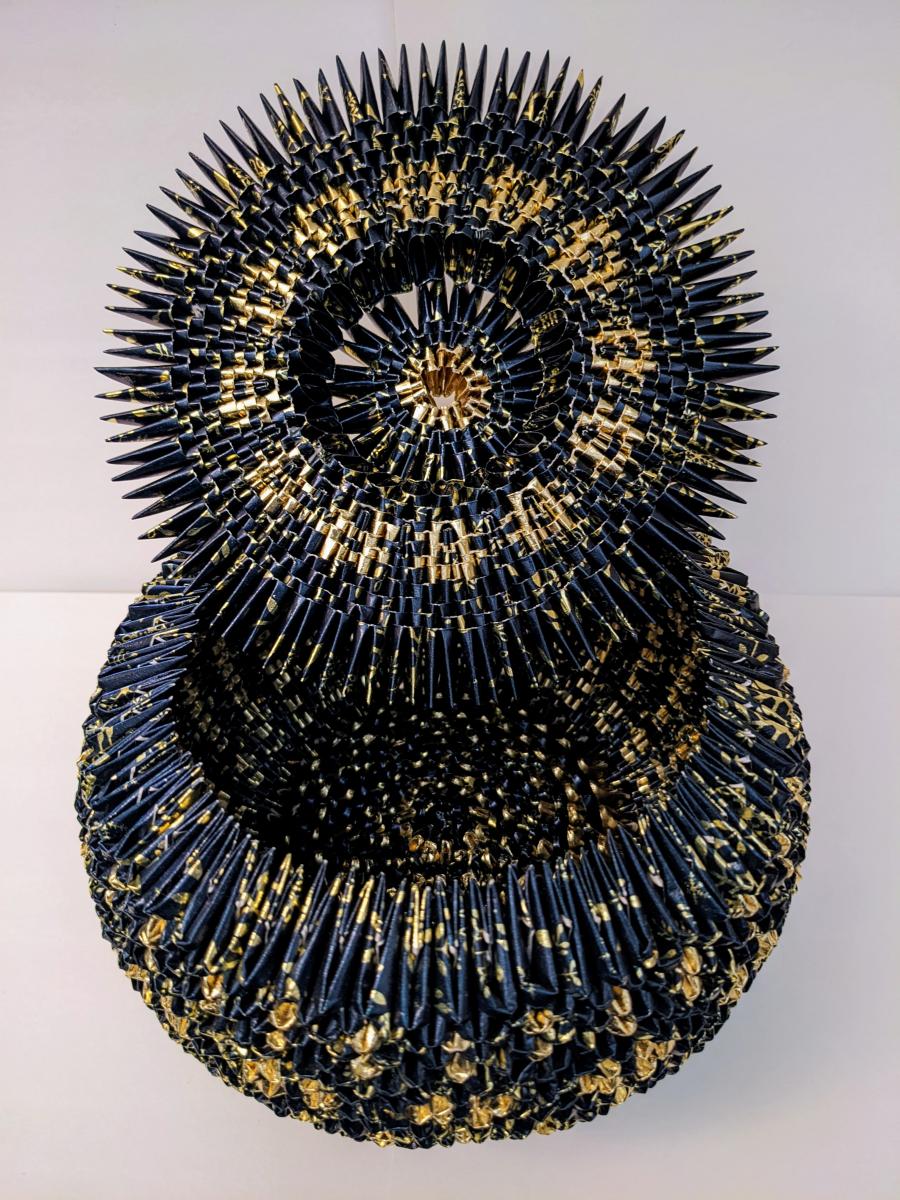 The Golden Venture Folded Basket is my way of responding to how gifting is often a beautiful but wasteful process. I love finding pretty wrapping paper and giving gifts to my family and friends, but the often single-use nature of wrapping paper is something that has always bothered me as an artist who works with paper. Furthermore, many types of wrapping paper are not even recyclable because they are glittery and shiny, which makes for even more unsustainable waste than recyclable wrapping paper.
To be a part of a sustainable solution for this problem, I save wrapping paper that was used for gifts when I can and repurpose that paper for my golden venture folding art projects. This means that the beauty and wonder of wrapped gifts is no longer a wasteful, one-time occasion, but rather a chance to repurpose wrapping paper as a medium to create beautiful and thoughtful pieces of art like my Golden Venture Folded Basket that I can regift to my friends and family.
How is this relevant to your personal and/or UW campus waste?
Like many artists, I find myself reluctant to throw anything away when I can possibly use it in one of my many art projects. Working with paper as a medium has always appealed to me because I have so many chances to reuse paper that would have otherwise gone to waste. The chance to create something beautiful and unique while reducing my own waste as a student is something that means a lot to me as an artist, especially when many other forms of art require a significant investment into materials that are not always recyclable or sustainably sourced.
Check out the artist's other work on Instagram @locklyn_crafts
Literature category
Written work such as an essay, poetry, drama, or a story
Note: We received one submission for this year's literature category.
1st place winner: Animal Communions by Robin Ellen Brooks
Details submitted by artist.
Brief description and theme of the art piece
I started this piece as a writing student in the UW Professional and Continuing Education Writing Certificate Program in June 2021. It began as a memoir exploring my interactions with animals throughout the years; I tried to capture the essence of the moment with the animal(s) as a historian might, without judgement, as a witness.
Months later I discovered the "shifting baseline theory" while trying to find and re-read articles about climate change that impacted me, and after falling into a rabbit hole of environmental articles, I felt inspired to add the (experimentally presented) footnotes section.
In the last few weeks as I was putting the piece together, I became curious about who I am as a human animal, and attempted to honor certain strengths and weaknesses I possess within "animal me."
I combined the sections into a final piece as an exploration of my admiration for our animal neighbors, and as a way to evoke thought on our mutual sharing of the planet. Themes within the piece include climate change, conservation, appreciation for the natural world, and accountability.
How is this relevant to your personal and/or UW campus waste?
I'm a work-in-progress regarding my consumption and waste generation, but I make efforts to manage my waste responsibly, because I treasure the outdoors. I hope that readers of this piece might recognize certain aspects of themselves in the work; that they will reflect on their own "animal communions;" and that perhaps some aspects of the piece will inspire changes in how we view animals, their impact on our lives, and what we might do to preserve and protect them.
This artist is a staff member of UW Recreation. You can follow @UWRecreation on both Facebook and Twitter.
---
The UW Recycling team thanks everyone who participated for making the 2022 Trash Art Contest a success! The competition was part of this year's Campus Race to Zero Waste (previously RecycleMania). Campus Race to Zero Waste will be happening again in 2023 and we're looking forward to planning next year's contest. In the meantime, stay in touch with us on Instagram @uwrecycling or contact us at recycle@uw.edu.