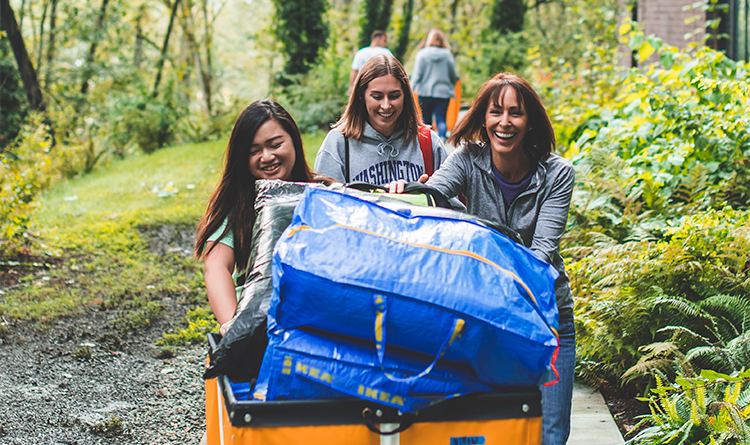 The UW is recognized as a national leader for its deep commitment to sustainability on our campuses and in the community.
Looking forward to living on campus? Follow these tips to make move-in easier and reduce your waste.
1. Bring only what you need
Don't let those MUST HAVE shopping lists distract you - only get the basics that you'll need. Before you start shopping, take note of all the things you use in your everyday life and will continue to use.
We want you to be comfortable in your new home, but it can take time to figure out what you truly need. Get to know your roommate(s) and your new lifestyle, then buy other necessities. It's easier to scale up than scale back!
2. Rent a mini-fridge
You can rent a mini-fridge and microwave combo through HFS. If you rent this item, you don't have to worry about moving a mini-fridge in or out! It arrives right to your residence hall during move-in.
3. Wait to buy a foam mattress topper
Test out your new bed before splurging on that giant mattress topper. Those can't be donated or recycled so make sure you really need it!
Hundreds of mattress toppers get thrown away at the UW every year. Help us lower that number!
4. Keep it simple in the kitchen
You won't need sets of pots, pans, or dishes in your room. Bring a couple plates, bowls and silverware you can use throughout the year.
For apartments - one nice pot or pan can be used over and over, rather than a 20-piece set with items you don't need. You'll have less to move, less to cramp your space and less to clean! Borrowing from your Husky neighbors if you need a specialty item can be a great way to meet new friends.
5. Think outside the box
Limit your use of cardboard boxes when moving. Pack up belongings in reusable containers like your laundry basket, backpacks or suitcases
If you are packing fragile items, use your pillow, blankets, or clothing to protect them instead of bubble wrap.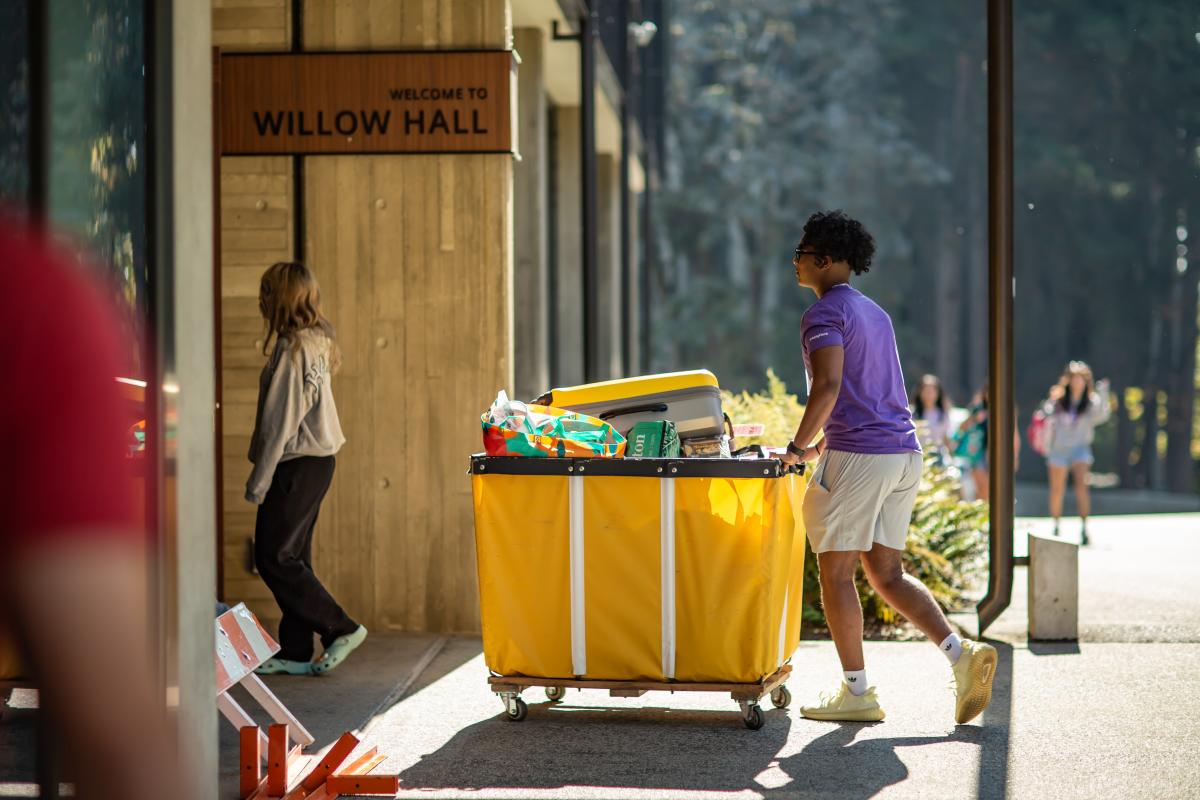 6. Be clean and green – don't bring a vacuum
Avoid buying large cleaning items (such as a vacuum, Swiffer or broom). You can borrow vacuums and brooms from your building's Residential Life Office.
7. Bulk isn't always better
Buying food or supplies in large containers or quantities isn't a good bargain unless you use all of it. You probably won't go through a gallon of olive oil or bleach, or even a big container of salt before it's time to move out. If you're shopping for yourself, buying smaller may be the most sustainable option.
8. Buy secondhand items
Reusing prevents waste, plus you can find unique, local items.
UW Surplus is a great place to buy school supplies and items for your room. It's located across from U Village and is open to the public on Tuesdays. There are also plenty of great thrift stores within walking distance of campus!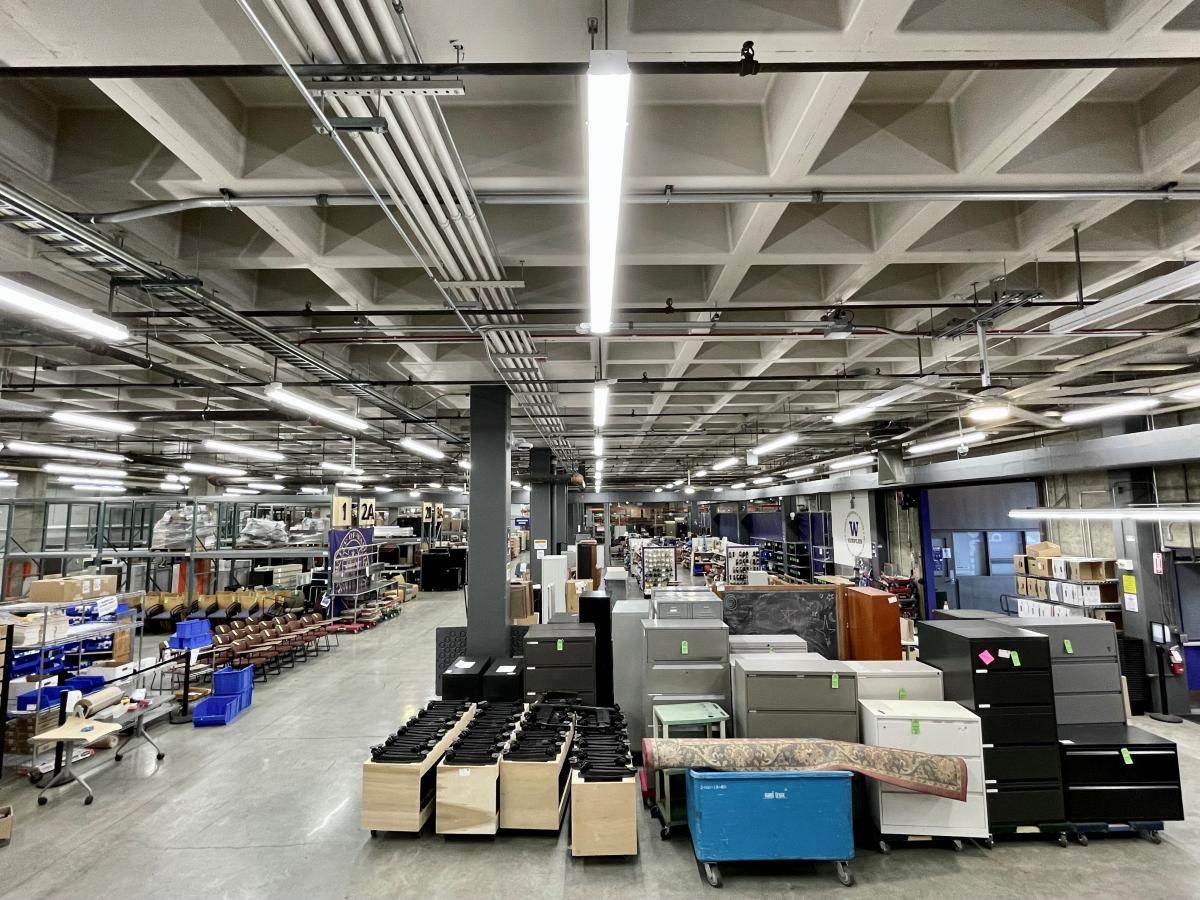 UW Surplus is located on campus across from University Village
9. Ask yourself - will I use this?
If the answer is no, then why buy it? Save your money and the environment by only buying things you will use and that meet your needs. You can be more sustainable by simply buying less.
If you follow these tips, your time at UW will be easier and more eco-friendly.
There are other ways you can be sustainable after move-in. Check out this video about living sustainably at the UW.
Follow UW Recycling on Instagram to learn more about recycling and waste.