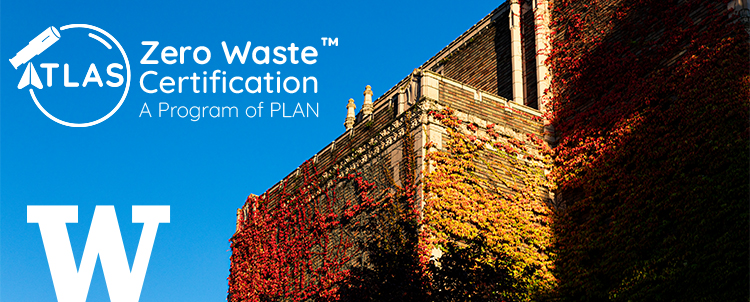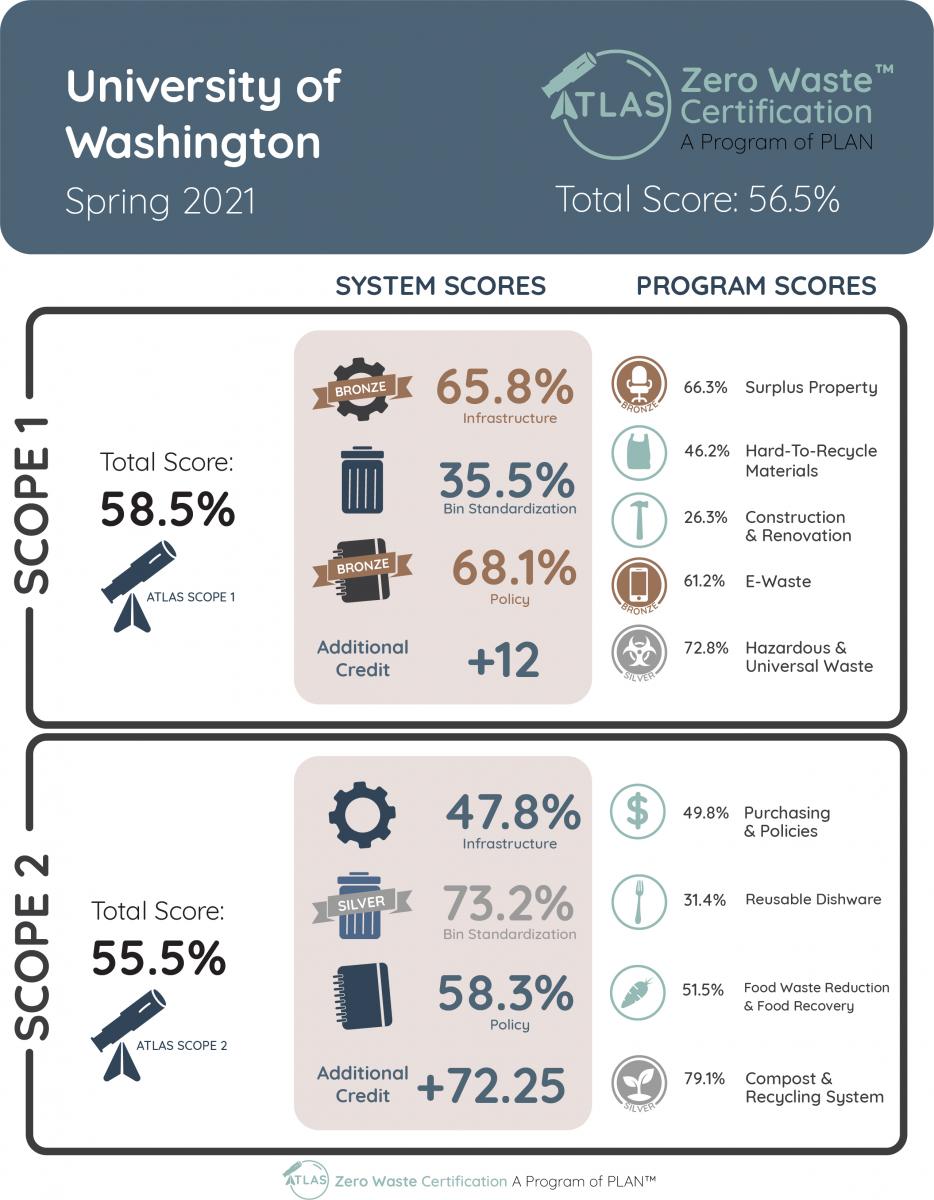 2 min. to read
UW Recycling released the UW's first Zero Waste Assessment Report, a document that identifies system-wide gaps in waste infrastructure at the UW. The report outlines potential long-term zero waste solutions for the university to improve sustainability performance.
The assessment awarded a baseline zero waste score of 56.5% for the whole UW campus (921.5 out of a total possible 1596 points). The UW ranks above average in comparison to the other college campuses who've completed the assessment. The average scores are between 40–50%.
Read the full breakdown of the UW's Scorecard.
Key takeaways
The report outlines a variety of recommendations for campus-wide operations and specific stakeholder functions. Some key takeaways include:
Establishing a working group, or a "Zero Waste Task Force" to continue conversations about zero waste across all three UW campuses.
Increasing opportunities and resources for students to share and reuse items and materials on campus.
Performing outreach to stakeholders about existing sustainable procurement policies and event guidelines on campus.
Increasing and expanding communications of inventory at UW Surplus. Encouraging faculty and staff to check surplus options before purchasing new items as part of campus policy.
Read the full summary of recommendations.
Atlas Zero Waste Fellowship
In the winter of 2021, the UW collaborated with the Post Landfill Action Network (PLAN), a zero waste consulting company, through their Atlas Zero Waste Fellowship. UW Recycling's Zero Waste Program Assistant Julie Ira served as the UW's Atlas Zero Waste Fellow. To gain a holistic understanding of campus-wide waste operations, she interviewed and surveyed 45 stakeholders from various campus departments and facilities.
All three UW campuses were assessed according to PLAN's Atlas Zero Waste Assessment framework. This framework measures waste reduction policies and structures on university campuses across the nation. The goal of this assessment was to gain a comprehensive understanding of all waste operations and policies on a campus-wide scale. The assessment identifies concrete steps the UW can take to shift towards zero waste.
The Zero Waste Assessment contains a variety of recommendations tailored to the existing campus systems at the UW. PLAN curated these recommendations based on the successful implementation of zero waste best practices on other college campuses. Many of these recommendations align with the 10 targets outlined in the UW's Sustainability Action Plan, and can help support the sustainability actions created to reach each target.
UW Recycling will continue to perform outreach to campus stakeholders, who play a prominent role in UW's path to zero waste. This assessment celebrates UW's successes in sustainability, and identifies the challenges to implementing zero waste on campus. The assessment findings and report will be a significant tool that can be used to benchmark the UW's progress throughout its zero waste journey.