Update: UW Recycling and UW Sustainability have decided not to continue a pilot program to recycle nitrile lab gloves. The pilot program, which took place over the course of spring quarter of 2016 in nine labs in the Molecular Engineering and Sciences (MolES) department and Materials Science and Engineering department, reduced the proportion of lab waste that gloves made up from an average of 23% to 7%. However, while the pilot program diverted a significant amount of lab waste from the landfill, the program could not confirm that the overall carbon footprint of recycling the gloves was lower than the carbon footprint of sending them to the landfill. Recycling the gloves involved collecting, labeling, and boxing the gloves before shipping them from Seattle to a recycling facility in the Midwest and processing them there.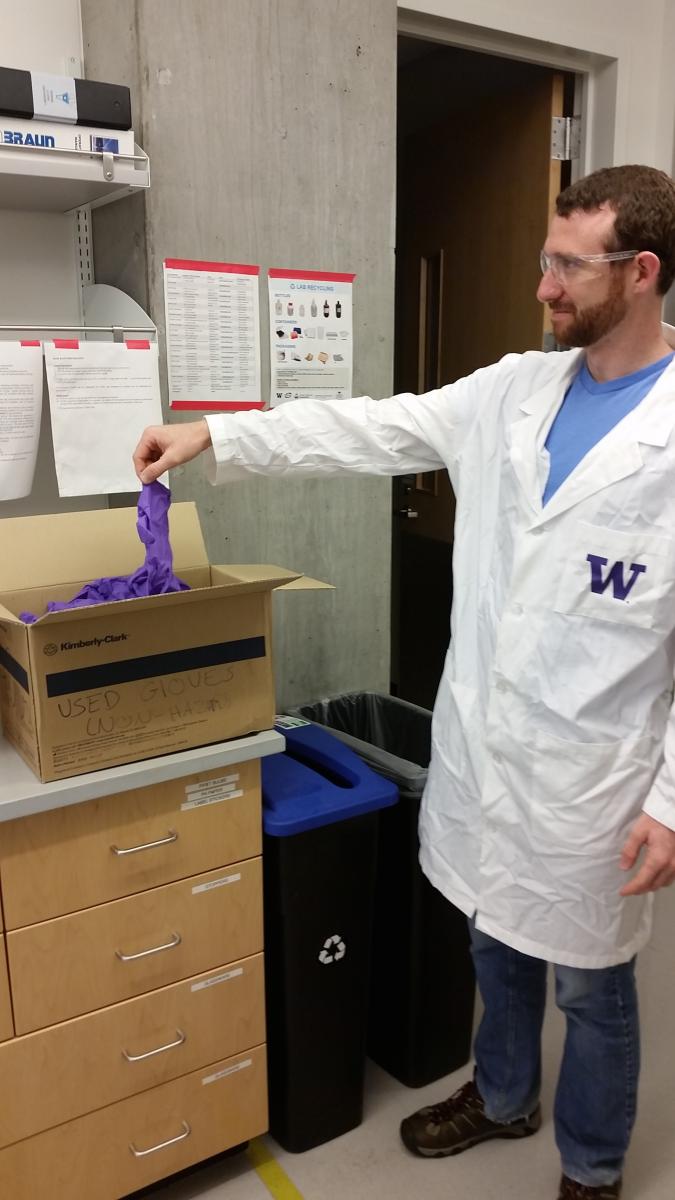 For the first time, UW labs have been recycling used nitrile gloves as part of a pilot program between UW Sustainability and UW Recycling that started in Spring quarter. Nitrile gloves are significant source of waste in thousands of campus labs. A waste audit prior to the start of the pilot program demonstrated that nitrile gloves make up 23% of lab waste by weight that is sent to a landfill - more than any other single item.
A total of nine labs are participating in the pilot, four from the Molecular Engineering and Sciences (MolES) and five from Materials Science and Engineering. The gloves were collected in labs after use and sent back to their manufacturer, Kimberly-Clark, who breaks them down into pellets so they can be made into other products, such as park benches.
Mike Carroll, a Graduate Research Assistant who works in one of the participating labs in MolES, appreciates the chance to keep a common source of waste in his lab out of the landfill.
"I think it's great to have this opportunity to recycle them," he said. "I hope the University can expand it to more labs on campus."
A second waste audit was conducted at the end of Spring quarter to measure the effect the pilot had on recycling rates. See the results of that audit here.
The pilot program was supported by the Campus Sustainability Fund. If you work in a lab or know someone who does and would like to learn more about the glove recycling program or learn how your lab could participate in the future, email our Green Lab Consultant at greenlab@uw.edu.