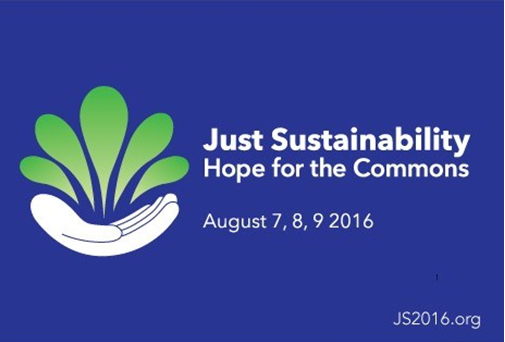 Attention UW students, faculty, and staff interested in environmental justice! This is one of the best conferences around on the topic and it takes place right here in Seattle, at Seattle University! Conference planners just announced their call for papers, due January 18th, 2016.
The Seattle University Center for Environmental Justice and Sustainability (CEJS) is planning their second biennial conference "Just Sustainability: Hope for the Commons" to be held in Seattle on August 7-9, 2016. Attendees will have a unique opportunity to connect with researchers, businesses, and communities that are bringing EJS issues to the fore of public discourse. Authors will have the opportunity to publish papers in a special issue of the journal Interdisciplinary Environmental Review. The conference goals are to: 
Emphasize EJS research in a wide variety of disciplines 
Build an EJS network of Jesuit institutions 
Inspire EJS work through the arts 
Highlight work being done by nonprofit and government agencies 
Foster interdisciplinary conversations, research, and teaching 
Call for Papers
Seattle University is inviting papers related to environmental justice and sustainability from all fields of discourse, including but not limited to environmental studies, theology, business, philosophy, engineering, education, law, international development, anthropology, religious studies, geography and the natural sciences. We welcome papers that focus on: 
Social sustainability (e.g. low-income housing, indigenous rights, urban farming, intergenerational equity, climate refugees, etc.); 
The business case for sustainability (e.g. campus sustainability, supply chain management, responsible investment strategies, etc.); and/or 
Environmental sustainability (climate change, natural resources management, pollution control, biodiversity, etc.). 
Seattle University particularly encourages papers from Jesuit Institutions from around the world, as we hope to highlight responses to Pope Francis' encyclical, Laudato Si'. 
Authors should submit abstracts of no more than 200 words by January 18th, 2016 by using the conference paper submission system (available after 11/25/15). Authors should indicate their preference for an oral or poster presentation. Authors should also indicate if they would like to submit a full paper for a special issue of the journal Interdisciplinary Environmental Review. Full papers will be due on July 1st, 2016, and final versions of accepted papers will be due on October 1st, 2016. 
In addition to paper presentations, Seattle University welcomes proposals for panel discussions and workshops that will 1) enable scholars to develop theoretical frameworks and/or engage non-academic communities, 2) focus on EJ issues from the perspective of nonprofit, agency and community leaders, and 3) facilitate discussions among undergraduate and graduate student researchers. We also seek proposals for art exhibits, music and theater performances that could be presented at the conference.
For more information, visit the conference webpage: JS2016.org
---
Sean Notes are blog posts by UWS Sustainability Assistant Director, Sean Schmidt that feature news, information, and resources that connect the dots in what Sean calls "full spectrum sustainability" (economic, social, and environmental aspects of sustainability).