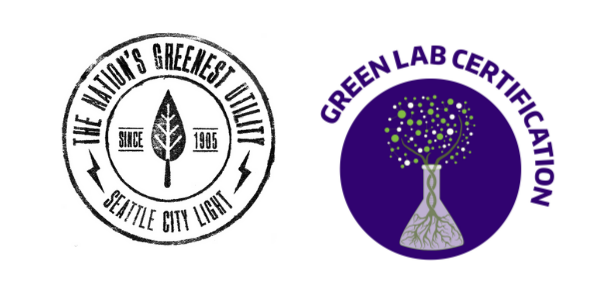 Since 2015 Seattle City Light has been providing rebates to departments purchasing ultra-low freezers that meet specific energy efficiency criteria. The list of approved brands and models has recently been expanded and if you are considering replacing an existing or purchasing a new ultra-low freezer, please consider purchasing one of these energy efficient models listed below.
Rebates range from $700 to $1,050 per unit and save between $320 and $420 per unit annually in electricity costs. Contact VWR, Fisher Scientific, Neta Scientific, Eppendorf or Cedar Mountain Supply to discuss your purchase. Note: Not all brands are available from all suppliers.
Contact Claudia Christensen with Procurement Services for more details: claudiac@uw.edu
Replacing an older freezer with an efficient one is one way labs at UW can practice sustainability. For more information on lab sustainability, visit our Green Lab Certification resources page.
| Brand Name | Model Number | Energy Savings, kWh/yr/unit | SCL Incentive, $/unit |
| --- | --- | --- | --- |
| Eppendorf | F570h | 4,000 | $800.00 |
| Eppendorf | F740HI | 4,000 | $800.00 |
| Eppendorf | F740i | 4,000 | $800.00 |
| Eppendorf | FC660h | 4,000 | $800.00 |
| Haier | DW-86L578J | 4,000 | $800.00 |
| Haier | DW-86L578J(220V) | 4,000 | $800.00 |
| Haier | DW-86L728J(220V) | 4,000 | $800.00 |
| Haier | DW-86L828J(220V) | 4,000 | $800.00 |
| Panasonic | MDF-DU502VH-PA | 4,000 | $800.00 |
| Panasonic | MDF-DU702VH-PA | 4,000 | $800.00 |
| PHCbi | MDF-DU502VH-PA | 4,000 | $800.00 |
| PHCbi | MDF-DU702VH-PA | 4,000 | $800.00 |
| Stirling Ultracold | SU780UE | 5,250 | $1,050.00 |
| Stirling Ultracold | SU780XLE | 5,250 | $1,050.00 |
| Thermo Fisher Scientific | 8950086A | 4,000 | $800.00 |
| Thermo Fisher Scientific | 8960086A | 4,000 | $800.00 |
| Thermo Fisher Scientific | TSX40086A | 4,000 | $800.00 |
| Thermo Fisher Scientific | TSX400A | 4,000 | $800.00 |
| Thermo Fisher Scientific | TSX50086A | 4,000 | $800.00 |
| Thermo Fisher Scientific | TSX50086D | 4,000 | $800.00 |
| Thermo Fisher Scientific | TSX50086V | 4,000 | $800.00 |
| Thermo Fisher Scientific | TSX60086A | 4,000 | $800.00 |
| Thermo Fisher Scientific | TSX60086D | 4,000 | $800.00 |
| Thermo Fisher Scientific | TSX60086V | 4,000 | $800.00 |
| Thermo Fisher Scientific | TSX600A | 4,000 | $800.00 |
| Thermo Fisher Scientific | TSX70086A | 3,500 | $700.00 |