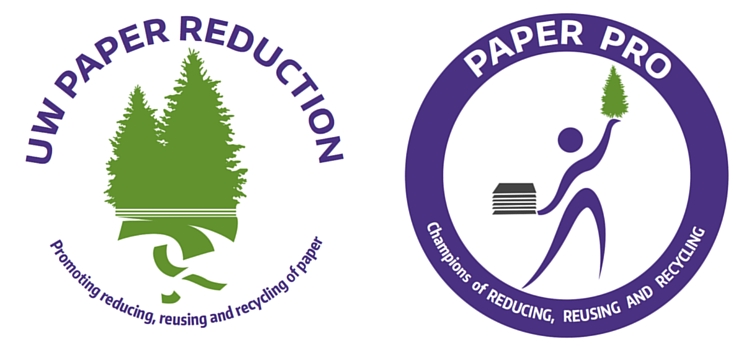 UW Sustainability is excited to introduce paper reduction week! All week on the blog we'll be highlighting stories of people and groups on campus who have taken steps to reduce paper use, and providing tips and resources for you to do the same. This week is all about reducing the amount of paper we use, going digital and making small changes with big impacts. Reducing paper can save money and time as well as significantly reducing our environmental impact.
The University of Washington is committed to reducing paper. The UW recognizes paper reduction reflects the university's sustainability values and will reduce costs. It's also the law - In 2009, the Washington State Legislature passed Substitute House Bill 2287, directing all state agencies, including the University of Washington, to develop a paper conservation and recycling program; to purchase 100% recycled paper for office copiers and printers by December 31, 2009; and to reduce paper consumption by 30%. By taking steps such as transitioning to paperless class evaluations, digital undergraduate applications and tax forms, and sending documents digitally, we have decreased our paper use significantly, but we still need to continue to work toward the goals. 
You can help by becoming a Paper Reduction Pro and pledging to encourage paper use reduction in your workspace. Paper Reduction Pros is a program that gives recognition to those who make significant and conscious efforts to considerably reduce the amount of paper they use, as well as people who educate their peers in paper reduction. Individuals who pledge to become Paper Pros will get a certificate and a badge to identify themselves as leaders, and will be invited to an annual campus-wide Paper Pro celebration.
Some steps you can take now for paper reduction:
Switch to double sided printing to reduce paper
Use computer programs or websites like Google sheets and OneNote
Use a centralized printer instead of individual printers
Adjust margins and font sizes to reduce the number of sheets used
Keep checking back here at the
In Our Nature blog
all week for interesting stories, tips and information about paper reduction at the University, and share your paper reduction story in the comments section or at our 
Sustainabilty snapshots
 page.
You can also join us
Wednesday, Jan. 27, for a Green Bag talk on paper reduction
at 11:30 a.m. in Gerberding Hall room 26. Bring your lunch and join Tim Stetter, Director of UW in the High School, and Emily Edmiston, Program Administrator for UW in the High School, as they will be sharing information about how they reduced paper usage in their program.