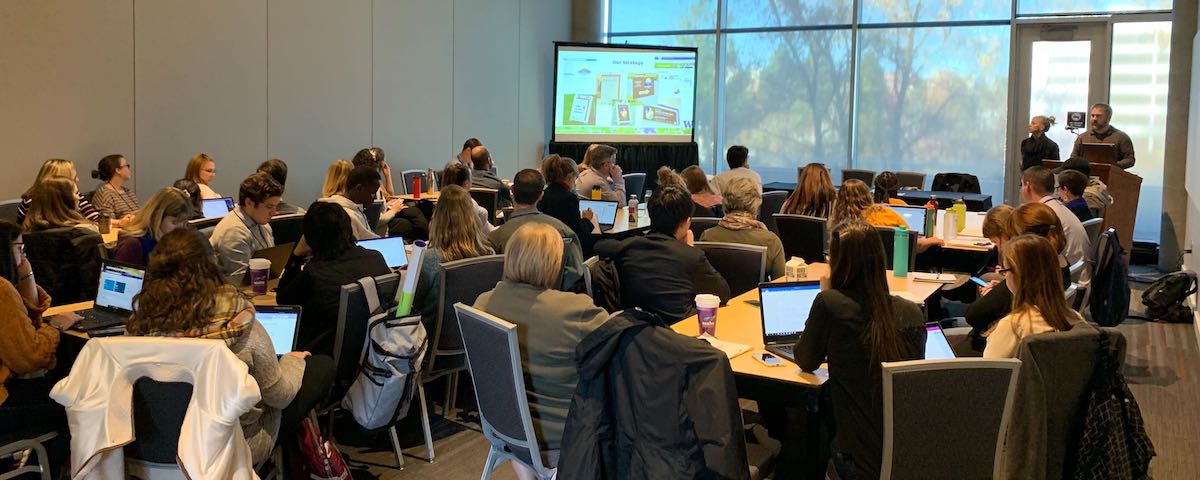 This year's Association for the Advancement of Sustainability in Higher Education (AASHE) national conference was held in Spokane on October 28-29. Several students, staff and faculty from the University of Washington traveled east to take part in the conference as presenters and attendees, joining about 2,000 people who gathered to discuss sustainability challenges and efforts.
UW Sustainability Director Claudia Frere-Anderson emceed the conference's closing, recognizing the efforts of the many people who worked to make the conference a success and introducing keynote speaker Bill McKibben.
I was honored to emcee the closing day for this year's AASHE conference, and was inspired by the team and collaborators who made this conference possible. Bill McKibben provided an inspiring keynote speech that guided us through the global perspective of climate change. He eloquently noted that "climate action is not just for white environmentalists." I agree. Working towards a just society means giving a voice to those who don't have a voice on our planet, people who are under-represented and to the eco-systems of our natural world.

AASHE brings us together to address the issues that cause and provide solutions to the impacts of climate change, which now means looking beyond our usual lens because what happens in our communities impacts the global community. Equity and inclusion are ever more present in our sustainability conversations. I'm hopeful that our common challenge becomes a unifying force for addressing the social and environmental issues and opportunities together, which is why we'll work on continuing this at the UW campus.

Claudia Frere-Anderson
Communications Coordinator Daimon Eklund and Program Specialist Toren Elste presented on how we engage and communicate around our large-scale events such as Earth Day, and Campus Sustainability Fund (CSF) Outreach Coordinator Fotima Ibrokhim stepped in as part of a panel after CSF coordinator Kyle McDermott ran into travel issues.
Other UW presenters included Stanley Joshua, UW Tacoma Director of Faciltiies Services, who spoke on "Energizing a Growing Urban Campus: Taking Data to Implement Energy Savings & Sustainability at UW Tacoma"; UW Bothell Senior Lecturer Jennifer Atkinson, who was part of a session on climate anxiety and environmental grief; and UW Civil and Environmental Engineering Assistant Professor Amy Kim, who spoke on the decision-making process around increasing energy efficiency.
Toren Elste found the experience inspiring, providing new ideas for our work here at the University of Washington. 
Conferences are always a great way to connect with colleagues and see what peer institutions are doing. The AASHE conference is the grandest of them all, with attendees from all across the US, Canada, and International visitors as well, it was three days of sustainability conversation on the Eastside of the mountains in Spokane.

From workshops to deep dives and poster sessions as well as dozens of fabulous exhibitors there was so much to learn. I was lucky to attend sessions on waste diversion and attaining zero waste in higher education, creating energy-efficient campuses, a deep dive into sustainability efforts at UW Tacoma, as well as a great presentation on Bentley University's first energy-efficient ice rink.

If you have the opportunity to attend the AASHE conference for 2020, you must do so. It's a great way to connect with others in your field, learn from them and create campuses that attain the highest standards in sustainability and diversity, equity and inclusion.

Toren Elste
If you are interested in attending an upcoming sustainability conference, consider joining us at the 2020 Washington & Oregon Higher Education Sustainabilty Conference (WOHESC) in Eugene, Oregon, on March 2-4. Register for WOHESC with code UWCOMMCOMP20 for 30% off.