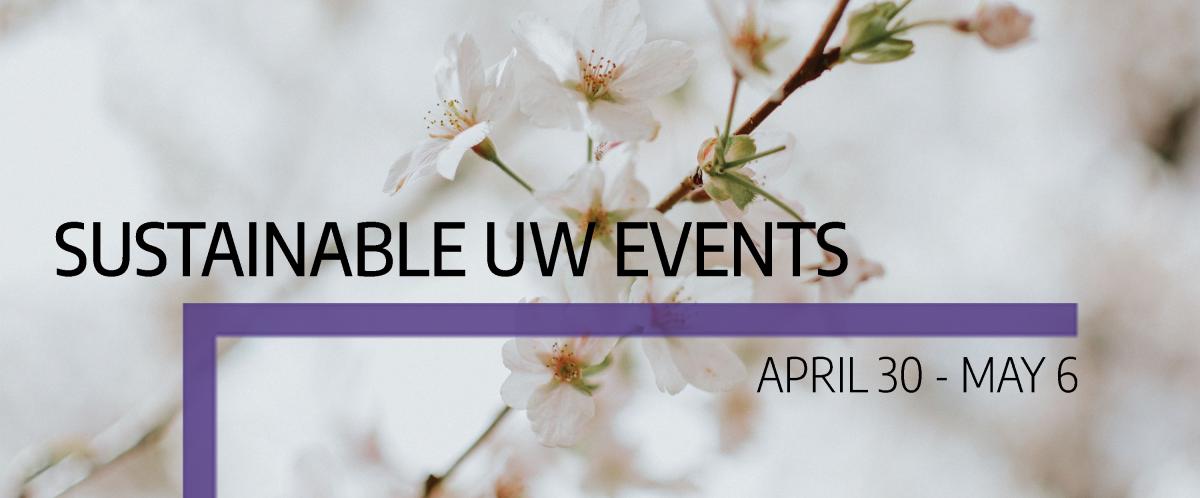 With Earth Day festivities behind us, we're back to our regular weekly sustainability event posts! The sustainability events calendar is always packed with new events, but below we've listed a few of the top options for this week. Also, check out our calendar for a comprehensive listing of events. You can even subscribe to get weekly emails to keep up to date on all the sustainability events happening around UW!
Wednesday, May 2, 2018, 6 – 8 p.m.
Room 145, HUB
Join Global Peace Youth @ UW for a discussion where students can students talk about why they're in college and how they can impact the world. Facilitators will be welcoming the experiences of college students in their journey to find their purpose in college, as well as how it can contribute to the global community.
Thursday, May 3, 2018, 10 a.m. – 1 p.m.
Meet at tool cage behind Merrill Hall
Every Thursday in Spring Quarter 2018, from 10 a.m. - 1 p.m. come join the UW Chapter of the Society for Ecological Restoration for some good ol' fun in the dirt and learn about the Union Bay Natural Area and ecological restoration! Everyone is welcome and no experience is needed. Gloves, tools, and snacks are provided for all volunteers, but remember to bring water and wear sturdy shoes and clothes that can get dirty. The work will go on, rain or shine!
Meet at the tool cage behind Merrill Hall at the Center for Urban Horticulture (The tool cage is next to the lower parking area on the west side of the building). Please RSVP here
Saturday, May 5, 2018, 10 – 11 a.m.
Lynnwood Library, 19200 44th Ave. W, Lynnwood, WA
On Saturday, May 5th, Dr. Brian Harvey, PhD, School of Environmental and Forest Sciences, UW College of the Environment will discuss the impacts of climate change on Northwest. He heads the Harvey Lab Environment focusing on how disturbances (e.g. fires and insect outbreaks) and climate interact to shape forest ecosystems forests. This will be informative and engaging, with time for questions and discussion.