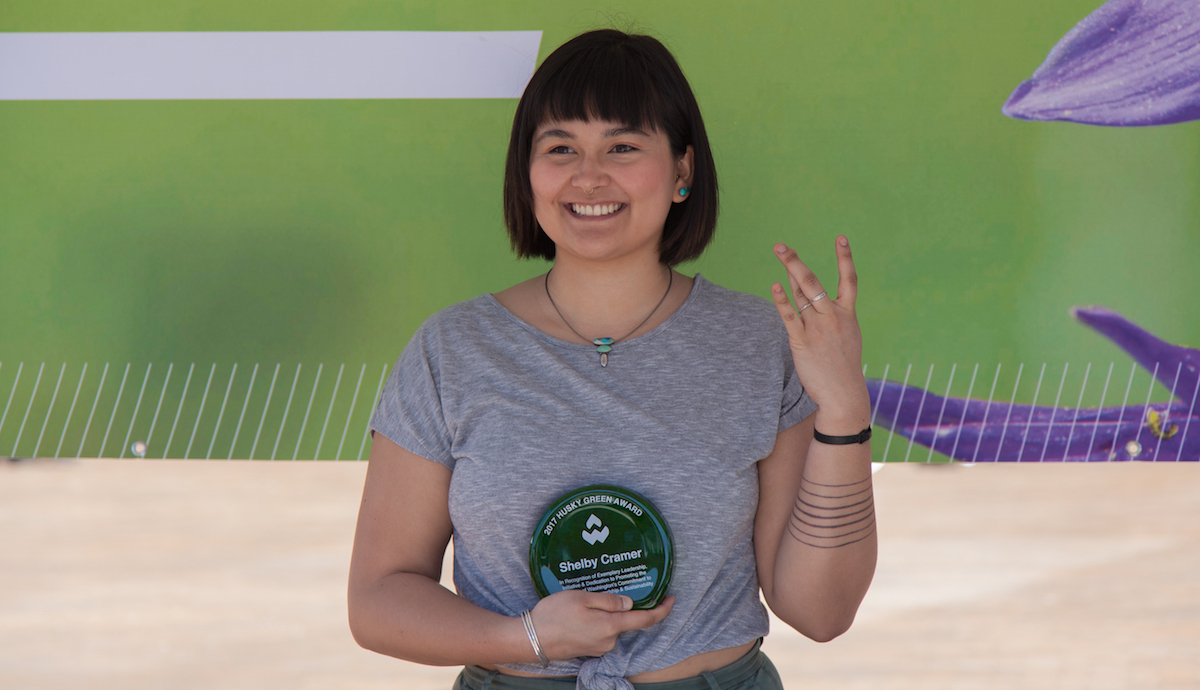 Shelby Cramer's path to the Husky Green Award started with a simple question.
"I was walking with my little sister, and she randomly asked me what this tree was, this tree that was outside our house for years and year and years," Shelby said. "I didn't know what to tell her because I didn't know what that tree was, and that was kind of a light bulb moment. I felt a weird sense of shame in not knowing my own place."
That question led Shelby to the Environmental Studies program at the UW. As a senior this past year, she was a leader in the Student Association for Green Environments (SAGE), a College of the Environment student ambassador and worked with the EPA on her capstone project examining how organizations are working with the community around the Duwamish SuperFund site.
Her work promoting the environment and working with the community earned Shelby a 2017 Husky Green Award. The Husky Green Awards are given annually to students, faculty, staff and groups across the University of Washington who have shown a commitment to sustainability and made an impact at UW.
Shelby had started at UW as a creative writing and drama student, but quit that program and was working at a real-estate agency when her sister asked that question about the tree. The desire to know more about the world around her led her back to UW and the Environmental Studies program.
Shelby said as a returning non-traditional student, the inclusive community feeling of the Environmental Studies program was important.
"The sense of family is almost immediate," she said. "We're all on the same page. We all have similar goals. We all want to connect with people and encourage stewardship."
That's how Shelby discovered SAGE. Her study sessions in the program's common area often coincided with the group's meetings, and they invited her to join. This past year, she was one of the group leaders who helped organize the event Art to Inspire: An Evening of Community, Art, and Environment on January 20, featuring two National Geographic photographers. The event, which took place on the evening of inauguration day, was intended to provide an inclusive space for people while inspiring positive action.
"It gave an opportunity to students to talk about something other than the inauguration and a different future that we could see," Shelby said. "I think that was really effective in promoting this green, healthy, positive feeling for a lot of students."
Her capstone program in the Duwamish Valley involved compiling existing environmental education material relating to the Superfund site, a project which allowed her to connect with many different community programs.
"There are a lot of efforts in the Duwamish valley to lead a sort of grass-roots community effort to be leaders and empower themselves, especially empower the youth in the community," she said. "That appealed to me because of the combination of education and the use of storytelling – they definitely use local knowledge and they have a lot of place-based learning that has been effective."
Shelby graduated from the Environmental Studies program this spring and is now working as a Community Engagement Specialist with the Woodland Park Zoo. Her desire to learn more about and connect with the environment around her has led her on a path where she helps spark the same interest in others.
And that tree in her yard?
"It's a Douglas Fir. And my sister knows what it is now, too."