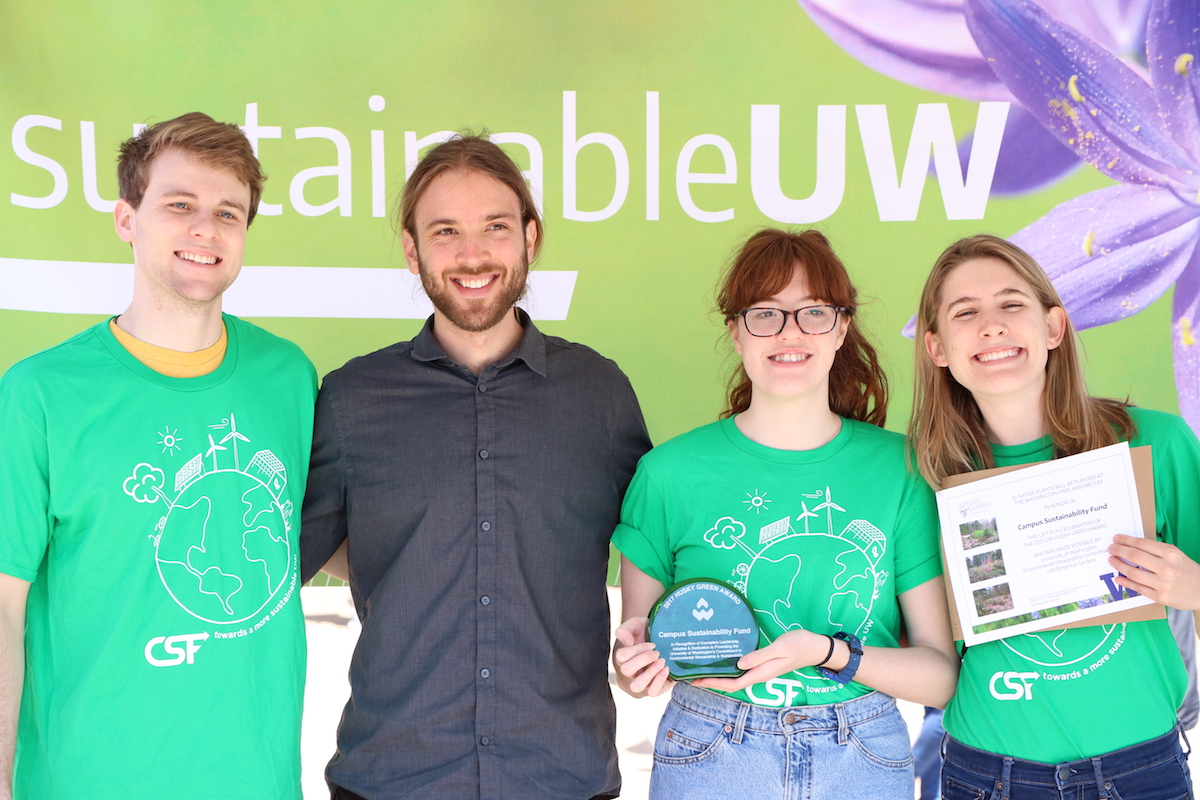 In 2009, a small group of students started a grassroots campaign to create a student-powered green fund at the University of Washington. The idea quickly gained wide support, and today the Campus Sustainability Fund (CSF) has granted more than $2 million to student-created sustainability projects, giving UW students a chance to shape the future of campus.
The CSF mission statement is to foster an environmentally conscious university culture by funding student-led projects that promote sustainability. The CSF committee - comprised of seven student representatives - makes the final decisions on awarding funds. Three part-time student employees administer the operation, management and outreach for the CSF, with support from UW Sustainability and faculty committee advisers. The organization is funded by the UW student body through the Services and Activities Fee; being predominantly funded by the students led the CSF to center the way it operates around the idea that student involvement is the most important aspect of sustainability at the UW.
Given the CSF's seven-year presence on campus, and all it has done for sustainability efforts at UW, it's no surprise that it was honored with a 2017 Husky Green Award. Husky Green Awards are given to students, faculty and staff who have made a campus-wide impact by showing environmental leadership and commitment to sustainability. The projects that CSF assists on campus and the support it gives to students has had an extremely positive influence on sustainability at UW. This makes the fund a key example of what the Husky Green Award stands for, showing true dedication and initiative in environmental sustainability.
"On behalf of the CSF, we are honored to have received the Husky Green Award," said CSF Coordinator Kyle McDermott. "I feel that it is representative of the years of work that the many members of the CSF have put toward making our campus a more efficient, equitable, and livable place. We have a unique ability to affect temporal change on campus and see ideas become a reality."
"This award is really about the greater CSF network and all the folks over the years that have been involved as a student administrator, committee member, volunteer, or member of a project."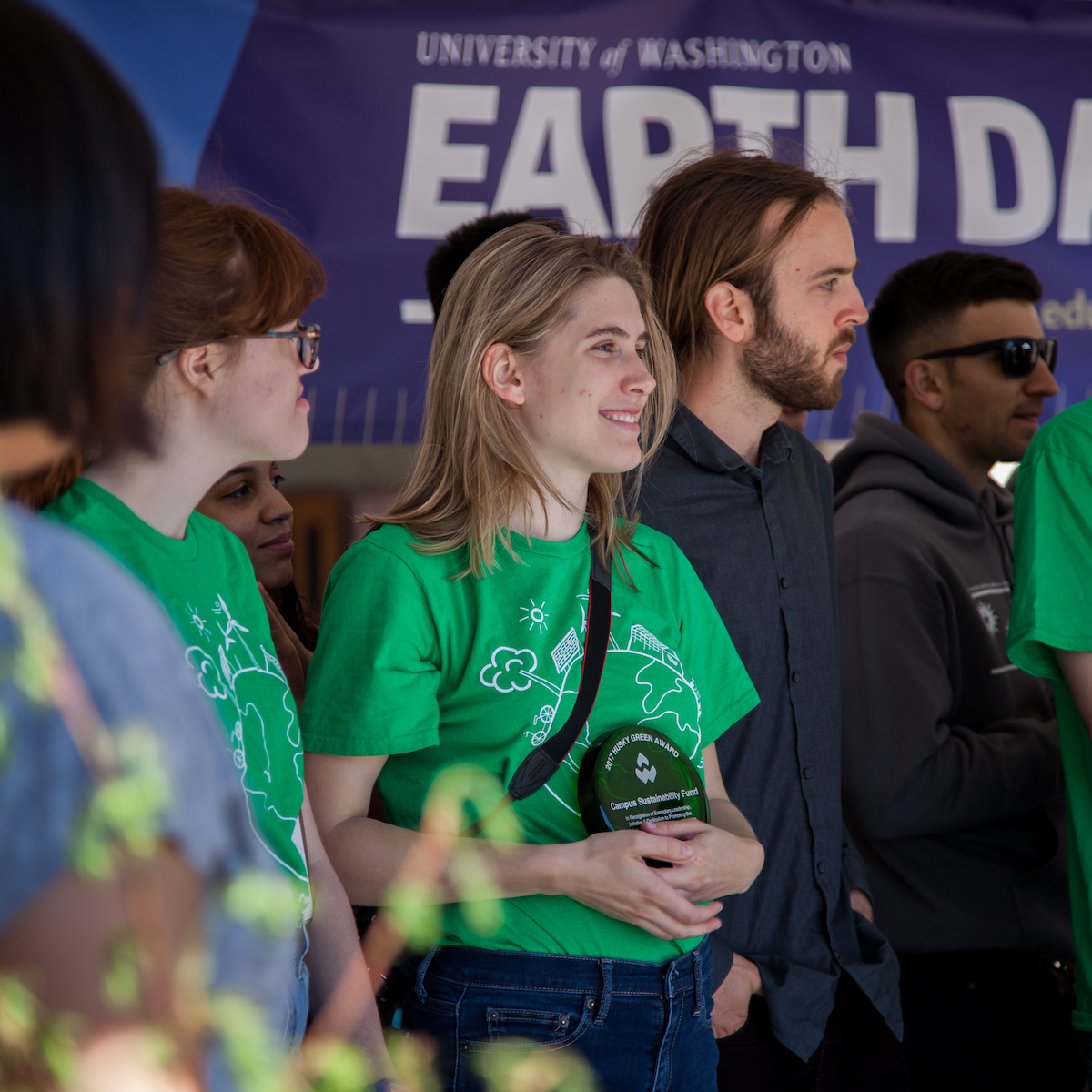 To date, CSF has funded more than 100 projects, allowing the organization to promote sustainable action on campus in ways big and small. From solar panels atop Mercer Hall to a  Green Wall on Gould Hall, the Grieg Garden Owl Box to the UW Farm Apiary, CSF projects are shaping the future of the UW campus.
Any project proposed to the CSF has a chance of being funded, as long as it demonstrates an environmental impact, includes a large degree of student leadership or involvement, has an educational component, attempts outreach to the UW community, and has apparent feasibility. Two particularly interesting projects that CSF funded this last academic year which explore alternative energy sources were the E-Bike Delivery Program and the Biogas Food Cart.
UW Mailing Services created the E-Bicycle Mail & Package Delivery Program while taking part in business efficiency models, a practice that goes hand-in-hand with sustainability. These models allow for large monetary savings and financial sustainability, but also makes the service a forerunner in green tech investment on campus.
After testing deliveries with conventional bikes out of satellite operations in the Communications building, Mailing Services applied for and was awarded a $88,319 grant from CSF to purchase five electric cargo bicycles. The e-bikes will be used for campus mailing routes previously serviced by diesel vans, greatly reducing emissions. 
Mailing Services has made sure to put student involvement first when developing this project. Student Dylan Been was put in the roles of Project Facilitator and Student Coordinator, while an agreement was reached with the HUB Graphic Design Office to have its student employees work on graphics that will be placed on the bikes. In addition, the student-led ASUW bike shop was chosen to provide any necessary maintenance for each of the bikes over time. Mailing Services hopes to find even more students to run the project in the long term, and looks to either create an internship program to provide future students with learning opportunities, or enlist the help of Carlson Service Learners to keep the project up and running. As these E-bikes deliver print mail and packages across campus, they will also serve as a reminder that sustainable energy sources are an affordable and efficient replacement for traditional transport means.
Another project CSF helped to fund goes to show that sustainability can have a big impact in ways other than ecological stewardship. In one of its first partnerships with an entity that grew to have a large impact on sustainability outside of campus, CSF granted $21,176 to a local cleantech startup called SafeFlame.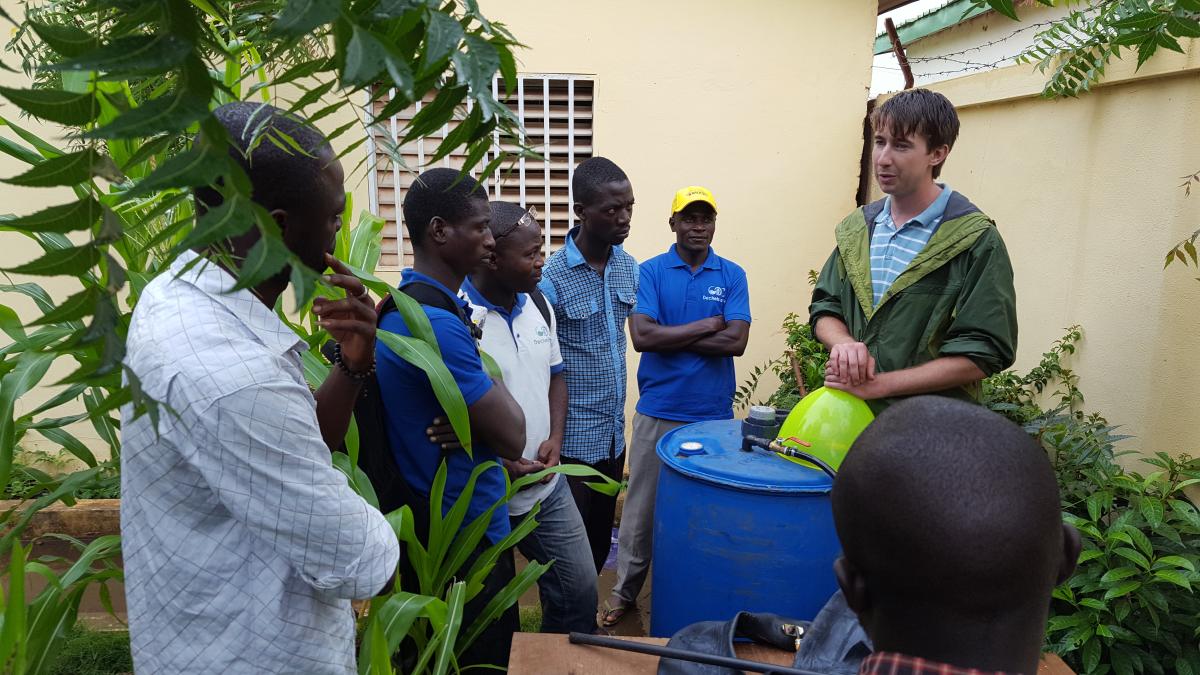 The startup was created by Foster MBA student Kevin Cussen, who hopes the project will "act as a bridge for big ideas starting at the University to impact the wider world." SafeFlame aims to reduce the millions of annual deaths caused by indoor pollution through the development of a bio-digester that converts organic matter into usable biogas, allowing people to move away from cooking materials like wood or animal dung, which can result in respiratory disease.
The project is currently still in development and Cussen, now the CEO of SafeFlame, says the company has just begun a small scale pilot of the program by building two digesters in a local community of Guinea. To bring the project closer to home, the firm has enlisted the help of numerous students to develop a biogas powered food cart which will provide sustainably cooked food at campus events. A student team is working on drafting, designing, building, testing and troubleshooting the food cart, and two students will be employed part-time to operate the cart and act as liaisons for the project's informational outreach initiative on campus. 
"Working on this project has given me incredible hands on experience, I have been able to apply my own ideas and see them come to life," said project vice president Caelan Wisont. "This experience has helped me to realize the importance of sustainability and connected me to the needs of those in developing countries."
The social and ecological impacts of projects such as these show the diverse kinds of change students can institute, both locally and globally, with the help of CSF resources. The CSF is also working to connect with students from disciplines which might not usually come to mind when talking about sustainability.
"It has also been encouraging to see projects come from non-traditional majors such as Dance, Communications, and American Indian Studies," McDermott said. "This past year we also funded our first project from the Music school — the Improvised Music Project performing at Earth Day. This is a great reminder that sustainability can be looked at through a creative lens, and really applies to the entire UW community."
The CSF is a great example of what can happen when a group of passionate people unite to create positive and lasting change for the environment, and their peers as a whole. The funding that this organization provides to student-powered projects on campus has allowed those thinking outside the box to make their visions a reality, and create a brighter future for our world. The Campus Sustainability Fund is an institution that has the unique ability to initiate meaningful change and empower scholars, making it a valuable asset to students with big ideas.