Cassie Maylor has had a passion for the environment pretty much as far back as she can remember.
Living just outside Seattle in Kenmore, Cassie's parents regularly took her and her brother to National Geographic talks. Even as an elementary student, she was fascinated.
"Four times a year for the last 13 or so years, I was hearing from these super-inspiring photographers and seeing all these amazing photos," she said. "I have these little tiny composition books from when I was probably in third or fourth grade taking notes on climate change, like 'Atmospheric CO2', having no idea what those things meant."
Now a student at the University of Washington, Cassie continues to be passionate about the environment. In addition to pursuing an Environmental Studies degree with minors in Urban Design & Planning and Political Science, she has been a leader in the student organizations Student Association for Green Environments (SAGE) and ReThink, served on the Environmental Innovation Challenge executive committee for two years and will be a College of the Environment student ambassador next year as a senior.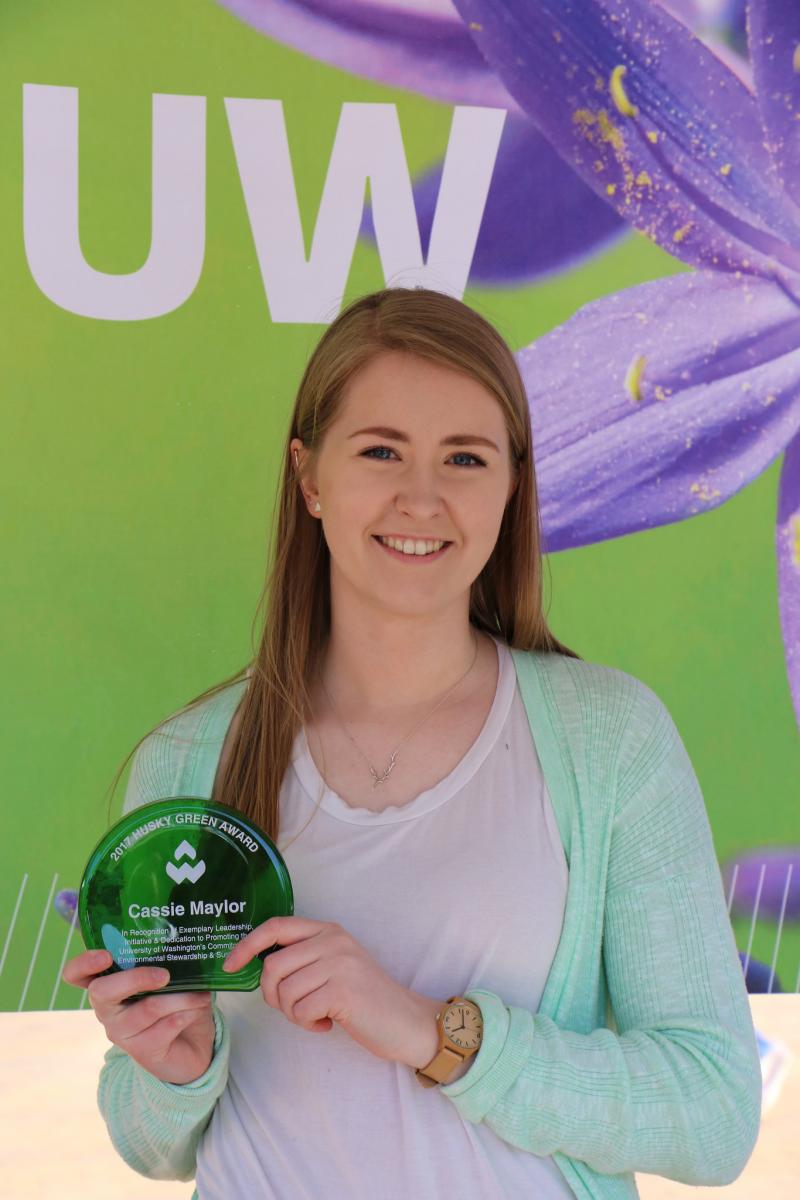 For her efforts, Cassie earned a 2017 Husky Green Award. The Husky Green Awards are given annually to students, faculty, staff and groups across the University of Washington who have shown a commitment to sustainability and made an impact at UW.
In her leadership roles with SAGE and ReThink, Cassie has organized events for the campus community, while also working to make the groups welcoming to all students, rather than just specific degree programs.
"We need more students interested in environmental things, and that's why we've created SAGE to be more than just environmental studies majors," Cassie said. "We're housed in Program on the Environment, but we don't want to be exclusive."
"With ReThink, sometimes it's common to see, 'Oh, it's a Foster club, I shouldn't come.'" she said. "Making it interdisciplinary, and making the leadership team interdisciplinary and the events that we do geared toward people outside the business school, that's allowed us to try and bridge the gap between the rest of campus and the business school."
One of her proudest moments from this year with SAGE was helping to organize the event Art to Inspire: An Evening of Community, Art, and Environment on January 20, featuring two National Geographic photographers. The event, which took place on the evening of inauguration day, was intended to provide an inclusive space for people while inspiring positive action.
Cassie was also involved in organizing ReThink's Sustainability Summit this spring, which brought speakers from a number of area organizations on campus to talk about the connection between sustainability and business.
"The thing I like most about the work I do with ReThink and SAGE are the events. They're the hardest things to put on, but there's nothing better to bring people together to learn or just be together as a community," Cassie said.
Cassie starts her senior year this fall, and will likely be less involved with the two groups as she concentrates on working toward graduation and completing her capstone project, but she hopes the next group of student leaders will continue to expand the organizations and inspire more students to get involved with environmental and sustainability issues.