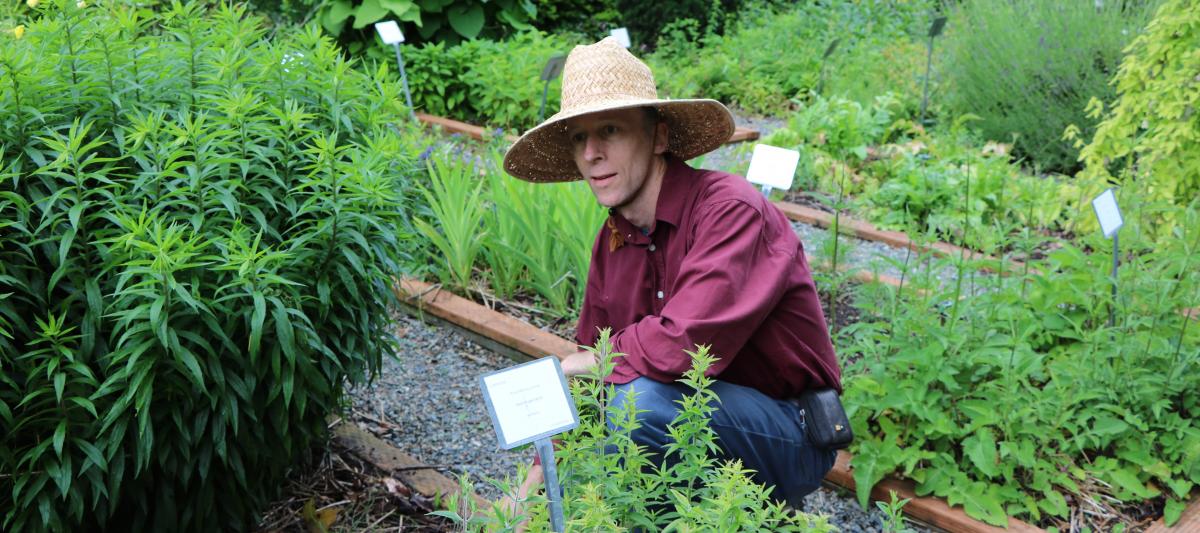 Tucked behind an assortment of trees along UW's Stevens Way is a garden unknown to many. The UW Medicinal Herb Garden is home to about 1,000 plants from around the world, spread out across seven plots, and provides a relaxing escape from the surrounding campus.
The garden hasn't always been as richly populated as it is today. There's one man in particular who has doubled the plant collection over the last 20 years.
Keith Possee is no stranger to horticulture. Along with growing his own fruit, medicinal plants, and vegetables at home, he has been with the UW Medicinal Herb Garden since 1996, earning a full time gardener position in 2000. He starts work at 7:30 a.m. every weekday, ready to make the garden the best it can be.
"A lot of people come here to relax and they tell me it's a really peaceful place to sit and have lunch," said Possee. "I try to really create a magical space here."
Although the Medicinal Herb Garden is now purely a display garden, the UW Pharmacy Department once used it for medicinal purposes and research. Today, at two and a half acres, it's one of largest public gardens of its kind, housing healing plants from just about every continent.
It's divided into seven sections, all taken care of by Possee. He has a specific process for choosing plants to be placed in the garden.
"I look up current medical research and look up plants that have been validated by western medicine," he said. "But, I'm also looking for plants all the time that are part of folk medicine around the world."
Every year, Possee participates in a seed exchange program with 300 other botanic gardens around the world. He puts out an annual plant catalogue, listing all of the plants from which he collects seeds from in the garden. Interested parties can order these seeds and plant them in their own gardens. Similarly, Possee orders seeds from other botanic gardens as well, ranging from university gardens or ones owned solely by cities.
He used to propagate seeds in the Botany Greenhouse. Now, with the current greenhouse closing, he will grow seeds down at the Center for Urban Horticulture until the new Life Sciences building opens in 2018.
Whether it's researching medicinal plants to add to the collection, starting seeds for the garden, weeding, composting or building borders for plant beds, Possee never runs out of things to do.
Every now and then, he also sees students from other universities who specialize in oriental medicine or acupuncture come to the medicinal garden on self-guided tours.
"I think it's natural for people to want to be around plants and herbs," said Possee. "That's where we evolved; we're hunters and gatherers."
Stay up to date with the UW Medicinal Herb Garden with Possee's very own blog. His posts range from natural and cultural history of the garden's medicinal plants and animals to gardening knowledge.