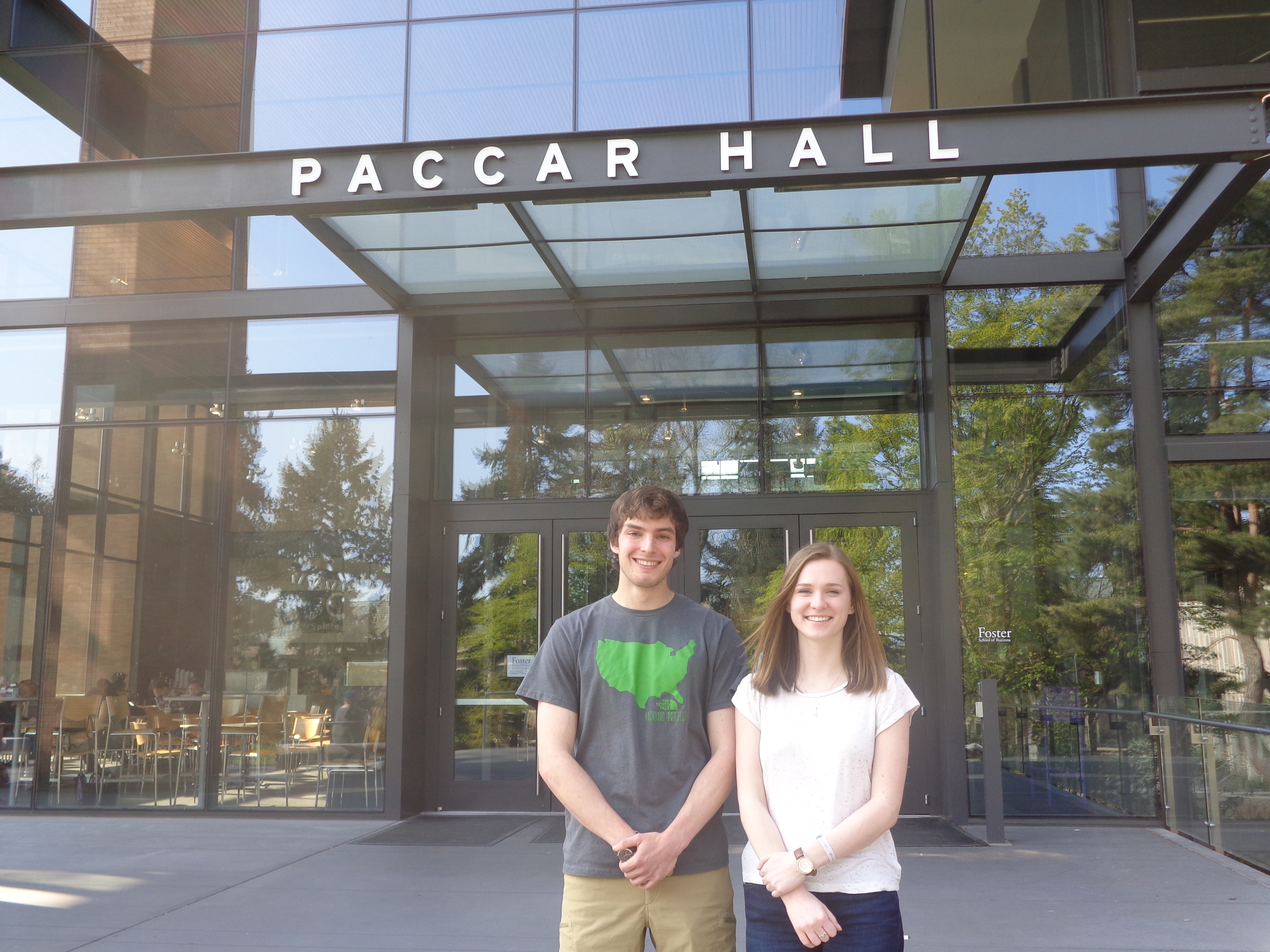 Photo: (Left) Co-creator of ReThink Will Fantle and (Right) Vice President Gracie Dahl
A trip to Israel sparked a UW student's dream to leave a mark on the environment.
"There was a full moon, a massive brilliant orb, and stars everywhere," said Will Fantle, co-creator of ReThink, a UW club focused on business sustainability. "They took us out in silence and told us to go find a spot in the desert. We sat out there for what felt like hours. I just lay there looking up at the stars thinking about what I wanted to do with my life."
As part of Birthright, a program designed to strengthen Jewish identity, Fantle, then a sophomore, traveled to Israel on an all expense paid 10-day trip. When he returned, he had a new outlook on his path to a business degree.
"I realized that the path I was going in business wouldn't be that gratifying if I didn't do something beneficial and help the world," said Fantle. "I knew that the environment was something I could effect change on and that businesses have a really big influence on the environment itself."
One year later, Fantle and fellow Foster School student Kelci Zile started ReThink to increase awareness of the human impact on the environment and ways to overcome environmental challenges. The club's latest project includes the upcoming UW Resilience Summit, a one-day event designed to educate students on current climate change issues and how they impact business and agriculture. The group received a grant from the student-funded and student-run Campus Sustainability Fund to help organize the event.
The event will take place on May 19 from 4 to 7 p.m. in the newly built Intellectual House, a gathering space for Native American students, faculty and staff, as well as other cultures and communities.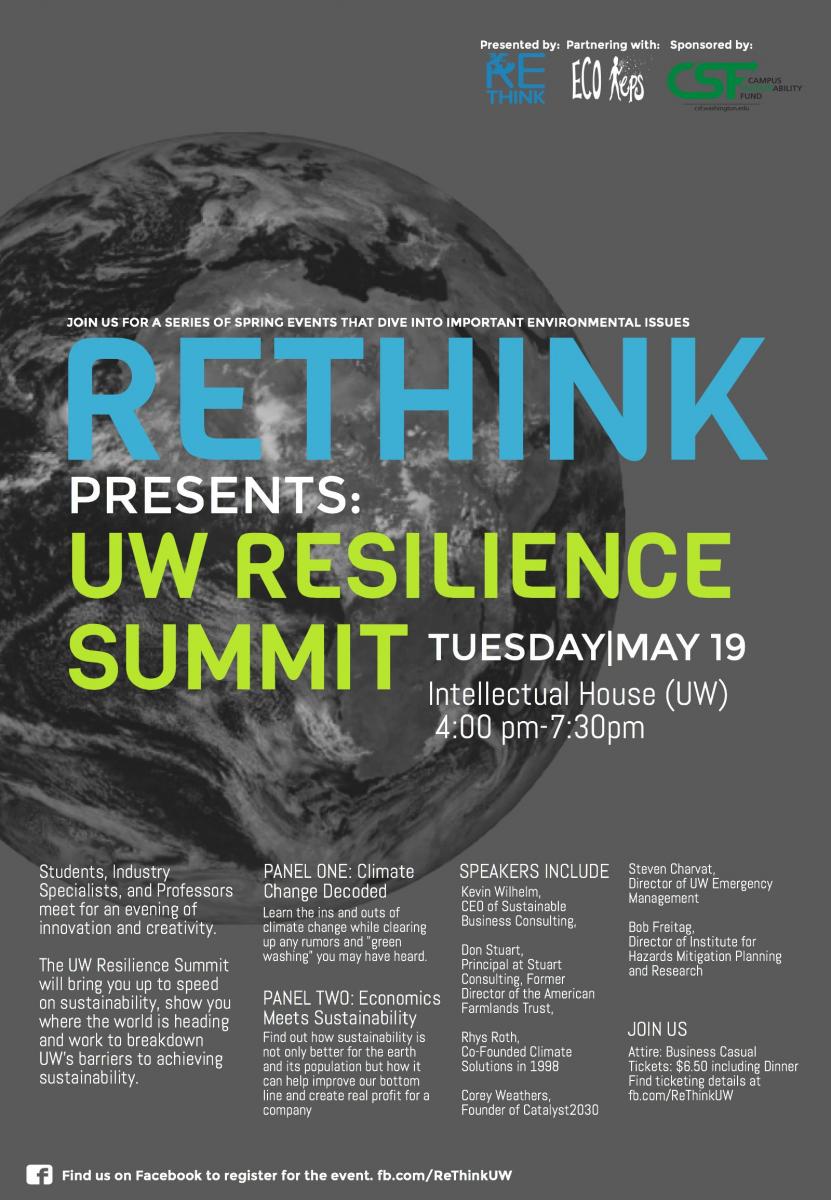 Structuring the UW Resilience Summit
The Summit will consist of two panels: "Climate Change Decoded" and "Economics Meets Sustainability." Students will have a chance to hear from professionals in the field, followed by a 15-minute Q&A session.
"We're trying to extend sustainability to the forefront," said Fantle. "We're not really targeting any specific student population other than people who care about the world and the way it functions."
The Summit will close with a breakout session to give students a chance to closely examine a topic, which include green architecture, waste and wastewater management, clean tech and recent clean tech innovation, and our food system.
"I think it will be really interesting when students who are really knowledgeable about the current environment and students who are really knowledgeable about business, political science or engineering talk and discuss these issues together," said Gracie Dahl, vice president of ReThink and key organizer of the event.
Although the organization of the breakout session is still in the works, Dahl is considering having students file in and sit at a table of their choosing. At the start of the breakout session, each guest speaker will be assigned to a table and work with students on answering any questions.
"The more people you meet in the field you're interested in, the more potential you have in your own future careers," said Fantle. "Meeting people who are experts in a field as opposed to solely reading an article is immeasurable. It's a lot more interactive." 
The role of businesses in sustainability
Fantle and Dahl hope that each speaker will provide different perspectives on how to best address key environmental concerns, especially how to effectively limit carbon emissions without limiting profits and the various impacts businesses have on the environment. 
For example, Costco invented a tracking fiber to check whether they are getting their products from the people they are sourcing from, said Fantle. A genetically engineered seed is threaded into each shirt and is tracked using different techniques and equipment, so you know exactly where that thread came from.
Currently, there are only four to five places businesses can get cotton from. Since irresponsible sourced cotton is a major issue as far non-fair labor practices go in third world countries, companies are trying to be more transparent in their supply chain.
"Like Costco, businesses are in a great position to set the framework for society, " he added.  "Whether it's the products they putout to consumers or how they manage their own facilities or operations, businesses are in a very unique position in influencing how the world is run.
Creating cross campus conversations
But, businesses can't do it all alone. Fantle encourages students to spark conversation and be a voice for the environment.
"Through this event we hope to create cross campus conversations among people who would not normally talk about these types of issues and hopefully impact people's decisions in the future," said Fantle. "We're bringing in excellent speakers, we're creating an environment for synergy to take place, and for ideas to come out of a room full of inspired and intelligent individuals."