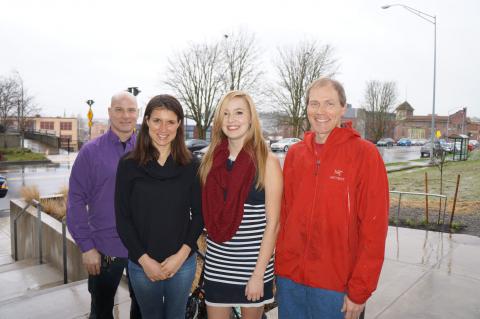 Awarded $35,915 by the Green Seed Fund, the research project "UWT Husky Lines" strives to tackle the problem of public transportation to the UW Tacoma campus from a geographical and social point of view.
Dr. Britta Ricker, Assistant Professor of Urban Studies at UW Tacoma, along with student Alexa Brockamp, revealed in an interview that the idea for the proposal came from the fact that a significant portion of UW Tacoma's carbon footprint comes from transportation. They also knew that students - many from the suburban and rural areas near the university - complained about the lack of on campus parking. Ricker and Brockamp, along with Geographic Information Systems Lecturer Greg Lund and Associate Professor Jim Gawel decided to devote their proposal to looking at ways to reduce the number of cars driven to school.
The problem is not simply limited public transportation options, but also student attitudes towards transit. While there are buses and trains that serve the UW Tacoma campus, students often do not use these services. The proposal will consist of a two-pronged approach: finding the best geographical routes for a bus line dedicated to UWT students, and finding and addressing the barriers to students using alternative transit. The plan is to use Geographic Information System (GIS) software to discover the best geographical routes. Surveys will be used to explore students' attitudes towards public transportation.
By planning routes specifically for students that connect to the campus without transfers, a UWT Husky bus line might be more appealing to commuting students. Unlike the similar program, Microsoft's Connector bus line, the UWT Husky line will not prevent those who fall outside the target demographic from riding.
By the end of the research project, Ricker, Brockamp, Lund and Gawel hope to have identified a list of barriers that prevent public transportation to UWT from being fully utilized. They also hope to work with UWT students to come up with suggestions to overcome each barrier. Working with students and staff from the Masters of Geospatial Technology, GIS certificate program in Urban Studies and Environmental Chemistry and Engineering, this team aims to complete the research needed to kick-start a plan to create better and greener means of transportation for UW Tacoma students.