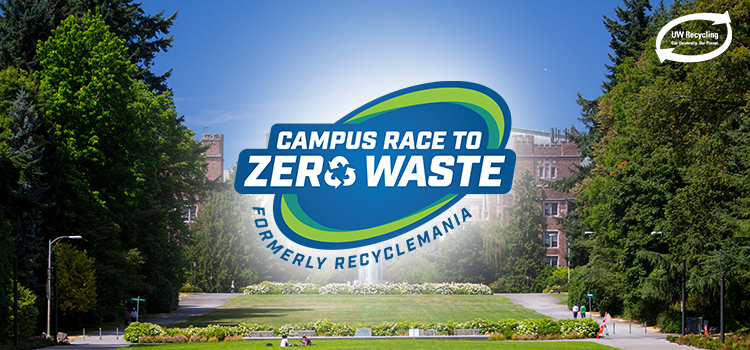 Campus Race to Zero Waste (CRZW) starts this week at the University of Washington! For the tenth year, the UW will be participating in the friendly recycling and waste reduction competition between colleges and universities. As part of CRZW, UW Recycling is organizing activities to focus on good waste sorting practices. Here are some ways you can get involved.
Participate in trivia week on Instagram
Show off your recycling knowledge with our trivia week on social media! Watch UW Recycling's Instagram stories February 7-11, 2022 for a chance to answer daily trivia. One person with the correct answer each day will be randomly selected to receive a giveaway!
Giveaway options are a choice of 2 cotton produce bags or 1 silicone food storage bag.
Get creative with trash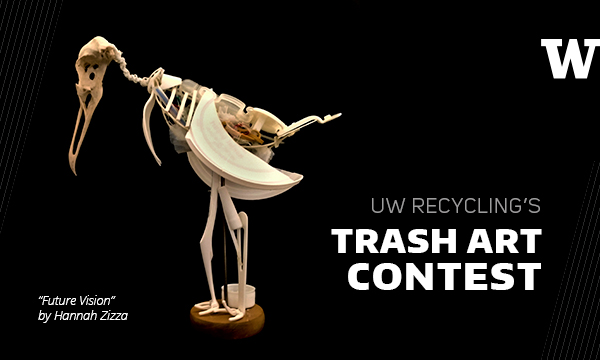 UW Recycling is excited to host another Trash Art Contest this year! The Trash Art Contest is a chance for students, staff and faculty to create an art piece based off items normally thought of as waste.
The contest accepts 2-D and 3-D artwork submissions, as well as literature submissions. A photo of physical pieces, or a file upload of written or photography submissions will be accepted digitally. Art pieces should express feelings or ideas about waste, or a sustainability topic that relates to waste. Winners will receive $100 or $50 e-gift cards. The contest opens (opens in a new tab) February 1, 2022.
Check out the previous winners from 2021!
About Campus Race to Zero Waste
Campus Race to Zero Waste 2022 (previously RecycleMania) runs for 8 weeks from January 31 to March 26. Over 1,100 colleges have participated nationwide! The UW's waste will not be tracked this year. Instead the University will submit a case study focusing on waste reduction and the trash art contest.
---
Follow @UWRecycling on Instagram to get updates on these activities and learn more about proper waste sorting!