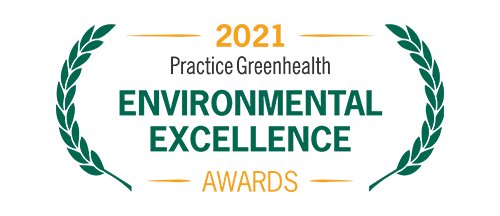 Sustainability is at the heart of our healing mission – and we are proud to share that our sustainability strategies are being recognized with a national award. Harborview Medical Center received a 2021 Environmental Excellence Award from Practice Greenhealth, the nation's leading organization dedicated to environmental sustainability in health care. 
Practice Greenhealth recognized that 2020 was a year of many challenges including the pandemic, rising tensions around racial disparities, and the growing impacts of climate change. The immense turmoil of 2020 placed unprecedented pressure on health care providers that was continuing into 2021. The COVID pandemic shifted everyone's priorities and practices. To better support their members, Practice Greenhealth revised the 2021 Environmental Excellence Awards process. 
For the 2021 award season, they suspended the tiered awards structure in favor of a single, broad recognition category that celebrates innovation and resilience during this challenging time. They offered a modified application with fewer questions…for hospitals that may not have the bandwidth to tackle the standard application. Harborview made the decision to complete the standard application to highlight our continued sustainability efforts and successes, despite the extraordinary challenges in 2020.