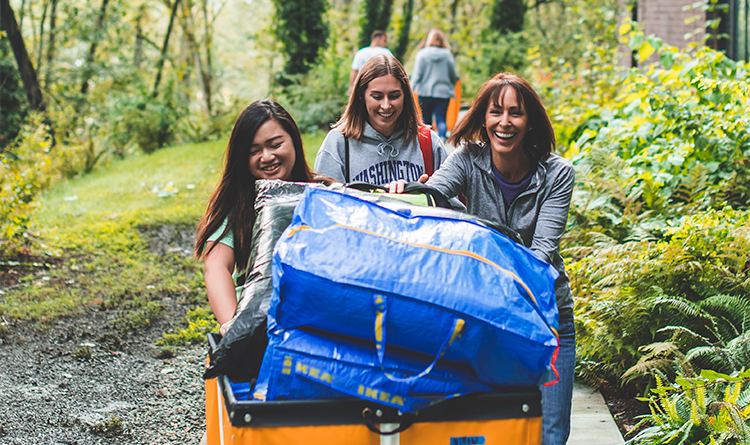 The UW is recognized as a national leader for its deep commitment to sustainability on our campuses and in the community.
Looking forward to living on campus? Follow these tips to make move-in easier and reduce your waste.
Bring only what you need
Don't let those MUST HAVE shopping lists distract you - only get the basics that you'll need. Before you start shopping, think of all the things you use in your everyday life and will continue to use. Once you get to know your roommate(s) and your new lifestyle, then buy other necessities. It's easier to scale up than scale back!
Pack smart
Limit your use of cardboard boxes when moving if possible.
Pack up belongings in reusable containers like suitcases, duffle bags, backpacks and laundry baskets.
If you are packing fragile items, use pillows, blankets, or clothing to protect them instead of bubble wrap and packing peanuts.
If you use cardboard boxes, make sure to keep them for move-out or recycle them.
Wait to buy large items
You may not have space for all of the items you want. Talk with your roommates to see who is bringing larger items (such as mini-fridges, microwaves, art, lamps, fans and furniture). If possible, wait until you see your room to determine which items to buy.
Did you know you can rent a mini-fridge and microwave combo through HFS for your room?
Avoid buying large cleaning items (such as a vacuum or a broom). These can be borrowed from your building's Residential Life Office.
Test out your new bed before splurging on that giant memory foam mattress topper. Those can't be donated or recycled so make sure you really need it!
Consider buying secondhand items. Reusing prevents waste and fuel and helps you find unique, local items! UW Surplus's online storefront is a great place to buy items for your room and there are plenty of great thrift stores within walking distance of campus!
Get one high quality pot or pan that you can use over and over, rather than a big 20-piece set that has items you may not need.
Focus on reusables
Try to limit single-use items where you can. These are great reusable items to consider:
Reusable water bottles, coffee cups, mugs, dishes and utensils
Microwave-safe storage containers or jars
Reusable shopping or tote bags
Cloth napkins, cleaning towels and grocery bags
Cloth or silicone sandwich bags
Wool dryer balls
Ink refills for your pens
Quick tip:
Buying bulk food or supplies isn't a good bargain unless you'll use all of it. You probably won't go through a gallon of olive oil or a pound of salt before it's time to move out. If you want to buy bulk, coordinate with a roommate on cooking staples. Or if you're shopping for yourself, buying smaller may be the most sustainable option - especially when planning for a short-term living arrangement.