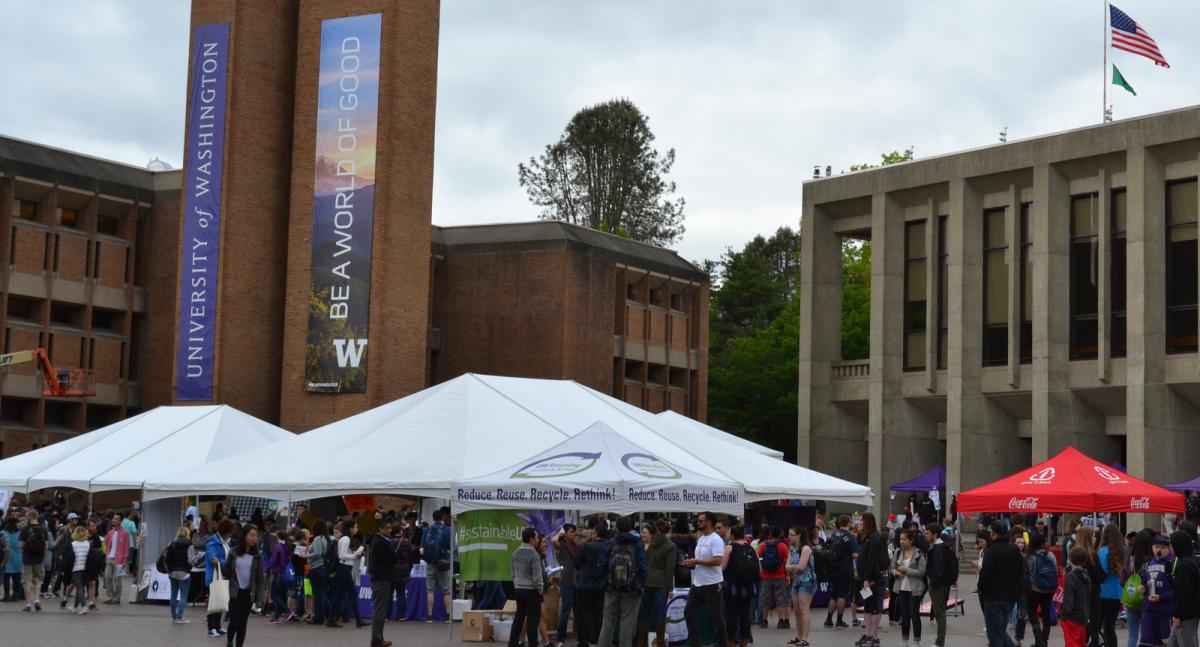 Hundreds of community members and students gathered on red square in honor of the 46th anniversary of Earth Day at the University of Washington.
"It's important to spread awareness about how involved the UW is in making our campus more environmentally friendly," said junior Itzel Medina, one of the many students who came to celebrate the event. "Sustainability really matters."
The day's events were powered by the Northwest Solar Rover, a trailer-sized solar station that provided energy to a live performance by the band Wyldernesse, the Husky Green Awards presentation, and speeches given by Earth Club President Aaron Tam and others. Plus, Rainy Dawg Radio was there to provide music throughout the entire celebration.
The UW Earth Club organized this year's Earth Day celebration in partnership with UW Sustainability, focusing on the theme of water and how it connects us to our environment. The student organization spread the message of Project Tap That! in an effort to educate students about the harmful effects of single-use plastic water bottles and promote the use of reusable bottles with tap water. Students even had a chance to win their very own Tap That reusable water bottle.
"By setting an example I hope I will inspire people to get more involved and become leaders in the environmental and socioeconomic movement," said Tam.
In addition to Earth Club, 36 other exhibitors – including student organizations, UW departments and sustainable food vendors – were sharing environmental and sustainability goals, while also encouraging students to think about their own effect on the environment.
"It's important to stop and think about how we can minimize our carbon footprint," said Earth Day attendee Chace Nestor. "Students can create change."
Lines stretched around Red Square as students waited for free sushi, apples, plants, and other souvenirs from exhibitors while learning a thing or two about the many sustainability efforts on campus. Multiple sustainable games were also offered, ranging from beanbag and recycling bin tossing competitions and a wheel with several "green" categories.
"Earth Day introduces someone who doesn't have an environmental education to what's happening around campus," said Kate Doughty from the UW Farm. "It sparks a sustainable lifestyle that they can adopt forever."
And there are some that have gone above and beyond to make sustainability a priority in their everyday lives.
For the past six years, the UW's Husky Green Awards have recognized students, faculty and staff for their sustainability leadership and environmental impact on campus. This year, seven individuals and groups were awarded for their environmental dedication.
"Earth Day is a great opportunity for everyone to listen to one another," said Michael Helms, one of the gardeners at the Ground Shop. "We have to remind everyone that every day is Earth day."
See photos from the Earth Day celebration on Red Square in the slideshow below: