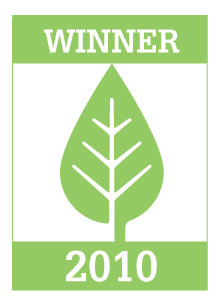 University of Washington is a winner of the 2010 Green Washington Awards in the Academic/Government category, awarded by Seattle Business Magazine.
Universities and state institutions are not only leaders in finding new ways to reduce environmental impact, but also serve as models for how communities and businesses can reduce their impact on the environment.
This year's winner was the University of Washington. In September 2009, the UW submitted an institutional Climate Action Plan to achieve carbon neutrality. Since then, the university has cut back on waste in a number of ways: 54 percent of the UW's total waste is now diverted from landfills to recycling and composting facilities, 10 buildings are LEED certified, and 22 LEED projects are pending completion. Also, efficiency improvements in the Seattle campus's data center resulted in a 26 percent drop in energy use. In addition, the UW's farm was established to educate students about the impacts of our food supply, while helping create methods to reduce those impacts.