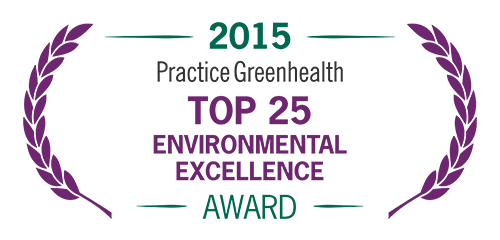 Harborview Medical Center and University of Washington Medical Center have received the Top 25 Environmental Excellence Award from Practice Greenhealth. The Top 25 Award recognizes healthcare facilities across the country that exemplify environmental excellence and are setting the highest standards for environmental practices in healthcare. This is the ninth consecutive year for UW Medical Center to receive the top award and the fourth consecutive year for Harborview.
Practice Greenhealth also recognizes hospitals for outstanding performance in specific areas through the Circles of Excellence Awards.
Harborview received circle awards for its sustainability programs in chemicals, environmentally preferable purchasing, healthy food and greening the operating room.
UW Medical Center received circle awards for its sustainability programs in chemicals, healthy food and green building.
The Practice Greenhealth awards were presented in Portland, Oregon, on May 14 at the CleanMed Conference & Exhibition, a national environmental conference for leaders in healthcare sustainability.
About Practice Greenhealth:
Practice Greenhealth is the nation's leading healthcare community that empowers its members to increase their efficiencies and environmental stewardship while improving patient safety and care through tools, best practices and knowledge. To learn more about Practice Greenhealth visit www.practicegreenhealth.org.