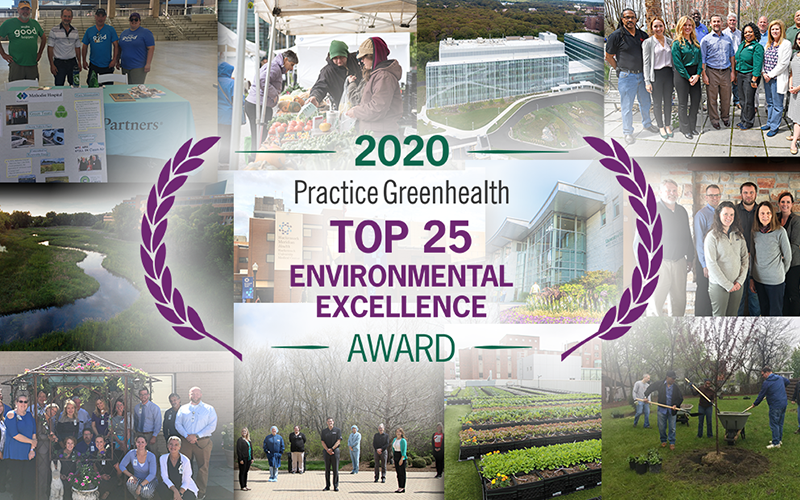 Harborview Medical Center received a 2020 Top 25 Environmental Excellence Award from Practice Greenhealth. The Top 25 Award recognizes hospitals who are leading the industry with innovation in sustainability, demonstrating superior programs, and illustrating how sustainability is a core part of their culture. This is the ninth consecutive year for Harborview to receive the top award from Practice Greenhealth.  
Practice Greenhealth also recognizes hospitals for outstanding performance in specific areas through the Circles of Excellence Awards. These awards recognize up to 10 of the highest performing hospitals in 10 different categories. Harborview will be receiving circle awards for its sustainability programs in 
Less Waste
Greening the OR
Environmentally Preferable Purchasing
Energy 
Climate
The University of Washington Medical Center will be receiving the Greenhealth Emerald Award.  This competitive award recognizes the top 20 percent of applicants and is focused on advanced sustainability programs and exemplary scores in a range of categories. They will also be receiving the Greening the OR Recognition Award. This award honors facilities that have made substantial progress in reducing the impact of the surgical environment.
About Practice Greenhealth: 
Practice Greenhealth is the nation's leading healthcare community that empowers its members to increase their efficiencies and environmental stewardship while improving patient safety and care through tools, best practices and knowledge. To learn more about Practice Greenhealth and the awards visit www.practicegreenhealth.org.