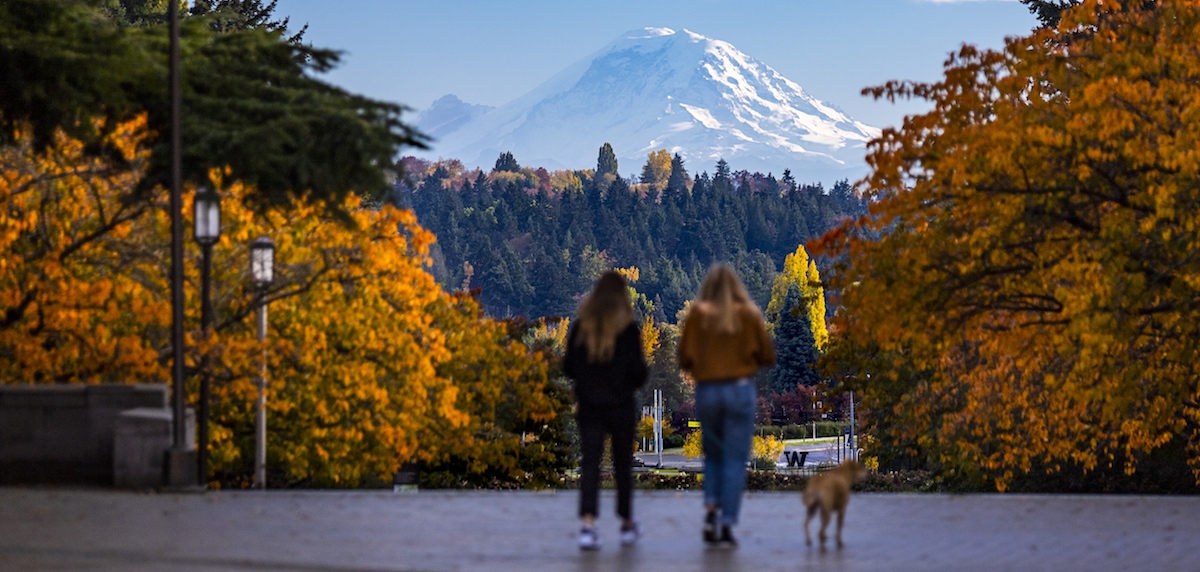 The University of Washington is among the national leaders in higher education sustainability, as recently recognized by the Association for the Advancement of Sustainability in Higher Education (AASHE) and The Princeton Review.
AASHE's 2020 Sustainable Campus Index recognizes the UW as a top performer in Transportation (No. 2 overall) and Food & Dining (No. 7). 
The Princeton Review named the UW the 19th greenest school in the country in its 2021 top 50 Green Colleges list, based on a combination of student surveys and its Green Rating system based on institutional data. The UW received 98 out of 99 possible points in the Green Rating for the second straight year.
While the UW is among the nation's top schools for sustainability, we are continually working to improve our performance. The UW's Sustainability Action Plan, which was finalized this summer, sets out measurable targets in 10 different categories. The University will determine actions to take each year in order to reach those targets by 2025.
"The Sustainability Action Plan demonstrates the University of Washington's commitment to strengthening our sustainability practices, and it aligns the ongoing and future actions of everyone across the University who does this critical work," said Lou Cariello, Vice President of UW Facilities.
You can see the full Sustainability Action Plan, including the actions for the current fiscal year, at sustainability.uw.edu/plan.
"Sustainability has always been about collaboration," said Claudia Frere-Anderson, Director of UW Sustainability. "Even faced with unprecedented challenges this year, our students, faculty and staff have been actively involved with ensuring the Sustainability Action Plan follows through on the University's commitment and goals."
The UW's kept its No. 2 ranking in Transportation from last year's Sustainable Campus Index, and moved up a spot from No. 8 to 7 in the Food & Dining category.
"UW Transportation Services is honored to be recognized as a top performer by the Association for the Advancement in Sustainability in Higher Education in the 2020 Sustainable Campus Index," said Transportation Services Director Anne Eskridge. "Whether it is a student commuting to campus to attend class or a health care professional moving between facilities across the city during the work day, our goal is to provide a variety of sustainable commuting options. We are most proud of our storied U-PASS, which is our student, staff, and faculty transit pass program. We are also continuing to electrify our fleet and we are in the process of significantly expanding our secure bike parking across campus. We have more than two decades of experience supporting sustainable commuting practices. Transportation Services is determined to continue to serve as innovative partner in supporting the University of Washington's sustainability goals."
"UW HFS Dining is committed to leading the pack in support of sustainable food systems," said Casey Crane, HFS Project and Purchasing Specialist. "Knowing our food's entire lifecycle from where and how it is grown, transported, processed, and packaged is information vital to our understanding of not only our impact on the environment but also the impact on the communities from which our food originates."
Both the Sustainable Campus Index and The Princeton Review's Green Ratings use information from the Sustainability Tracking, Assessment & Rating System (STARS) administered by AASHE. STARS ratings are good for three years. The UW submitted its most recent self-reported assessment in 2018 and received a gold rating, with a score of 77.18 percent.
STARS reports are publicly available. The University of Washington's STARS report is available here.