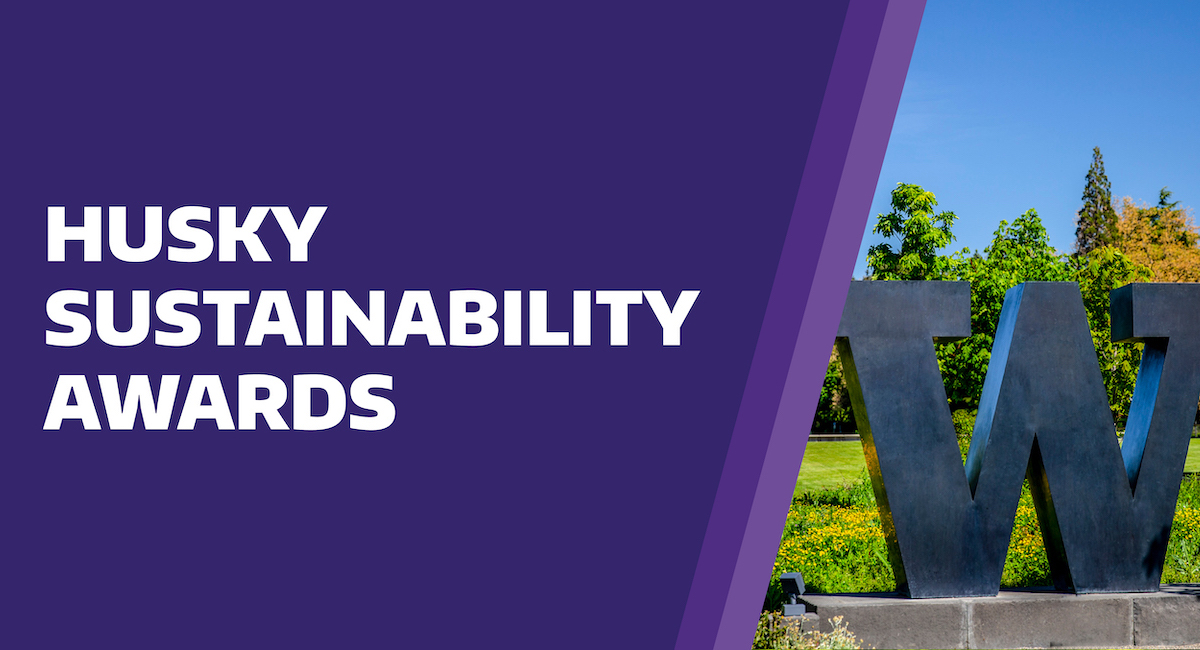 The 2023 Husky Sustainability Awards have been awarded to eight recipients, as well as three Husky Sustainability Legacy Award honorees.
The winners will be recognized at an award ceremony on Tuesday, May 9 at 3 p.m. in the Kane Hall Walker-Ames Room. All are invited to attend, and the ceremony will be followed by an informal reception with light snacks.
This year's winners include students, faculty and staff who have demonstrated impact, leadership, initiative and dedication to sustainability. This is the 14th year the UW Environment Stewardship Committee has presented sustainability awards to recognize individuals and groups who lead the way in sustainability at the UW.
Students, faculty, staff and groups from all UW campuses are eligible for the Husky Green Awards, and all winners are selected from nominations made by the UW community.
The Husky Green Legacy Awards are given by the selection committee to recognize individuals and groups who have made sustained, long-standing contributions to sustainability at the UW. This year's Legacy Award winners are Jan Whittington, a faculty member of the College of Built Environments; Tony Guerrero, the UW Bothell Associate Vice Chancellor for Facilities Services and Campus Operations; and the Campus Sustainability Fund (CSF) which has provided grants and support to student-driven sustainability projects and efforts since it was created in 2010.
LEARN MORE ABOUT THE 2023 RECIPIENTS
2023 Husky Green Award winners
Alexander Mamishev, faculty, Department of Electrical & Computer Engineering
Hannah Whobrey, student, UW Food Pantry
Harris Nakajima, student, Industrial Assessment Center
Heather Burpee, faculty, Department of Architecture
Melanie Malone, faculty, UW Bothell School of Interdisciplinary Arts & Sciences
Radha Iyer, student, Department of Architecture
Harborview Harborview Medical Center Blue Wrap Recycling Program (Environmental Services, Operating Room, & the Recyclers), group, UW Medicine
Institutional Climate Action, student group
Legacy Award winners
Tony Guerrero, staff, UW Bothell Facilities
Jan Whittington, faculty, Urban Design & Planning
Campus Sustainability Fund
(See the full list and details on their sustainability work on the 2023 Husky Sustainability Award winners page.)