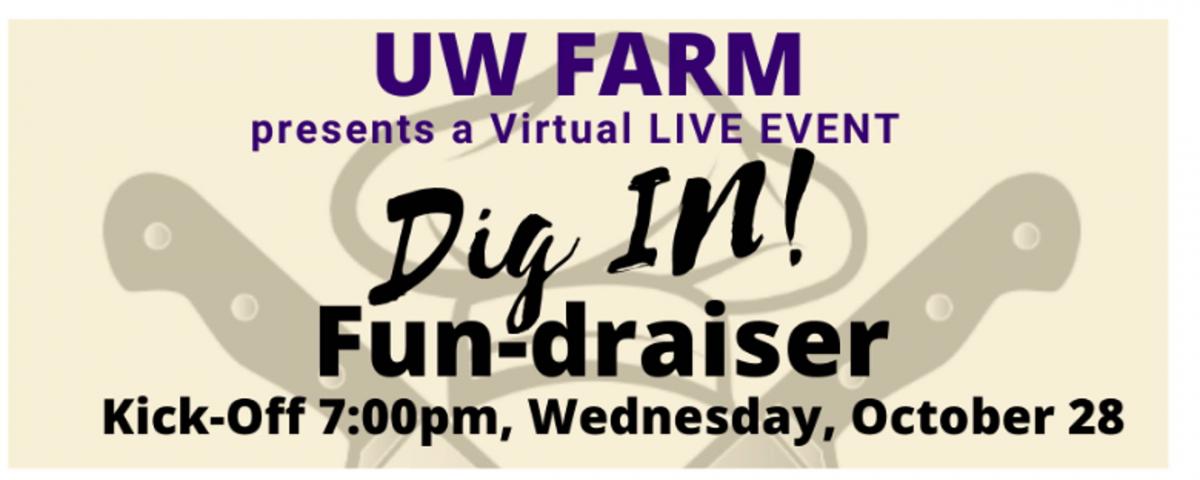 The UW Farm has held an annual Farm to Table dinner for about a decade, to highlight the roles of the Farm at UW and serve as a major fundraising event. This year, the dinner cannot be held. The UW Farm has been hit hard as funding from Housing and Food Services is lower than usual as demand for Farm produce is down, and the UW Farm relies on fundraising even in good years to operate.
In order to help bridge that gap, the UW Farm will be holding a virtual "Dig In! Fun-draiser" on October 28 at 7 p.m. This one-hour, family-friendly event will be part entertainment, part fundraiser, part history and farm stories. It will include:
History of the UW Farm, how the farm first started, how it has weathered the pandemic, and its impact in the community
A short movie introducing you to past student farmers, their experiences at the farm and where they are today
A cooking demonstration featuring UW farm produce by Seth Fernald of Fare Start, formerly of Novelty Hill-Januik Winery
A slideshow with beautiful photography, visually documenting farm activities, produce and the growing sites
Bonus gifts for donating to the farm at ticketing: farm team baseball hat, festive fall tabletop centerpieces, UW Farm dahlia tubers, Limited batch of UW Farm fruit-infused whiskey bottled locally by Heritage Distillery, or Apple Package (Local cider, Uw Farm apples and a pie.)*
Drawing during the event for free 2021 UW Peak Season CSA shares, selected from the list of event attendees
Rules for how you can Instagram-to-Win all week long October 29th-Nov 4th* and view cooking demonstrations by local chefs featuring UW farm produce October 29th-November 4th
Attendance at the virtual event requires a ticket, which is free for students, and is then based upon a donation ranging from $10 to $500.
Learn more and get your tickets on the UW Farm's Universe site.