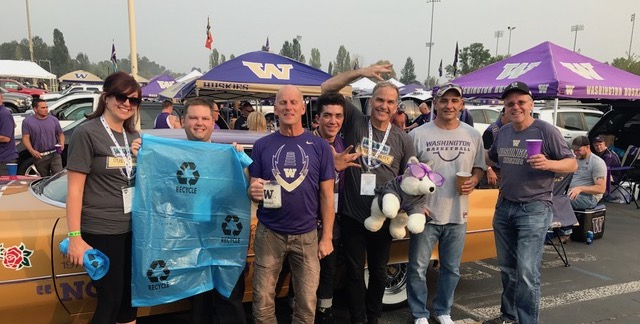 The University of Washington Department of Athletics was one of two university winners of the 2018 Environmental Innovators of the Year awards by the Green Sports Alliance. 
UW earned the distinction for the Husky Athletics Green Team's efforts to work with students and encourage fans at football games and other events to increase waste diversion. The Green Team hosted a "green game" during the season for each UW-sponsored sport, where volunteers provided information on sustainability efforts and proper waste diversion. UW also emphasized sustainability at the NCAA Cross Country Regional Championships and the Pac-12 Women's Golf Championships it hosted this year.
The Green Team's efforts led to a best-ever 81% waste diversion rate at Husky Stadium during the 2017 football season. This exceeded the goal of 80%, and was a strong increase over last year's 78% rate. 
From the UW Athletics Sustainability Newsletter:
Unlike many institutions that focus on one game during the year, we are committed to waste diversion during all of our seven home games. Husky Fans diverted 24 tons of recycling and 36 tons of compost from the landfill in 2017, bringing us closer than ever to the ultimate goal of zero waste. Green Team volunteer turnout and enthusiasm was also higher than ever. Volunteers engaged with fans in The Zone, on the concourses as well as in the parking lots and tailgating areas. Based on staff and volunteer feedback, we added a sustainability tent in the Zone and a GoGreenHuskies golf cart that circled the tailgate areas, handing out raffle tickets and blue recycling bags. 
Learn more about UW Athletics' Sustainability efforts on the GoHuskies.com Sustainability page or follow UW Green Athletics on Facebook and @GoGreenHuskies on Twitter.