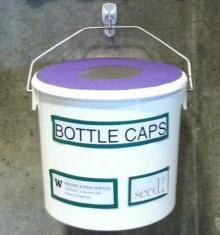 UW Students Expressing Environmental Dedication (SEED) initiated a program to recycle plastic bottle caps in residence halls. These caps are not recyclable through city or UW recycling - they normally end up in a landfill. Through this program, SEED students transport collected caps to the Burke Museum for the duration of its "Plastics Unwrapped" exhibit, where the caps are displayed as part of an exhibit highlighting local recycling initiatives. At the conclusion of the exhibit (5/27/13), SEED students will transport all caps to the University Village Aveda store to be recycled into new packaging. 
Currently the project is in place in West Campus residence halls, with hopes to expand to all residence halls and dining halls by the end of the school year! 
Fun Facts:
Over 200 caps were collected from four residence halls in the first week.
Project Contact Name:
SEED Reduce, Reuse, Recycle Committee
seedrrr@hfs.washington.edu
Links to Additional Resources: